Perfect for Anniversary
By
Amy B.

(Haverhill, MA) - September 18, 2014 (
See all reviews by this customer
)
I bought this for my grandparents 57th anniversary, they like it, but the font could have been larger. They are 80 years old, anything less that size 14 font is lost on them. It is a fun little gift that brings back the old 'remember when' memories.

FUN & INFORMATIVE
By
Shopper

(Skokie, IL) - June 2, 2014
SOMETHING THE COUPLE WILL KEEP AND ENJOY RELIVING THE MEMORIES.

Plaque
By
Shopper

(Rochester, NY) - May 9, 2013
Vet nice and unique. It came with a chip on the corner that was glued back together. Has been a hassle to have it replaced through customer service. Has been taking over a week to see if it will even be replaced.

Smaller than what we thought it'd be...
By
Shopper

(Central City, NE) - April 27, 2013
We ordered this for my husbands parents and when it came we were both surprised by the size. It's really nice quality but even the print is small and a bit hard to read (especially for older people who have a hard time reading small fonts).

nice
By
Steven R.

(Warwick, RI) - April 20, 2013 (
See all reviews by this customer
)
Very nice. Looks just like the picture. I'd buy again.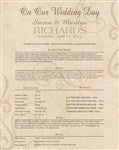 Beautiful
By
SANDRA P.

(PASADENA, TX) - February 3, 2013 (
See all reviews by this customer
)
The product is a fun way to get a conversation started as well as a beautiful, solid plaque that matches any decor that you may have.

I purchased this for my very close friends who were celebrating their 58th wedding anniversary. They both liked it very much. They liked it much more when I read it to them!

I hadn't realized, at first, that they had a hard time reading what was printed.
I had over looked the size of the print on the plaque which made it difficult for them to read.

The plaque is beautiful but keep in mind the font size when ordering. I can't remember if you can chose the font size or not. It would be nice if you could though.

They loved it!
By
Shopper

(South Beach, OR) - December 18, 2012
The plaque looks very nice. I like that it feels heavy and sturdy. I gave it to my parents for a 45th wedding anniversary gift, and they were so surprised. They had fun reading about all that was going on back on the day they wed.

great gift
By
Shopper

(Laurel, MD) - November 16, 2012
I bought this plaque as an anniversary gift for our wedding and he absolutely loved it. The quality was great and the script was pretty and neat. I may buy some for my family and friend's wedding anniversaries. Great idea.

Very happy!
By
Cathy W.

(Monroe, WI) - August 2, 2012 (
See all reviews by this customer
)
I ordered this for my parents 58th wedding anniversary and it seems to have been a hit! Everyone liked the facts from 58 years ago. I have to say, I was EXTREMELY impressed at the speed in which this gift arrived! It arrived a full 5 days before I was expecting it and actually arrived early for their anniversary! I have always been impressed with Personalization Mall.com and will continue to count on them! Thank you!

Anniversary Plaque
By
Shopper

(highlands ranch, CO) - September 18, 2011
I ordered this plaque for our 10th anniversary. I loved it... the only thing as it was smaller than I had thought. My husband loved it and we will treasure. My suggestion for future would be at least a size 16x20 Will order again in the future and I will pay better attention to the actual size Thank you

Great Gift Idea For Guy/Girl
By
Brian C.

(Virginia Beach, VA) - June 28, 2011 (
See all reviews by this customer
)
The only problem w/ the Plaque was s mall smudge in the writing but my Wife LOVED it for our 4th Wedding Anniversary. Sooo interested comparing the price of Gas & Milk back in 2007 compared to today. Also tells you who was President/Vice President & Who won all of the Championships in Sports. GREAT GIFT FOR A GUY OR GIRL. GET ONE ALREADY.

Loved it
By
Marilyn M.

(Katy, TX) - June 7, 2011 (
See all reviews by this customer
)
I love this plaque. It is for my parent's 60 year anniversary and I can't wait to give it to them!! It is up to date, beautifully done!

Possible Improvements
By
Catherine U.

(Spring, TX) - March 1, 2011 (
See all reviews by this customer
)
The item itself is a wonderful idea for an anniversary but the frame makes it look a bit cheap.

wonderful
By
Cheryl Z.

(Douglassville, PA) - March 1, 2011 (
See all reviews by this customer
)
Very nice product, arrived quickly.

very nice
By
Angela H.

(Virginia Beach , VA) - May 20, 2010 (
See all reviews by this customer
)
I got this for my in-laws 25th wedding anniversary. It is very nice. The only thing I didn't like was all the info is for 2009 and I bought it May 2010, so it dosen't give the difference for 25 years. It should tell you that the info will be for 2009.

Anniversary Chronicle Plaque
By
Janice W.

(Cheektowaga, NY) - October 22, 2009 (
See all reviews by this customer
)
For being a "Personalized Anniversary Chronicle plaque", some of the items listed on the plaque were incorrect.
It's a nice idea for an Anniversary gift. The plaque would have been better if buyers were asked questions to standard questions.

Neat gift
By
Julie L.

(Vernalis, CA) - October 9, 2009 (
See all reviews by this customer
)
This was a really neat gift. Some of the current prices seemed way too low, but I'm pretty sure thats because we are from California and everything is more expensive here. Other then that, I would reccommend it.