Birthday remembrance
By
Shopper

(Memphis, TN) - August 2, 2012
Very pleased, as was recipient.

happy with product but wasn't perfect
By
Shopper

(Sartell, MN) - January 14, 2012
I was overall happy with the product however the wording was not level on our ornaments. Not a huge deal, but it was noticable.

I LOVE IT AND SO WILL MY GRANDSON
By
Nancy M.

(Menasha, WI) - December 12, 2011 (
See all reviews by this customer
)
I give my Grandson an ornament every year for Christmas. The cross is beautiful and I know he will treasure it more so than all the rest. It is so much nicer because it's etched and not painted on like alot of the other store bought ornaments.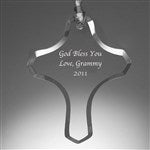 as pictured
By
Shopper

(Sacramento, CA) - November 12, 2011
The piece is pretty much exactly as pictured. It was a bit bigger than I expected but not significantly so. Shipping was fast.

NIce gift
By
Joanne L.

(Islip Terrace, NY) - October 16, 2011 (
See all reviews by this customer
)
This was a gift that I purchased for a baptism. It was a quick delivery and is a very nice keepsake. I would highly recommend it to someone who wants to get something small, as an addition.

Cross Ornament
By
Shopper

(jersey city, NJ) - October 12, 2011
I thought the glass and engraving were beautiful, however the ribbon was very cheap looking. Not my favorite. There is a reason it isn't featured in its entirety on the zoomed close up. For the price, a satin ribbon would have been much nicer. That is the only reason I gave it 4 stars, other than that a beautiful gift.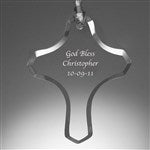 logo
By
Shopper

(Wrentham, MA) - August 5, 2011
I didn't like your advertising on the bag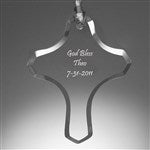 baptism gift
By
Shopper

(Lake Worth, FL) - April 26, 2011
the crosses are very nice and the service great. One of my crosses (Nicholas) had a small scratch under the name but not noticable (I hope) to return.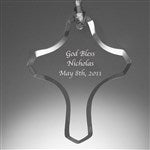 good product
By
Dani S.

(Lincoln, NE) - March 28, 2011 (
See all reviews by this customer
)
Good quality glass cross. Gave 4 stars because as other reviews stated the ribbon looks very cheap on the cross. Other than that its beautiful for nephews baptism.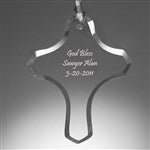 Pleasantly Surprised
By
Lisa J.

(Indianapolis, IN) - December 14, 2010 (
See all reviews by this customer
)
I was very happy with this product. I bought six of them. I would give it 5 stars, and it is all a matter of personal preference, but I switched out the ribbon. The ribbon was perfectly fine though. Very nice product at a reasonable price.

Nice gift
By
Kimberly Z.

(Chesterfield, MI) - September 22, 2010 (
See all reviews by this customer
)
I ordered these for my twins to give their Godparents at their baptism. They were very nice, but the gold ribbon was ugly, so I had to put my own ribbon on them. All in all, a great personalized gift.

Purchased for Baptism
By
Elizabeth G.

(Upper Darby, PA) - February 23, 2010 (
See all reviews by this customer
)
I purchased from this site for the first time but ordered quite a few items. I was very pleased with the speed of delivery and quality of the item. My only negative comment is on the hanging ribbon, didn't like the quality but you could change it. The black bag that contained the cross was a nice touch. This lovely cross can be hung on a window or Christmas tree!

Nice gift
By
Art G.

(Jackson, NJ) - February 14, 2010 (
See all reviews by this customer
)
The first one i got you couldn't see the engraving that well but i wrote to them and they sent a new one that was better

Very nice.
By
Pamela E.

(Canada) - October 7, 2009 (
See all reviews by this customer
)
Was happy with this piece.

Very cute, just what was expected
By
Stephanie S.

(Strongsville, OH) - October 6, 2009 (
See all reviews by this customer
)
The engraving looked nice, as always. I was giving this to my niece for her baptism and I had the best gift, like I always do when I shop here!! Also, delivered in a very timely manner and reasonably priced