Better than expected
By
Shopper

(Berwyn , IL) - March 18, 2014
The material is not quite commercial grade as indicated but will certainly hold up at a residence. I wish I would have gone with the darker color option. It would have sustained more, I'm sure. I bought it as a gift and the couple which I purchased it for loved it. Got a better than expected reaction to it. I like it very happy. I orders late Wednesday and received early Friday, faster than anything I ever purchased online. Major points for that.

Floor Mat
By
Shopper

(Marietta, GA) - August 19, 2013
Printing was excellent. Mat looks great. I do wish I had researched more and realized that the mat was totally rubber. No fault of company. They do great work.

Lovely
By
Shopper

(Brooklyn, NY) - July 31, 2013
I like to put doormats at the bottom of my stairs that let the people that are visiting feel lovede and welcomed
this does the job

So Beautiful You Won't Want to Put Your Feet On It
By
Virginia W.

(Oxford, GA) - February 12, 2013 (
See all reviews by this customer
)
The personalized doormat is beautiful, so beautiful in fact that my fiancee doesn't want anyone to put their feet on it. He wants it to be a wall hanging. It is exactly as advertised. I only gave it four stars because I do wish it had been a bit heavier, quality wise, but it will serve it's purpose well and it is quite beautiful.

Nice, graphics excellent
By
Shopper

(Crossville, TN) - January 15, 2013
I love this door mat the graphics are excellent, my only concern was the thinness of the mat. It appears thinner than I expected, but if it holds up to the rain; I will be very happy. The price was excellent, so I cannot complain too much. If I had time to test it out before doing this review, chances are it would get 5 stars.

Very nice, but not sure it will last well outside
By
Dawn B.

(Niverville, NY) - December 17, 2012 (
See all reviews by this customer
)
This came out really nice. It is very thin, and probably shouldn't be used outside, or even inside a door where people might be wiping their feet.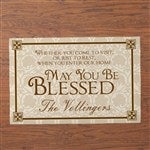 Personalized Doormat
By
Shopper

(Covington, GA) - August 2, 2012
Have always been pleased with all other Personalization Mall products, but a little disappointed with this one. Mat is thin. Will not use it to walk on or wipe feet on coming in the door. Love what it says-so I have placed this in front of my fireplace.

Great Addition
By
Shopper

(Rockwall, TX) - August 2, 2012
Looks awesome at our doorstep. Wish the quality was better, rug is rather thin.

doormat
By
Shopper

(rindge, NH) - February 7, 2012
I really love this doormat!
its worth the cheap cost. I only wish it was a lil better in quality of th e mat itself, that's
Why I only gave it 4 stars.

Great Gift
By
Heather L.

(Reva, VA) - January 22, 2012 (
See all reviews by this customer
)
This was bought for my dad and his new wife as their Christmas present. Mary, my step-mom, was so impressed that she immediately got on the website to see what else they have. They sent me a picture of the finished doormat, it looks great. They said it was almost too nice to let people walk on.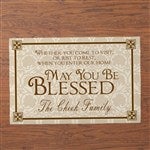 A Great Gift!
By
Shopper

(Algonac, MI) - January 8, 2012
If there should be someone who is difficult to buy for, this is a great solution. Something everyone can use and appreciated by the receiver.

Christmas
By
Shopper

(North Wilkesboro, NC) - December 5, 2011
Excellent Christmas gift, I was very please with the quality and design. This was the gift I was looking for to give family with that extra personal touch. Thanks!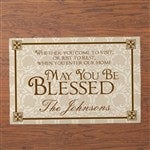 Very pleased.
By
Shopper

(San Antonio, TX) - September 27, 2011
Good quality, nice product. Arrived quickly.

Nice doormat
By
Jeanette S.

(Leavittsburg, OH) - December 3, 2010 (
See all reviews by this customer
)
I bought this doormat in sandstone for my mom for Christmas. I think she will love it, because it is personalized with her family name and bestows a blessing on all who come to visit. The only thing that I would have liked to see is the doormat in a darker color other than the rust color they have. I would have chosen a darker hue than the sandstone. Otherwise, I am very pleased.

Too Nice To Wipe Your Feet
By
Diane M.

(Rockville, MD) - May 24, 2010 (
See all reviews by this customer
)
I have placed this one on the outside of my apartment door. Since it is rather thin I probably will place another doormat under it. It really would make a nice wall hanging ,due to the thiness of the mat & the fact I really don't think I would like it if someone actually wiped their feet and dirtied my door mat ,

Nice doormat.
By
Irma C. M.

(Avon Park, FL) - February 11, 2010 (
See all reviews by this customer
)
Very good quality doormat. I got the sandstone color, but maybe next time I'll get a different color because it was too washed out-looking for my taste. Other than that, it's really nice.

Lovely
By
Amanda P.

(Webster, NC) - December 11, 2009 (
See all reviews by this customer
)
I was worried about ordering something like this without seeing it first, but when it came in the mail, I was surprised. The quality was great, and it looks just like it did in the pictures. I can not wait to give this gift!

door mat
By
ginger A.

(cheraw, SC) - December 9, 2009 (
See all reviews by this customer
)
I have order several of your door mats and have been very pleased with them all.