Wonderful Gift
By
Shopper

(Depew, NY) - December 31, 2013
My father-in-law golfs & is not always the easiest to buy for, when you want to try not to always get him the same thing every occasion! This was great for him. The only issue I had with it was how small the picture is. It didn't look terrible, still looked nice & was clear, but I felt it could be a tad bigger!! But we all still loved it & I would recommend it for sure!!

Good gift for dad
By
Shopper

(Henderson, NV) - December 3, 2013
Good gift idea for dad. Thought the picture was a bit too small so that it could be seen better. Overall good product with fast turnaround

Nice gift but small pic
By
Leigh W.

(newtown, PA) - January 11, 2013 (
See all reviews by this customer
)
Got this for my dad for Xmas and its a great idea for a golfer but I put a picture of my 2 kids in there and the circle they're in is smaller than a dime. I knew the pic didn't take up the whole side but I thought u could at least look without having to squint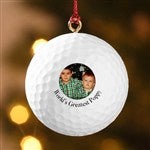 Nice
By
Shopper

(Elmwood Park, NJ) - December 27, 2012
This ornament is a nice quality but the photo is just a little too small in my opinion. I wish there were a way to make it larger. It seems like there's enough room on the golf ball to do so.

golf ball ornament
By
Shopper

(Cornelius, NC) - August 18, 2012
I had read previous reviews and knew the picture would be small. Yet, I was still surprised at how small. Overall, the ornament is very cute.

Golf ball ornament
By
Shopper

(Mount Laurel, NJ) - January 15, 2012
This is a great ornament, the only thing I didn't like was there was a lot of the Callaway logos on the ball and the picture is pretty small. Make sure when you upload your picture and crop it, keep it as just a close up head shot otherwise you can't really see the face.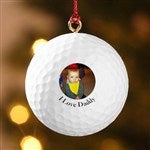 Very Nice
By
Crystal D.

(Canada) - December 25, 2011 (
See all reviews by this customer
)
Loved it but think the picture should have been a bit bigger

A bit pricey for the size
By
Robert N.

(Elgin, SC) - December 22, 2011 (
See all reviews by this customer
)
Everything was symmetrical and lined up perfectly. One of the better balls to golf with from my knowledge too. Only real drawback was the picture is rather small, especially for the price I paid. It was clear and centered, but just tiny. Would loved for it to be bigger so it would be more noticeable when hanging on the tree.

small picture
By
Shopper

(Rincon, GA) - December 20, 2011
It is a small picture which I read from others but it is such a cute idea I had to get it. It is the only one I have found that puts the picture on the ball. It is great for the golf lover at your house. Five stars if the picture were bigger. Picture seems bigger on preview than actually is.

Wonderful...just a small photo
By
Shopper

(Ranger, TX) - December 5, 2011
My husband is a Callaway man! We get a family ornament every year, and this year we had a baby and my husband got Player of the Year. Even though it is a small photo it works perfect for us.

Adorable - small photo but cute
By
Shopper

(Mooresville, NC) - January 11, 2011
I read the other reviews before ordering so I knew to use a picture with no more than two people close together. It came out great. I loved it and he loved it!

A Winner!
By
Donna N.

(Shreveport, LA) - November 24, 2010 (
See all reviews by this customer
)
Except for the photo being smaller than it looks, it will fit your tree to a tee!

Great gift for the golfer
By
Lindsay T.

(San Jose, CA) - December 27, 2009 (
See all reviews by this customer
)
This is a wonderful gift for the golfer in your life! I have 2 young sons & decided to put their picture on it with a special message for their grandpa & he LOVED it! It was smaller than I envisioned, but I think thats just how it goes when your shopping online & used to seeing items in "enlarged detail" photos :) This definitely got the reaction I was hoping for & I am very happy with my purchase.

Great gift idea!
By
Tiffany S.

(Cumming, GA) - December 2, 2009 (
See all reviews by this customer
)
I love this idea, and the golf ball turned out great! The only thing I would change is I wish the picture and words could be a little larger. I expected it to be just like the picture, and it is, I just wish there was a way to make the picture larger! Thanks for the great gift for the holidays!