Adorable!
By
Louise H.

(Euless, TX) - December 17, 2012 (
See all reviews by this customer
)
It is simply adorable and I can't wait to see this on my little grandson.

Picture Perfect
By
Shopper

(Colchester, VT) - December 8, 2012
We ordered the 12 month romper for my 6 month old son because he is quite big for his age (95 %tile all around). I used the weight and height guidelines next to the sizes when I ordered which led us to the right size. It seemed to take longer to arrive than I had hoped but since we ordered early we received it well before Christmas. The shoulders/chest seemed abnormally wide when we first opened it but when I tried it on my son it looked pretty cute. It was a little baggy on top but it didn't look extremely large which was what concerned me when I first saw it. I'm pleased with the product and plan to use it as an outfit on Christmas for pictures. The material is not very soft so he'll have to wear a onesie underneath. I love the personalization and it will be a keepsake for us. I can't wait to get some pictures of him on his tummy under the tree!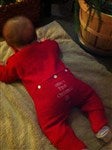 Too cute!
By
Shopper

(Downey, CA) - December 4, 2012
This is so adorable and cannot wait to see my grand daughter wear it!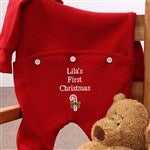 Baby's First Christams
By
Shopper

(Walters, OK) - December 24, 2011
The personalization on this is great. Very "sturdy". Doesn't look like it would come unthreaded very easily. My only complaint is that the sizes run a little small. I am glad I ordered the size that I did. My daughter is a size 12 month normally on pj rompers. Well I ordered a size 18 months, since it is cotton and just in case it would shrink in the wash. It is almost too small before even washing it. That is my only disappointment.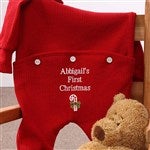 Baby's First Christmas
By
Susan D.

(Annapolis, MD) - December 16, 2011 (
See all reviews by this customer
)
I just loved this idea for my newest grandson. I read previous reviews and ordered a larger size, especially since my grandson is a big baby. When the suit arrived, I was glad I ordered up. I sent it on to my son and daughter-in-law so do not know how much it shrank once it was washed. I thought the suit was of good quality (how long is the child going to wear it, anyway?); the name was neatly stitched and spelled correctly, which was important since my grandson has an unusual name. Can't wait to see New Grandson in the suit when I visit them at Christmas.

Adorable Gift
By
Shopper

(fulshear, TX) - November 28, 2011
I purchased two as gifts. I washed one of them but did not dry it as the romper is 100 percent cotton. As I read in past reviews that the rompers ran small, I ordered the next size up and the rompers were the perfect size.

:)
By
Sara K.

(Brookfield , OH) - November 19, 2011 (
See all reviews by this customer
)
This was perfect for pictures. It was very cute and not made as cheap as some of the other clothes I have got before from here.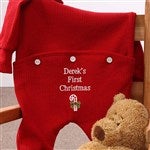 First Christmas Baby Romper
By
Nicole G.

(Nutley, NJ) - December 23, 2010 (
See all reviews by this customer
)
Adorable and comfy. Perfect for Christmas Eve pjs. A little on the small side. I dryed them on low heat...maybe don't dry them at all or get the next size bigger.

First Christmas Romper
By
Mary F.

(Oakland, MS) - December 11, 2010 (
See all reviews by this customer
)
VERRRY CUTE!! It runs a little small so you might want to order a larger size!

So cute
By
Myka K.

(Leitchfield, KY) - December 26, 2009 (
See all reviews by this customer
)
This is so cute but I have a big 5 month old baby & the 12 month was almost too little. He usually wears 6-9 month clothes. It is made really small.

Baby's First Christmas outfit
By
Maureen S.

(Mason, MI) - December 25, 2009 (
See all reviews by this customer
)
Very cute outfit. Like the fabric and the embroidery was well done. It was smaller than I anticipated so it barely fit - wish it had been cut a little bigger.

Front a disappointment
By
Helena H.

(Ephrata, PA) - December 16, 2009 (
See all reviews by this customer
)
The rear is adorable, thus the reason I purchased it for my granddaughter, but the front is so plain. They could've put a little snowflake or something to dress it up a bit. Wouldn't buy it for someone else

Worth the money
By
Jessica K.

(Akron, OH) - November 26, 2009 (
See all reviews by this customer
)
I purchased this romper for my son; it was adorable and exactly what I expected. I like that the front is solid because then the bib won't hid any cute items. It has washed well and am overall happy with this product.