I love it!
By
Shopper

(Rohnert park, CA) - September 26, 2014
I received this in the mail, and I absolutely adore it! It is a little hard to find pictures to fit in the letters, and a little stressful lol but it isn't too bad! Love love love!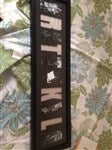 this item turned out really nice
By
Sylvia J.

(Houston, TX) - May 7, 2014 (
See all reviews by this customer
)
Purchased this as a wedding gift for a couple that already has 'everything'. I didn't want to do the usual gift card but I didn't want the gift to end up at the bottom of the closet (never used). I was pleased with the quality and overall look of this photo collage.

Decent Frame
By
Shopper

(Stoughton, MA) - April 30, 2014
To be completely honest, if I could have seen a more detailed and zoomed in picture of the frame before ordering, I possibly would have re-considered.

Upon opening, the actual frame itself was less than I expected but its hard to find personalized frames like these elsewhere for the price. Either way, it is a nice thoughtful gift and looked great once I put in the pictures. Decent!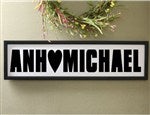 Good but wish shorter
By
Sean H.

(Garland, TX) - February 14, 2014 (
See all reviews by this customer
)
I love the way it turned out except that if you use 4x6 pictures and the picture is turned horizontal then the picture doesn't fit the entire letter.

Pretty
By
Ralph C.

(Brooklyn , NY) - January 7, 2014 (
See all reviews by this customer
)
It's really pretty and I'm so excited to hang it! My one problem is that when you have a long name, the letters get narrower and u can barely fit a decent picture in! It would be nice if they could just make the frame a little longer for those of us with longer names.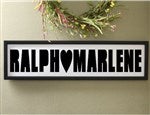 Just a little disappointed...
By
Shopper

(Appleton, WI) - December 26, 2013
I love this collage and ordered it with words vs. names. I specifically ordered this one because I wanted the heart in the middle. However, they just put the words with no heart. Still turned out nice but not what I wanted. Just disappointed.

cute!
By
Shopper

(arkansas city, KS) - December 25, 2013
Both of mine came out great, the only thing is I wish the back stayed on tighter it a lil wobbly.. other then that so cute and made a great gift!!

Excellent anniversar gift
By
Shopper

(south richmond hill, NY) - November 19, 2013
Excellent idea....
Litle work in getting the right size for the pics.... but the best idea for a anniversary gift... unique . not that expensive.... but order in advance to pay low shipping fee.... only one con he frame was weakly put together with staples.... and too thin a frame.... have to be careful when screwing in the screws to hold up the picture frame...

GusLo
By
LORRAINE D.

(RANCHO CUCAMONGA , CA) - August 4, 2013 (
See all reviews by this customer
)
loved the finished product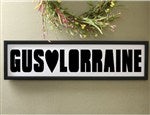 Nice Personal Touch
By
Lindi J A.

(Canada) - June 18, 2013 (
See all reviews by this customer
)
I got this frame for my brother for his anniversary. I've bought frames with words before ("Memories," "The Bay," etc.) but this is the first frame I've seen that could be personalized. The frame turned out just as it did in the preview photo, and it was still in one piece when it got to my brother. I will probably use this for other gifts as well.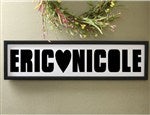 It was good but did not fulfill my expectations
By
Shopper

(Dinuba, CA) - April 12, 2013
I was actually disappointed with this frame because the glass was too small for the frame and the whole thing was kinda lose inside. I had to add paper to it to make it tight so it would not wobble around.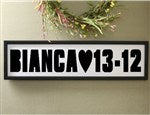 Great Idea
By
Camber C.

(Mount Pocono, PA) - April 2, 2013 (
See all reviews by this customer
)
After reading many reviews I was a little nervous ordering, but my order came in fine. Yes the frame is a little cheap but for the price its worth it!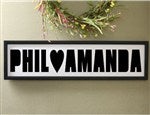 Good Anniversary Present!
By
Anne W.

(Los Angeles, CA) - March 19, 2013 (
See all reviews by this customer
)
I wanted something cute and personal for a 2 yr anniversary gift. This was perfect when I saw it on Pinterest. When they say minor assembly that means you have to attach the hooks and wires to hang it, I ended up using different screws because I was afraid to use the ones they gave. Make sure your husband or boyfriend has a drill to hang this or you are handy yourself! Also, be careful with the mat because it can get dirty very quickly while handling it to size pictures. All in all great gift, I am very pleased with this purchase.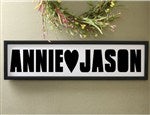 Valentine's day gift
By
Shopper

(Lafayette, NJ) - February 16, 2013
The frame was shipped very quickly. When I gave it to my Boyfriend of 7 years he liked it and asked where I thought he should hang it. The only thing that I wasn't to pleased with was the size of the openings, some of them were narrow and make it difficult to see the picture with the best clarity, it was the odd letters like t, h, and n. I used all color photos and it really looks good once finished.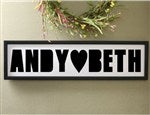 awesome! just wish the picture slots were alittle bigger
By
Shopper

(brooklyn, NY) - December 19, 2012
i love this frame!! just wish that it was easier to find pictures to fit in each letter> only vertical pictures worked

Nice product !
By
Shopper

(Hayden, AL) - December 4, 2012
Nice product. Product is as expected from your site. Would purchase again.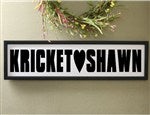 great gift
By
Shopper

(Astoria, NY) - October 1, 2012
This frame is great. I bought it for my bedroom/anniversary gift. It was accurately customized. I cannot wait to fill it with photos.

photo collage frame
By
Kristine T.

(Pittsburgh, PA) - May 1, 2012 (
See all reviews by this customer
)
Very nicely made.. looking forward to selecting photos and creating a beautiful and personalized wedding gift for my nephew and his new wife.

feature that I didn't like
By
Shopper

(West Hempstead, NY) - March 4, 2012
The collage/frame is absolutely gorgeous, my daughter loves it and can't wait to put pictures in it, however we're not to thrilled with having to affix the hooks and wire in order to hang it up.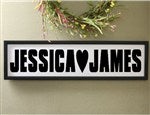 Awesome
By
Shopper

(Bell gardens, CA) - February 28, 2012
I really liked the frame... The only bad thing is that the letters are not as big and you have to find a small enough picture to fit... Other than that the quality was very good... I Love My Sweathearts collage!!!!

Love This!
By
Andrea A.

(College Point, NY) - February 28, 2012 (
See all reviews by this customer
)
This is the cutest frame ever. I had so many likes on facebook once I completed it. Only con is that you have to put the hanging equipment on yourself.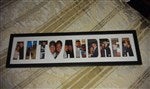 Great, size of letters was unexpected.
By
Lauren H.

(Dallas, TX) - February 12, 2012 (
See all reviews by this customer
)
I ordered this for my boyfriend on Valentine's Day. I absolutely love it the frame everything is really nice. The only complaints that I have, is that the letters are a little bit taller than 4 inches so you can't use a horizontal 4 x 6 picture. That made it a little bit difficult to get pictures printed to fit in it. But otherwise, I love it. Definitely would reorder.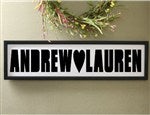 A meaningful gift
By
Khanh P.

(New Rochelle, NY) - February 8, 2012 (
See all reviews by this customer
)
I personally like this product and it is a great gift for my boyfriend on Valentine Day. I think he will love it too !

Great Collage Frame
By
Robin J.

(Chicago, IL) - February 4, 2012 (
See all reviews by this customer
)
I love the frame.

Final product is really nice
By
Amanda P.

(Lincoln, CA) - January 9, 2012 (
See all reviews by this customer
)
I ordered this for our anniversary as a gift for my boyfriend. I am always making him these kind of sentimental gifts since he's in the military and deploys for 6 months out of the year. It arrived and I was impressed with the clean cut out of out names and the matting. I then started matching pictures inside the letters. I ordered a bunch of 4x6 B&W pictures and the horizontal ones left 1/4-inch space on the top and bottom of the letters. The pictures also need to be arranged as a collage. What I did is measure out some black poster board that would fit in the frame. Every letter I would match and cut the photo out. I used photo tape to adhere the picture to my poster board backing. Depending on the position of the picture depended on how much I cut. I would check and re-check to make sure the placement was right in each letter. To finish it, I taped the matte on top of my poster board picture collage and placed in the frame, like you would any picture. It was a little time consuming but the result was my boyfriend thought I ordered it that way and was impressed with the company's ability to match pictures into the letters! He liked it even more when I told him I put it all together. So, I scored points!!

I will caution that using black & white horizontal photos, it's best to put the black backing on because you can hardly tell there is a gap unless you do this. Plus, it's so much easier than just laying them in the frame so they could shift. What I also like about this frame is I can change the pictures out any time I want or switch to color photos for a new look. I will order from Personalization Mall again because of the unique gift ideas!

Great Gift for Newly Weds
By
Shopper

(Hercules, CA) - November 19, 2011
A very simple but clever idea for displaying photos. Good quality.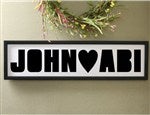 Loveeeees this item
By
Shopper

(Ceres, CA) - October 24, 2011
awesome for any occasion! Will def. be ordering from this site again!

birthday gift
By
Shopper

(bay shore, NY) - August 29, 2011
Great gift - looks nice - need to put hanging wire on- wire screws provided - screwdriver should work... Don't know if recipient hung yet - although did not seem worried about hanging.




Nice Item
By
Feras A.

(Kingston, RI) - July 22, 2011 (
See all reviews by this customer
)
This is a great gift, I made one for mom and dad and it looks great. The only downside was that I thought the black frame had a matte finish, but apparently it was a wooden frame and the details of the wood showed. Also, the glass was broken when it got here but I called costumer service and they said a replacement will be shipped to me next week. Over all it's a great gift idea!

Very cool gift !!!!
By
Shopper

(Euless, TX) - June 21, 2011
I ordered this frame for my aunts 20th anniversary. I received this frame broken the first time but they sent me out another frame within a week. It's tales some work to put the pictures in it but it's still worth the effort. I am going to order it again for my 10 year old nieces.

No collage frame
By
Shopper

(Saint Cloud, MN) - May 12, 2011
This product is a little hard to put pictures in unless you want to spend a long time making the photos fit perfectly by cutting, taping, gluing, etc. BUT this product looks nice without the photos, which is the way I have it in my home. Good anniversary gift.

Nice
By
Shopper

(Owings, MD) - April 3, 2011
Personalization was accurate, shipped very quickly, arrived in great condition. For the price wish the frame was a little nicer but it's not bad.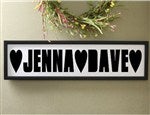 Honestly,
By
Sarah H.

(Troutman, NC) - February 28, 2011 (
See all reviews by this customer
)
I purchased this picture frame for my boyfriend for Valentine's Day. I was a little skeptical after I had already entered my credit card number, because I didn't read the reviews until afterwards. I had seen where a lot of people had said that the glass in the frame was plastic, and the outside looked very cheap.
My frame had real glass in it, and the black part of the frame did not look as cheap as I expected. The only downfall I have about this product was that I practically had to butcher my pictures just to get them to fit between the letters and actually have mine and my boyfriends face be visible through the frame. Other than spending an extra hour of my time, I think it is well worth it!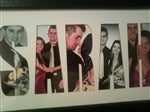 expensive...
By
Shopper

(Massapequa, NY) - February 26, 2011
Makes a great gift but for the quality, its very expensive.. was hoping it'd be nicer =(

Unique
By
Amanda P.

(Broken Arrow, OK) - February 21, 2011 (
See all reviews by this customer
)
I bought this item for my boyfriend and I's anniversity. He thought it was really neat, the only problem is finding enough pictures and sizing them well enough to see the faces. Overall, I love it!

Love the frame, disliked hanging it
By
Shopper

(Brooklyn, NY) - February 16, 2011
This made a great gift for my bf as part of his Valentine's Day gift. He loved it, as did I, especially once I put a bunch of pics of us in it. However, I dislike that he had to put the screws in the back of the frame and align it with the metal cable so it would hang correctly. For nearly $50 they could have attached that for us so it would be ready to go.

pretty good
By
Shopper

(miami, FL) - February 14, 2011
The frame is nice and is just as described. Only drawbacks I noticed were that the letters are long and skinny so finding pictures that fit were a little difficult. Also there is no hook to hang it from on the back so I also found that to be uncomfortable. But overall it was good and it came out great. Black and white photos look best.

Awesome!
By
Lauren C.

(Shreveport, LA) - November 22, 2010 (
See all reviews by this customer
)
Love this frame! I used it as a wedding gift...perfect!

good.
By
Denisse D.

(Laredo, TX) - November 16, 2010 (
See all reviews by this customer
)
i guess i expected a little more from it, but after all its a great gift. got here quick and packaged very well.

super cute! but...
By
Lindsay B.

(Hinesville, GA) - October 15, 2010 (
See all reviews by this customer
)
I am still happy with my purchase- and three of my friends are planning on buying one as well- I just have to mention that it was MUCH harder than I thought to get pictures that fit properly behind the letters. If your names have multiple "S"s, "L"s, or "J"s be wary!