Chain was short
By
Shopper

(Fallon, NV) - May 24, 2014
was excited to get this in the mail and when I got it the chain length wasnt what I expected. It seemed like the size of a child's necklace.

Chain is to short
By
Shopper

(Fallon, NV) - May 24, 2014
Got it in the mail and adore it but as soon as I went to put it on the chain is to small its the size of a childs necklace

Pretty necklace
By
Ida A.

(Pflugerville , TX) - April 30, 2014 (
See all reviews by this customer
)
It was pretty and I bought it for a baby shower but it could have been a little bigger. That's why I give it 4 stars instead of 5.

cute necklace
By
Shopper

(Bondurant, IA) - May 31, 2013
This is a super cute necklace and a great way to keep the little ones with you all the time. My only complaint is that the chain could be a little longer but other then that its a great buy and is very adorable!

Cute Necklace
By
Shopper

(Somerset, NJ) - March 16, 2013
I bought this for my god daughter, who is expecting twins and she loved it! It was unique and special, with a personalized touch. .

She Lovah Da Bootie!
By
Dre P.

(Somersworth, NH) - July 12, 2012 (
See all reviews by this customer
)
When I originally opened the package from PM that I had been waiting for oh-so-anxiously, I was somewhat immediately disappointed by the length of the chain. I was confused as to if it was supposed to be for the mother or the child. I therefore had a moment of self-conscious worry about the size of my girlfriend's neck. It, in fact, fits her perfectly and she loves it. I was actually thanked quite nicely. I rarely see her take it off. Highly recommended!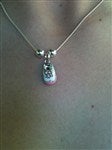 Cute Charms, Necklace is ok.
By
Shopper

(Fairfax, VA) - May 21, 2012
The charms are cute. I am a very detailed person, and I noticed the charms are very cute, but the pink one looked like the paint covered a little of the silver lining between the dark pink and light pink in front and to the side of the shoe. The blue one looked perfect. It's really not that noticeable, only I would notice such thing. It was cute and the engraving was perfect.
Now the necklace fits around my neck fine. And lays the charms in a good location right by my collar bone. But as other have mentioned, your hair gets caught in the back of the necklace and pulls my hair, so I try to fix it, but of course, in the process I lose 1 or 2 hairs caught on the necklace everytime I wear it.
If you wear your hair in a ponytail no problem, but if not it will get caught, that's my only complaint. Other than that everything looks really beautiful. It's definitely worth the price... very affordable for such jewelry.

They were beautiful but....
By
Kayla C.

(fort hood, TX) - May 14, 2012 (
See all reviews by this customer
)
The charms were so perfect. They only thing I didn't like that kept it from a 5 star was the chain. It was to short. It was almost like a choker. So I had to buy a new chain and switch them. Would be better if you had a choice of the size of chain. I myself prefer a 17 in. Looks better sitting on the middle of the chest.

Memorable
By
Shopper

(Aventura, FL) - March 6, 2012
The necklace was beautiful especially the little bootie. Only concern was the necklace was a little short so it fitted more towards the neck than lose. Not good on every size.

Loved it, but...
By
Shopper

(reynoldsburg, OH) - January 2, 2012
This bootie is soooooo unique in its style!! I am a 1st time grandmother, and looked in stores and on-line for quite some time before I found the PERFECT style of bootie charm that I wanted. The color is really nice, the style of bootie is too cute, and I loved the idea that I could get our grandchild's name engraved on it! There are (2) things that I wish it could have had to make it even better: (1) a little bigger in size so that both the name & DOB could have been engraved on it; and (2) a more attractive circular attachment. I purchased the pendant alone so that I could place it on a personalized bead-style charm bracelet. The circular attachment sent with the pendant worked, however, it doesn't look quite as nice as the tops on the other charms that I purchased specifically made for bead-charm bracelets. It looks ok using spacers on each side of it so that it doesn't slip behind another charm, but it does look a bit tiny. Other than that, I am absolutely pleased with my purchase, and my daughter-in-law loved it too! I definitely would recommend this product, and I will be watching in the future if any of my suggestions will be considered to improve it. It will probably be a gift purchased for another new mother!

Great gift!
By
Shopper

(Brooklyn, NY) - December 18, 2011
I bought the necklace and added a second bootie. It will make a great gift. The booties are quite small. I couldn't fit either of the baby's names on the bottom, because each name is seven letters. However, I got around that by including the babies' initials instead. I think that this mother of two will enjoy the present

Cute but...
By
Leigh Anne H.

(Haymarket, VA) - December 13, 2011 (
See all reviews by this customer
)
The necklace and charm are absolutely adorable, I got it as a gift for my sister in law- I just wish it held more characters. My daughter's name is Shannon and I would LOVE to have one for myself, but her name won't fit.

Great product
By
Shopper

(Spokane, WA) - November 23, 2011
Nice looking necklace and it's a decent price. It's a cute little gift you can get for your wife for the first baby and subsequent ones. My wife really liked it and the personalisation on the back was great.

Boy booties
By
Gail J.

(Clinton Township, MI) - September 26, 2011 (
See all reviews by this customer
)
I purchased these booties for myself for my 2 boys. They are beautiful. The only thing I would change to give it 5 stars would be a longer necklace that came with it and making the booties lighter. One is ok, 2 starts to pull on your neck and I can't imagine what 3, 4 or 5 would feel like. Making them lighter would be perfect.

Tiny but I like it anyway!
By
Shopper

(Minneapolis, MN) - July 18, 2011
The Booties are tiny, but its ideal for a charm bracelet. I will be wearing mine on a necklace though. I am happy with the engraving.

The whole necklace
By
Shopper

(Winchester, CA) - May 24, 2011
I got this necklace with my son's name on the mother's day. It is lovely and i love seeing his name on it. I just absolutely love it, BUT just one negative thing i didnt like, the necklace is pretty small and it somehow feels like its choking my neck. I'd give this 5 stars, but 4 stars will do since its the necklace being a little small. I love this store, its just awesome and fast. Id recommand this store to my family and friends (:

love it!
By
Stanley M.

(Deptford, NJ) - May 20, 2011 (
See all reviews by this customer
)
my husband bought these for me, my mom and my mother in law and we all just LOVED it! It was my first mother's day and I couldn't have asked for a nicer gift!

Baby Bootie Necklace
By
Diana C.

(Big Stone Gap, VA) - December 20, 2010 (
See all reviews by this customer
)
I found the baby bootie to be so cute and the name fit perfectly on the back. I gave as a Christmas present to a "soon to be" mom and she loved it. I would have liked the chain to be longer.

Totally Cute!!
By
Amanda S.

(Lake Elsinore, CA) - November 17, 2010 (
See all reviews by this customer
)
I bought one for me and one for my sister and we love them! They are so cute! I love the way the look. I was a little disappointed with how short the chain was of course it's my fault for not paying attention.. But, I still love it and I am proud to wear it. :)

Nice keepsake
By
Amanda R.

(Visalia, CA) - May 24, 2010 (
See all reviews by this customer
)
This charm is very cute. It's a little smaller than I thought it would be, so it's hard to see the detail. The engraving is nicely done. It is a wonderful keepsake for the price!

very cute
By
Tammy D.

(Moundsville, WV) - May 7, 2010 (
See all reviews by this customer
)
very cute necklace, i got it for my daughter for her 1st mothers day, she just had twins 5 weeks ago, one boy one girl. booties very cute and detailed, wish chain was a little bit longer, but very nice i am sure she will love it.

Baby bootie
By
paola K.

(tigard, OR) - April 21, 2010 (
See all reviews by this customer
)
Loved it!

MY baby booties
By
Lindsey P.

(Fort Polk, LA) - March 15, 2010 (
See all reviews by this customer
)
I really do love this necklace! And the only reason I didn't give it 5 stars is because my daughters name came a little messed up. The spelling is correct but the L in her name looks pretty bad. Almost like the engraving machine went off track for just a second. But other than that I love it, I get lots of compliments!!!!

Great Gift Idea
By
Helen G.

(Shelbyville, TN) - February 5, 2010 (
See all reviews by this customer
)
Just enough color to make my daughters charm bracelet an eyecatcher. I will definitely order some more.

I love the little booties
By
camarie W.

(roswell, GA) - November 19, 2009 (
See all reviews by this customer
)
The booties are perfect! So much better than I thought they would be. You never know what you might get shopping online. They look just like the photo. Many other baby shoe charms I looked at were around $100+. The only problem was I didn't care for the necklace it self. It's 16 in long, just to short for my taste. So I recommend definitely buying the booties but find the chain elsewhere.