Brides handkerchief
By
Virginia D.

(Williamsburg, VA) - September 14, 2014 (
See all reviews by this customer
)
Delicate and lovely, looks just like the photo image and it's fold and "hanger" display make it a pretty package.

Lovely idea
By
Lucille C.

(Portland, OR) - March 2, 2014 (
See all reviews by this customer
)
I purchased this for my daughter who is getting married in August. This item is very nice. The names are stamped on, not embroidered. I am thinking of embroidering over the names to further personalize it. It has been a while but, I used to be really good at it. We shall see. We used to have an antique hankie that all the brides in our family carried on their wedding day, but after my mother passed away it disappeared. I have some other family heirloom hankies tucked away that I have to dig out to see if she wants to use one of those. But, this one is a nice keepsake. The price is very reasonable and the item was shipped quickly.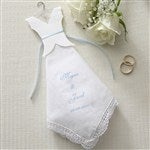 Bridal Hankerchief
By
Cathy R.

(Bethesda, MD) - June 3, 2013 (
See all reviews by this customer
)
This item makes a wonderful gift! Please note I have ordered these for gifts several times. Originally, these came with the names of the bride and groom and wedding date embroidered which was a lovely touch.

The last order I received, the names were not embroidered but screened on to the hankerchief.

Still makes a nice gift, but the stitching is nicer touch and product.


Something new and blue
By
Shopper

(Midlothian, VA) - April 8, 2013
This is great, not exactly what Grandma could've stitched, but fits the bill!!

Love it
By
sabina A.

(Garland, TX) - March 11, 2013 (
See all reviews by this customer
)
I just wanted a small hankie for my elopement that I can fit in my little hand bag. This hankie is too sweet and the embroidery is very nice.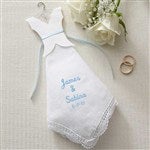 Cute remembrance for bride
By
Shopper

(San Francisco, CA) - May 7, 2012
This monogrammed hankie was a perfect addition to my bridal shower gift. The bride was surprised that I had something monogrammed thinking I had planned weeks in advance. I ordered this 10 days before and received it withing 7 working days!!!! Great delivery service.

a forever rememberance
By
Jean T.

(Southgate, KY) - May 5, 2012 (
See all reviews by this customer
)
I love the Bridal Hankie. I will give it to my daughter at her bridal shower 6-3-12 and I hope she will be as excited as I am to have it for her wedding 8-4-12. It takes care of somethung blue and something new.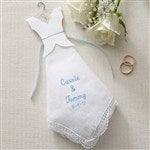 I'm clouding up 11-26-11
By
Shopper

(Canyon Lake, TX) - November 18, 2011
Bride loved this-I put a humurous and meaningful saying to her on it-It was my favorite gift to her. Although it was very good quality, I think you should offer as an alternative a really high end quality linen for those who want even more.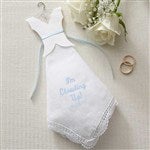 great bridal shower gift
By
brenna H.

(palm harbor, FL) - September 17, 2010 (
See all reviews by this customer
)
This was the perfect find for a bridal shower gift. I found a poem about a something blue handkerchief and made a book about the tradition of something old, new, borrowed and blue. It is really a sentimental gift for a bride. The embroidery is much lower than on the picture, more in the "v" than the center. Also, the cardstock that they make the bodice out of was a little torn on the back from where they punched it out from the template. Not enough to worry about, but not 100% perfect either. In all, a nice gift for a bride for a good price. I actually rate it 4.5.

beautiful
By
jeanna D.

(clearlake, CA) - July 14, 2010 (
See all reviews by this customer
)
This will come in handy: As soon as my daughter opens the silver engraved wedding flutes, she'll be needing the hanky!

Precious
By
Claudia F.

(Ridgefield, NJ) - June 4, 2010 (
See all reviews by this customer
)
This item is so adorable, any bride would love it, whether she actually uses it as her "something blue", or just keeps it as a "keepsake". I would highly recommend this item to anyone who wants something special and unique. I only gave it 4 stars because I think the hanger could be improved upon just a little, but otherwise, it's adorable.

Great gift
By
Ellen G.

(Mountainside, NJ) - April 28, 2010 (
See all reviews by this customer
)
Sent this to a dear friend's daughter-in-law to be. With a personal poem this made a wonderful gift for the bride-to-be to use on her wedding day. Wrapped in clear plastic, it looked adorable on it's little hanger with the personalization in blue.