Substantial vase
By
Shopper

(Ponchatoula, LA) - September 2, 2014
Unfortunately, the vase was broken upon arrival but from what I could see, The personalization was of quality work. The vase is one that could be used for a multitude of things. I bought it as a wedding gift and felt it to hopefully be used as an heirloom from their wedding day. I thought the price to be a little on the high side but the quality to be very nice. It was larger than I expected.


Numeral Size Problem
By
Shopper

(Fort Belvoir, VA) - July 5, 2014
Vase was of good quality but my personalization phrase contained numerals. The size of numerals was too small in comparison to letters in the phrase. Letters were just of acceptable size. The numerals were too small to be readable.

Nice
By
Misty P.

(Shepherdsville, KY) - May 11, 2014 (
See all reviews by this customer
)
Heavy duty glass, love it.
Would suggest monogram bigger and more clear and option of different color if glass than white , maybe like a sand color . Got for Mother's Day gift and they loved it . Overall would recommend this vase as a gift for any occasion.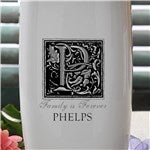 Vase Review
By
Shopper

(McKinney, TX) - February 1, 2014
It was absolutely gorgeous!! The only reason I gave it four stars was because it had the website stamped on the bottom and I felt that cheapened it a bit. The size was perfect, the personalization was done with great detail, quality and style. I was very happy with it :)

a little hard to read
By
Shopper

(Santa Cruz, CA) - October 12, 2013
I had purchased one of these vases in a darker color a year ago and it was perfect; I did have my doubts when I ordered the green type as the smaller line of type did not look too legible on the web page. While happy with the quality and overall look, I would NOT recommend anyone ordering the green as the script font is very difficult to read, even close up.

Great Gift
By
Jean Q.

(Bohemia, NY) - August 1, 2012 (
See all reviews by this customer
)
Gift for my Brother/Sister in law's 25th Anniversary - in black - PERFECT - the printing is grey & perfect for a Silver Anniversary. Only negative - printing was a little off center.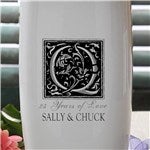 Black Writing
By
Shopper

(Allen, TX) - May 7, 2012
The writing was beautiful and vase was great. The monogram in Black is very faint and hard to Read.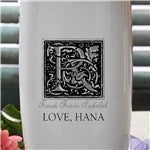 Floral Monogram Personalized Vase
By
Shopper

(Abingdon, MD) - April 17, 2012
The quality of the vase itself was great, however the personalized lettering was very small. (The name of the individual was large enough, however the message lettering was small, comparatively). I chose the maroon color and found the small writing to be barely legible. Overall the vase, which was a memorial gift given on the anniversary of a death was received with gratitude.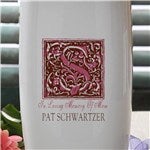 Vase as wedding gift!
By
Tatyana G.

(Tampa, FL) - November 1, 2011 (
See all reviews by this customer
)
I am very pleased with my purchase. The vase is beautiful and elegant! I received a similar vase as a wedding gift, and loved it, so I decided to get on for my cousin's wedding too!

monogram vase
By
MJ B.

(Wilmington, MA) - September 14, 2011 (
See all reviews by this customer
)
Bought this vase for my niece's wedding- It's a beautiful vase! Although the monogram is beautiful, it is slightly smaller than what it appeared to be in print. But, still a beautiful vase, and I'm sure the happy couple will love it! Service and delivery was top quality! Will be coming back for other gifts!

Awesome vase
By
Shopper

(Manlius, NY) - September 10, 2011
This is a great gift, especially for a wedding. We got it as a gift for our own wedding from one of the groomsmen and loved it so much we have purchased it for two different friends who got married. They have all loved it because it is so personal but in a very classy way. Ours was the green, which is really pretty. And we were only able to see the one vase we got for our friend, which we did in black. We did like the black, but the monogram seemed almost a little heavy, but still very pretty. I would definitly recommend this gift for anyone. It's such a nice personal touch without being chessy or weird.

Perfect
By
Nadine B.

(Fredericksburg, VA) - December 14, 2010 (
See all reviews by this customer
)
This is the perfect hostess gift, this is the second one I have orderd. I think it is my new tradition as a hostess gift. Easy and personal.

good quality
By
Amy H.

(Milwaukee, WI) - August 18, 2010 (
See all reviews by this customer
)
The vase I ordered looked exactly the way it did when I ordered it on line, no surprises. It was shipped in a timely manner. I was very pleased with my experience and will shop here again

Floral Monogram© Personalized Vase
By
Sandra W.

(Big Pine Key, FL) - April 7, 2010 (
See all reviews by this customer
)
It's a nice vase and cute way to personalize our anniversary. I was tired of collecting all the cheap glass vases that come with flowers when you order them. I have told my husband that even if the vase is free to forgoe it in the future as I have no more room for them. :) He doesn't know that I purchased the vase, but I have a feeling he will be buying me flowers for our day. It will be a nice surprise for him to see them in our new vase.

The only flaw is that the mouth on the one I received is mishaped. Not that noticeable with flowers in it but should still be more proportioned.

Elegant
By
Angela R.

(Big Lake, MN) - April 1, 2010 (
See all reviews by this customer
)
I purchased this as a gift for my parents...their 30th wedding anniversary will be this summer. I plan to fill it with flowers and I think it will make my mom cry (a happy cry). The vase is big...I like the size...the writing is nice...although I wish that, in the green color scheme, the first line of writing would be a bit darker or clearer...almost feel like i have to get right up to it to read it.
I would purchase this again.

Met Expectations
By
Anha V.

(Lexington , VA) - October 1, 2009 (
See all reviews by this customer
)
This came out exactly as it looks. Doesn't look cheap.