Wedding gift
By
Alexis A.

(Santa Ana, CA) - June 3, 2013 (
See all reviews by this customer
)
It was a good gift, but just abut cheap in the quality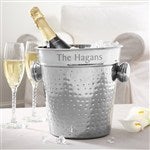 Light, but beautiful!
By
Shopper

(Oxford, OH) - May 7, 2013
This was a beautiful wedding gift for our friends. I was suprised by how lightweight it was when I received it, but it is nonetheless a great purchase!

Ice Bucket
By
Shopper

(La Grange, IL) - March 3, 2013
I put a bottle of champagne in the ice bucket & gave it a a shower gift.
The LOVED it!
Card said "celebrate love"

Very Nice!
By
Shopper

(Tucson, AZ) - April 9, 2012
I'm sure this wedding gift with personalization will be a "hit." It looks very sharp and I only wish it had been a bit heavier. For the price, it is a good value. Delivery was speedy and I will use Personalization Mall again soon!

Great for a party!
By
Daniel M.

(McKinney, TX) - December 27, 2011 (
See all reviews by this customer
)
I wish the engraving was a bit bolder, but the look stands out! It's a great gift for anyone who entertains.

Nice for the price. Good quality.
By
Shopper

(Havertown, PA) - November 21, 2011
Very pleased with the quality of this ice bucket. Was a little disappointed with the engraving.Thought the name would be a little bit larger.

A Lovely Wedding Gift!
By
Shopper

(Jackson, MO) - October 2, 2011
I bought this with the ice scoop (definitely worth the additional $$, the scoop is nice and heavy) for my cousin's wedding. Shipping was super fast. I ordered on a Saturday and received it Wednesday! While it does come wrapped in a cellophane bag with a red ribbon, I re-did the presentation to look more expensive. I filled the bucket with a nice bottle of champagne and two beautiful champagne flutes. While I am pleased with the ice bucket, the personalization is stamped on, it's not engraved, that's my only qualm regarding this product. Thank you!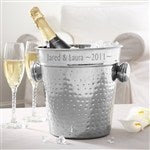 Nice wedding gift
By
Jennifer C.

(Fostoria, OH) - August 9, 2011 (
See all reviews by this customer
)
Very nice wedding gift...would reccomend.

Nice wedding gift!
By
Shopper

(Cottage Grove, MN) - July 12, 2011
I think this bucket is a nice touch for a wedding gift. It is good quality and the personalization was well done. My one complaint would be that it was slightly overpriced for an ice bucket.

Quite Pleased
By
Stacey S.

(Sanborn , NY) - September 21, 2010 (
See all reviews by this customer
)
The shipping was faster than I ever imagined. The chilling bucket arrived and I was pleased with the size. The quality was acceptable and the engraving was done very well.

Great service!
By
Paula R.

(Austin, TX) - July 27, 2010 (
See all reviews by this customer
)
Very pleased with my purchases and good quality for the money. Great service--I received my order in record time!

Ice bucket
By
Jessica F.

(Corpus Christi, TX) - June 1, 2010 (
See all reviews by this customer
)
The ice buckets I ordered came out great. I got them as gifts, but I'd love one for myself. My only negative comment is the handles are very loose so they spin. Hopefully I can tighten them up with a screw driver.

great purchase!!!
By
christy I.

(mount sinai, NY) - March 22, 2010 (
See all reviews by this customer
)
The chller ice bucket is such a great gift, it looks sooo nice and worth the price, it could be a bit thicker in the material a little tinny, but still well worth it...

good quality
By
Deborah T.

(Freehold, NJ) - January 18, 2010 (
See all reviews by this customer
)
This ice bucket was a fairly nice item for the value. The monogramming was done beautifully as well.

Great Gift
By
Maureen B.

(Saint Joseph, MO) - November 23, 2009 (
See all reviews by this customer
)
I ordered this Ice Bucket w/ice scoop for a wedding gift. It was perfect. I wish I could have picked my own design for the "scoop handle." Otherwise, I loved it & think the couple will too.

Not quite as solid as I expected, but I still like it
By
Kaya L.

(New York, NY) - November 19, 2009 (
See all reviews by this customer
)
I think that I would still buy it again, but it doesn't look as solid and strong as I expected. The metal is thinner than it looks in the photo, and the packaging plastic was dirty, and in a normal brown cardboard box but once I dust it off, add a bottle of wine and package it nicely with plastic wrap and ribbons it'll be a classy Christmas gift for my Aunt this year.