nice but hard to read
By
Cynthia B.

(Imperial, PA) - December 11, 2013 (
See all reviews by this customer
)
The platter is nice, and shipped in a timely manner. The font at the top of the plate is very hard to read...and the overall graphic is small. It was still a nice gift.

Fast Service
By
Shopper

(Madison, IN) - December 18, 2012
When I first found this item, it was backordered. I really wanted to get this for someone, but didn't think I would get it in time for Christmas. Finally was able to order on Dec. 6 and even with extensive personalization, I received this item with time to spare.

Mother's 50th Birthday
By
Kimberly B.

(Jasper, TX) - August 22, 2012 (
See all reviews by this customer
)
My mother loved the gift although the small print was hard for her to read. The hearts could be bigger if using less names is my only suggestion. Also being able to select the font or an easier to read. Great keepsake.

Great Anniversary Gift
By
Shopper

(East Arlington, VT) - June 16, 2012
I got this for my parents' 20th anniversary and they loved it. The actual art and writing is smaller than I expected and can be a bit difficult to read, but it looks great. I wished I could have organized the names better since one side of the family is bigger than the other, but it ended up working out great. It also shipped very quickly (probably got here in 4 or 5 days).

Beautiful, better than Expected
By
Amber P.

(Canada) - April 30, 2012 (
See all reviews by this customer
)
I ordered this hoping that the names would be clear to read since the text is so small. I was more than impressed when I recieved it. It is a beautiful plate and I know that my mother in law will cherish it forever. Since my husband and I do not have kids yet, I put "The Penney's" on top and then put "Our Family tree grows with Love" Only one thing I am not happy about is that the picture is not as big as the inside of the plate. But still love it! Would recommend this product.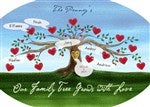 Nice
By
Kendra H.

(Inverness, FL) - February 14, 2012 (
See all reviews by this customer
)
product was nice, but the names were very small and somewhat hart to read. Pleased with it overall though.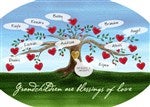 Looks Great but kind of small...
By
Shopper

(Saint Peters, MO) - December 29, 2011
The Family Tree Plate turned out great with what I wanted on it, just the size was rather disappointing. I was expecting a large platter type plate but it was just an oval "normal" sized plate. I cannot complain though as my Mother loved it for Christmas and put it on display in her China Cabinet right after she spent 15 minutes ignoring all of us and focusing on the item. I would recommend but warn about how small the actual letters are, you have to get close to read.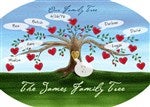 Great Gift!
By
Shopper

(Grovetown, GA) - December 18, 2011
I got this for my Grandparents for Christmas and it was beautiful! They loved it, and so did everyone else! Everyone wanted to know where I got it from. The only negative comment I can make about this platter is that the words in the heart on the tree trunk are very small and difficult to read, which I already knew from reading all the other reviews. But overall I am very happy with my purchase.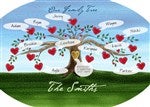 Names could be bigger
By
Shopper

(Traverse City, MI) - November 16, 2011
I love the platter, and it was my second order (one for my family and one for my husbands), but I wish the names were a tad bigger. It's for grandparents and I think they will need to get out their magnifying glasses, but I know they will love it.

as represented
By
Joanetta J.

(Atlanta, GA) - August 1, 2011 (
See all reviews by this customer
)
I wish the writing was larger.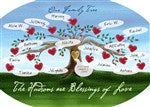 very nice gift
By
NANCY G.

(COHOES, NY) - December 28, 2010 (
See all reviews by this customer
)
brought a tear to my sister-in-law's eye.

Lovely keepsake
By
maria A.

(yonkers, NY) - December 19, 2010 (
See all reviews by this customer
)
The first plate arrived and the center and left side were blurry and you could not read the names. I immediately called customer service who assured me that would get another plate out asap. The second plate arrived within a few days and is lovely. All names are clear and exactly where I placed them. If the hearts were larger, I would have given this a 5 star rating. Makes a beautiful gift.

Christmas gift for my Mom
By
Tanya M.

(Oakfield, WI) - December 19, 2010 (
See all reviews by this customer
)
I purchased this plate as a Christmas gift for my Mom. What attracted me to the gift was the number of names that I could fit on the tree, she has plenty of grandchildren to fill in each heart. When I first received the plate, the names were too small to read and very blurry. I called Personalization Mall to complain and without hesitation they sent me a new plate with clearer and larger writing. I still wish the hearts and letters were bigger, but overall the gift is great!

Beautiful Platter but...........
By
Robin D.

(Greensboro, NC) - November 30, 2010 (
See all reviews by this customer
)
The platter is rather stunning, however, I only have one complaint. I bought this as a Christmas gift for my husband's parents. They are both in their 70's. While the platter is colorful, the names printed on the hearts are too small. I realize with the hearts being small, the names have to be small. I'm hoping my in-laws will enjoy this gift and not complain that they can't see the names.

Nice platter
By
Dana A.

(Lakewood, CA) - July 20, 2010 (
See all reviews by this customer
)
I ordered this platter as a present for my mother in law as there are 15 people in our immediate family. It's pretty and I'm sure she will enjoy it...I just wish that both the platter and the hearts were a little bigger.

Nice but small names
By
betsy T.

(bowling green, KY) - May 8, 2010 (
See all reviews by this customer
)
The plate is really nice and my mom loved it but the names on the hearts are tiny. You have to look really close to tell what they say. It would be nice if the hearts could be a little bigger so you can see the names better. It would also be nice to be able to only have as many hearts as you need. We had a lot of empty hearts on ours.

Family Tree Platter
By
Rosie B.

(Boca Raton, FL) - April 29, 2010 (
See all reviews by this customer
)
This is such a great idea and a great gift. The only thing is that the words are so small, and giving it to grandparents makes it very difficult to read. It is a very special gift that they will cherish, but I wish the letters were larger.

I really liked this!
By
Abigail F.

(Louisville, KY) - February 3, 2010 (
See all reviews by this customer
)
I would have liked it if the picture and words were a little bigger, but all in all, I thought this was a really nice product!

Impressive - For Display Only
By
Janet S.

(Aurora, CO) - January 25, 2010 (
See all reviews by this customer
)
Everyone was happy with the way this turned out. We were surprised, however, to learn that the picture is a decal that is printed and then applied to the front of the platter. Instructions state, "Do not soak." I imagine that the decal will lift off the platter if you try to use this conventionally. But great WOW factor with individuals' names on the hearts and more personalization on the tree trunk and title line across bottom of tree.

Cute gift idea
By
Kinnary P.

(Austin, TX) - December 22, 2009 (
See all reviews by this customer
)
Its a cute gift idea however I did hope it would be bigger since the names are kind of hard to read they are printed very small. Also, if you don't have exactly enough names for the hearts, it will leave a blank heart on tree. I wish it would accommodate for smaller families. Seems pretty sturdy but I hope that once it gets wet, the sticker on the plate doesn't peel off.

Family Tree Plate
By
Keri C.

(Ashdown, AR) - December 22, 2009 (
See all reviews by this customer
)
Personalization was accurate, plate very pretty. A lovely keepsake.

Family gift
Good Present for a family on this Christmas season. thank you

Very Pleased
By
beth E.

(bethesda, OH) - December 20, 2009 (
See all reviews by this customer
)
Very pleased with the quality.

Happy with the result
By
Christine Z.

(North Aurora, IL) - December 10, 2009 (
See all reviews by this customer
)
I just recieved this and am very happy . I bought it for my Mother-in-law for xmas this yr. We have two new additions in the family my sister-in-law & a new nephew. The only things I would have liked is to have the print to be a little bigger. I am still happy with and hope she loves it too.