BAG GREAT BOX TOO SMALL
By
Gerald L.

(Hartland, MI) - August 30, 2014 (
See all reviews by this customer
)
The Tote bag is great. Nicely done. The gift box I bought with it for $4.95 is way too small and does not fit the tote bag. Shameful.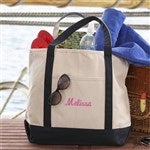 Awesome Size Tote
By
Shopper

(Grand Prairie, TX) - August 11, 2014
I bought this tote for myself and the size is very nice. You can definitely fit all your weekend necessities in this tote. It was actually larger than I had visualized which was nice.

The only reason I didn't give it 5 stars is because it doesn't have a zipper or some type of closure; other than that, love it and can't wait to use it.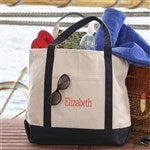 Good Quality - Fast Shipping
By
Shopper

(Peterborough, NH) - August 1, 2014
Nice heavyweight canvas bag at a really great price. Personalization was exactly as shown. Really quick turnaround on the order, which is good, since I am always last minute!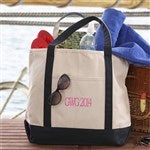 Huge
By
Shopper

(Jonesborough, TN) - May 12, 2014
This was a gift for my friend and I really was pleased with the quality and size (huge) of the bag. I also liked the fact that it had a pocket on the outside and one inside too. The only thing I didn't love was the blue trim. I would have picked black, tan, etc. Would like to have had a color choice on the trim is all.

great size
By
Shopper

(Chicago Ridge, IL) - August 18, 2013
This bag was much larger than I thought which is perfect for me. It is also very sturdy. I just wish the personalization was a little larger.

Weekender Tote
By
Shopper

(Midlothian, VA) - July 28, 2013
I was very pleased with the weekender tote bag!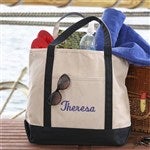 Large Quality Tote
By
Shopper

(Jacksonville, NC) - June 29, 2013
The tote is quite sizable and durable. The trim appears black in the picture, but it is actually a navy blue.

Good quality, good price
By
Elizabeth D.

(Nashville, TN) - June 22, 2013 (
See all reviews by this customer
)
This is a great tote with ample room for beach or boating items. Very pleased with quality and speed of shipping. Two points that prevent this from getting 5 stars. 1) I would have liked a thread option that matched the blue trim on the bag - the navy blue thread was not dark enough, so I opted for black, which looked pretty good in the preview image when placing the order, but clearly does not match the navy blue. 2) Either the item description or someone else's review of the item lead me to believe the tote had a zipper close. The item I received does not close at all. Still very happy with the purchase.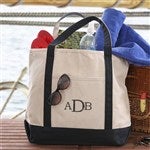 Great Bags! But they change.
By
Hannah V.

(Staunton, VA) - May 13, 2013 (
See all reviews by this customer
)
These bags are fantastic. The quality is great. They are very heavy duty.
The only thing I would like to warn people about is that the bags you receive may not always be exactly the same. It seems that whoever embroiders the bags receives the actual canvas bags from somewhere else, and the supply changes. So to use my experience as an example, I bought these for all my bridesmaids and readers and videographer for my wedding. I got them at separate times and the bags I got were slightly different from one another because of my separate orders. The fabric was a little grittier on some and more clean on others and the design changed slightly. It used to be that these bags had zippers at the top, but now there is no zipper and instead there is an extra pocket and a key holder. So I have 8 bags with zippers and one without. Pay close attention to the description of the bag when you order it, and just know that you might get bags that are not exactly the same, especially if you order them at different times. But they are all high quality and GREAT GREAT bags! I highly recommend them.

Nice Bag! but no zipper and can't wash
By
Shopper

(Temecula, CA) - April 22, 2013
I bought this for a coworker. This is a really nice bag; she really liked it! It's a huge bag! The only things I didn't like about it is that it didn't have a zipper and you can't wash it otherwise the colors will bleed. Other than that, the delivery was timely and the embroidery was really nice and looked exactly like the preview when I was ordering! I would definitely buy again!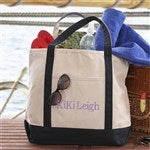 lots of room
By
Shopper

(cordova, TN) - August 22, 2011
I just used this tote for a week at the beach, and it was great! I had plenty of room for towels, sunscreen, and other items. I really liked the outside pocket for smaller items. I will definitely be using this tote for a lot of things!