Pleasant Purchase
By
Robert B.

(Horsham, PA) - September 3, 2014 (
See all reviews by this customer
)
Bought this for a woman who is living in a nursing home. It was for her 90th Birthday. Her mind is very clear. She loved it! The color was bright and pretty! Quick shipping and pleasant purchase. Thank You!!!!!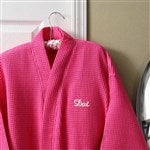 Light and Lovely
By
Joyce A.

(Lansing, IL) - August 10, 2014 (
See all reviews by this customer
)
Robe was given as a birthday gift and the receiver just loves the robe. She likes the color and the lightness. Fits into her lifestyle very well.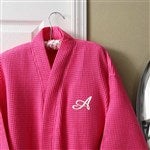 As Described and Fast Shipping
By
Shopper

(Hampstead, NC) - July 14, 2014
Gift was well received by recipient, item was shipped very quickly and made a nice gift for the person who has everything!

Light, comfortable
By
Lisa M.

(Georgetown, TX) - March 2, 2014 (
See all reviews by this customer
)
I like that this robe is lightweight but still creates just enough warmth for me. It is not as long as I thought it would be and is a little above my knee, but it's working out! It's one size, so it's a little big on my size 8/10 frame. With that said, it is nice to be able to wear over my pajamas and not be tight.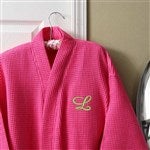 Nice!
By
Tara M.

(Mansfield, MO) - December 29, 2013 (
See all reviews by this customer
)
This make up bag is a good size and the embroidery was very tight.

All in all a good purchase
By
Bill G.

(Plantation, FL) - December 28, 2013 (
See all reviews by this customer
)
Seems to be of good quality and is well made. The name looked good and the person I gave it to seemed to genuinely love it. As others have said, it seems a bit short, but luckily the person I gave it to is not tall, so it worked out well.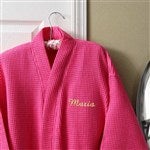 Nice Robe
By
Shopper

(Lithonia , GA) - August 25, 2013
It is simple, and nice. Another color option would have been nice.

graduation
By
Renee R.

(Blue Springs, MO) - July 1, 2013 (
See all reviews by this customer
)
small and cheap...

Love It
By
Shopper

(Casselberry, FL) - May 10, 2013
When I received the robe I loved it, the only thing I don't care about it is that it a little shorter than I thought.

Very good gift
By
Brianna D.

(La Mesa, CA) - May 5, 2013 (
See all reviews by this customer
)
This was a really cute gift I gave my Mom for her birthday. I really like it, but I had thought it was going to be a little longer than it was. Still an awesome gift though, and my Mom uses it all the time.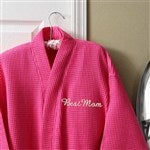 Great product, reasonable price
By
Jill T.

(Garland, TX) - March 8, 2013 (
See all reviews by this customer
)
This robe is a nice light weight, but not cut from flimsy or cheap material. It comes just below the knee on me and is a little on the large size (to be expected from a one size fits all robe), and I'm 5'4". The pockets are nice and deep and overall it's a good fit.

It's a vibrant pink, and the stitching was just as I ordered it. The preview function was invaluable so that I could see exactly how it would come out.

I only have a couple of small complaints: there are too few spaces on the embroidering to fit "Maid of Honor" which was what I needed for the second robe, and there is no option for fonts so that you can do initials or something in a block font instead of script. I had to request MoH, and it looked weird with either capital or lower case "o" so I used a zero instead... it came out great! Additionally, I wish the fabric came in at least a couple of other colors... black and white would be welcome additions!

Generally speaking, this robe is a great purchase for the money. I shopped a lot online for personalized robes, but this was the best deal around. Very happy with it, and I can't wait to give my Maid of Honor hers. I'm already wearing my Bride robe around the house!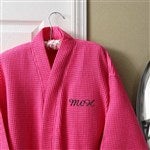 2 year anniversary gift to wife
By
FLOYD W.

(MANHATTAN, KS) - March 2, 2013 (
See all reviews by this customer
)
My wife loved the robe and slippers! I on the other hand was actually expecting the robe to be a bit longer and made of thicker material. But all in all she was happy so it was great gift. Thank you.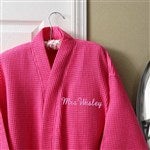 lovely
By
JENNIFER L.

(Melrose, MA) - January 6, 2013 (
See all reviews by this customer
)
robe was lovely. arrived on time and was exactly as pictured

Nice Lightweight Fabric
By
Shopper

(Harrisburg, PA) - December 21, 2012
I love how lightweight it is. Makes it easily compactable and transportable. The name is large and white is a perfect contrast to the pink.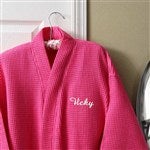 Good Job!
By
Darin M. D.

(Spokane, WA) - December 12, 2012 (
See all reviews by this customer
)
All three items I got for Christmas gifts were enjoyed completely by the recipients! Workmanship and quality were both superior and shipping time excellent! Thank you very much! =Darin, Spokane, WA

Nice material
By
Shopper

(Eagle River, AK) - December 5, 2012
Overall, great product. Material is waffled and the thickness to it is just right (more on the thinner side). Very comfortable and embroidery is a plus (with personalization mall, you can't go wrong!). The only down sides are: it comes only in 1 color and is a "one size" so make sure you read the size dimensions before considering this as a purchase. Just an FYI, the clothing tag does read "personalization mall.com" so if you were trying to be secretive on where you got the product from, improvise. But this is a wonderful product!!! Color of the robe is true to what the display picture shows.

Great Quality, but a bit SMALL
By
Shopper

(Corona, CA) - May 16, 2012
I ordered these for each of my bridesmaids for them to "get ready in" the day of the wedding. The quality of the product seems great, and the embroidery size and font is awesome. My only problem is the fact that I wouldn't agree that they are "one size fits all". I tried one of them on & it did not fit around me and I am an average size 14. I think since they are a ROBE and therefore meant to be comfortable anyways, they should if anything, be too big for people, not too small. They will fit 3 of my 4 bridesmaids fine, but I think it will be tight on one of them unfortunately. I'd just keep in mind that anyone over a size 10 and C cup, this will probably not work for them!!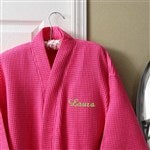 Pink Kimono Robe
By
Shopper

(Decatur, GA) - April 8, 2012
This is a very nice robe. I bought it as a gift and my mother loved. The only problem I had with it was that I thought it would be a little longer than what it was. But it's still cool!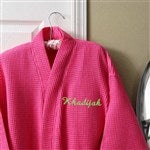 Embroidered make up kit
By
Vicki P.

(Fords, NJ) - February 2, 2012 (
See all reviews by this customer
)
I have ordered about a dozen of this and I love this product,

very cute robe
By
Shopper

(Chicago, IL) - January 9, 2012
I would have liked this robe to be a little longer, but the recipient was delighted with the color and personalization. She has young children and was concerned about keeping the usual white robe clean. The robe is very special.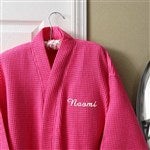 Great Product!
By
Shopper

(Newark, CA) - December 31, 2011
This product was great and was delivered very fast! It is good material and the customized name looks professionally done.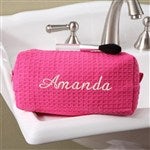 Pink Dimono Robe
By
Rose S.

(Sylmar, CA) - December 27, 2011 (
See all reviews by this customer
)
I got it for both my sister and my sister-in-law and they both loved it. Very comfortable for teh summer.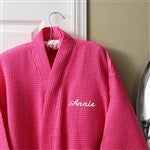 love it
By Shopper (Hiram, GA) - December 14, 2011
It's a great chritmas present

Second time ordering
By
Shopper

(Hicksville, NY) - December 6, 2011
I have always loved this gift it is my second time ordering it. Except this time I got white lettering, the last time it was maroon. I prefered the darker lettering.

Beautiful Christmas Gifts
By
Shopper

(Canada) - October 23, 2011
I ordered 12 of these lovely make-up bags as Christmas gifts for my friends...I was very happy with the quality of these bags and also,the speed of delivery...each name was embroidered just as I had ordered and was beautifuly done...I am very pleased and,will order from you again in future...Thank-you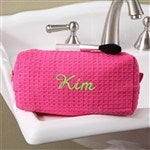 Cute and Cozy
By
Shopper

(Birmingham, AL) - October 22, 2011
I bought this as a "welcome" gift for a houseguest. It is soft, cheery and well-made. My visitor loved it and it made her feel special. The monograming is nice and it was delivered within a few days of ordering. It would have been perfect had it been a little longer; it is knee length. Overall, it is a nice robe.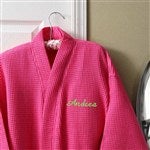 Great Bridesmaid gift!
By
Sara O.

(Boulder, CO) - August 23, 2011 (
See all reviews by this customer
)
I bought this for my bridesmaids and they loved them!!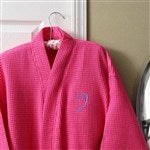 Good buy, just not in a gift box
By
Shopper

(Albuquerque, NM) - August 21, 2011
I bought this robe as a going away present for my best friend so she could use it in her dorm, I genuinely liked the robe and it was of a very comfortable material. However, I strongly advise you not to go for the gift box. To me, it sounded like a convenient idea so I could just give it to my friend. But I couldn't give it to her because it was shipped in a box that was completely torn on the edges. Personalization Mall should invest in stronger shipping boxes because that was just ridiculous. I had to buy an entirely new box and toss the one that it came in.

Good, but not exceptional
By
Shopper

(Loveland, CO) - August 14, 2011
I ordered these for my bridesmaids for when we are getting our hair and makeup done for my wedding. The material is soft and pretty, but not thick and luxurious. I am 5'10" and a size 6/8 and the length hits just above mid-thigh, which is a little shorter than I would like but it doesn't hurt to be a little sexy on my wedding day! They are one size fits all, so I expected them to be a little baggy, but I hoped the cut would be a little more flattering. They are very large around the middle and the bottom of the arm holes hit below my bra line. I measured 54" around from edge to edge around the middle. I am very happy with the quality of the embroidery. Overall, I am happy with the robes I purchased and think my bridesmaids will be able to use them as everyday robes after my wedding. My MoH is a college student and I think this will be great for her to use in the dorms, too.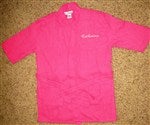 pleased
By
Shopper

(Knoxville, TN) - July 22, 2011
I bought this robe as a bridesmaids gift and one for me for us to all get ready in the day of my wedding. i received them VERY quickly and they were a lot softer then i expected and the pink is so pretty! i got the lime green embroidery b/c that is the colors of my wedding and it looked GREAT! the only complaint i have about this robe is it is a little big through the middle. i feel i am an average sz 4-6 5'3" girl and i could wrap it to where one pocket is covered by the other side. it kinda worries me about some of my girls that are even smaller then i am but all in all i feel like it was a good purchase and maybe they will like them being a little baggy and comfy to wear while getting ready and waiting for hours!

Lovely shower gift!
By
Michelle A.

(Coconut creek, FL) - May 26, 2011 (
See all reviews by this customer
)
I ordered two of these as shower hostess gifts for the ladies hosting my bridal shower. They came so quickly and exactly as I ordered! I can't wait to give it to them! The only reason this isnt a 5 star review is because the robe was a little thin. Other than that its perfect!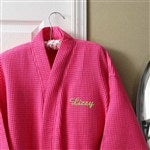 Fun! Fun!
By
Theresa B.

(Tulsa, OK) - May 9, 2011 (
See all reviews by this customer
)
Very cute robe. Light-weight but nicely constructed. It is a short, summery-style robe and needs to be purchased by an averaged size person to cover completely. The embroidery was done spectacularly. Looks great! Fun to wear!

Pink Robe
By
Diana M.

(Sherman Oaks, CA) - March 28, 2011 (
See all reviews by this customer
)
I really like this robe. The only thing that caught me by surprise is the length, I thought it was longer. I love how soft it is and how warm it feels. I highly recommend this robe.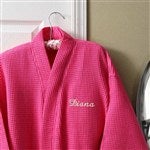 Nice Robe, well satisfied
By
Quinton D.

(Cedar Hill , TX) - February 15, 2011 (
See all reviews by this customer
)
This is an excellent robe, although it looked rather short to me when I recieved it, my girlfriend is a few inches shorter than me so it looked great on her, its very comfortable and the personalization looks awesome !! thanks ! although the only downside is that it had a lot of loose threads i had to cut off so it wouldnt snag on anything and mess up. but that was a very miner deal ! great robe, i would recommend !

Lovely gift, great service
By
Shopper

(Wilmington, NC) - January 21, 2011
While I don't know how well this item will launder as it was a gift, it looked lovely - the name was nicely done. Service was great but would have liked it better if shipping fees were included in the price..I hate shipping fees. Over all I would give this purchase a 4.

It was pretty nice
By
Shopper

(Milwaukee, WI) - January 8, 2011
I got the robe for my bestfriend as a present and everybody including myself thought it looked very nice and the personalization was great. The only complaint is the robe needs about another 4 inches length wise, it is a bit short for a robe. Other then that, it was nice.

Good quality but shorter than expected
By
Valerie S.

(Grand Island, NE) - December 31, 2010 (
See all reviews by this customer
)
Gave this robe as a Christmas gift and overall was happy with the quality, but the only downside is that the picture
on the website doesn't really show you how short the robe is. It hits above the knee and I was expecting it to be a little longer. Nice lightweight though and pretty color.

Pay close attention to the size
By
Suzette C.

(FORT WORTH, TX) - November 30, 2010 (
See all reviews by this customer
)
The product looks great and the embroidery is perfect. Pay close attention to the measurements of the bag as it appears a lot larger in the photo.

great prestent for moms birthday!!
By
rachel G.

(evansville, IN) - September 30, 2010 (
See all reviews by this customer
)
Cute bag..... a little smaller than i expected.

Bachollorette party
By
Katherine P.

(Apollo Beach, FL) - July 29, 2010 (
See all reviews by this customer
)
I bought this for a gift and it looks great. It is a thin material but that's good since we live in Florida.