GREAT TRAVEL BAG BUT
By
max G.

(west bloomfield, MI) - March 22, 2013 (
See all reviews by this customer
)
VERY WELL MADE AND IMPRESSIVE LOOKING. I WISH IT HAD ITS OWN HOOK TO HANG UP IN PLANES. THAT IS WHAT I USE IT FOR.

Good Gift!!
By
Shopper

(Converse, TX) - December 21, 2012
I'm giving it as a gift. It looks good and I hope it holds up as well as it looks. The person receiving it should be pleased.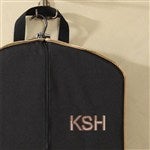 Travel Garment Bag
By
Shopper

(Hoover, AL) - December 20, 2012
I got two of them for my husband and his friend's birthday gift. I think one part is missing the part that supposed to hang up on the wall as I see in the picture. And my husband is not satisfy with it. He says it is hard to take the hanger through it. Eventhough the material is perfect, personalization is very good and it looks very nice. But he is not using it at all.

Very nice
By
Leesa W.

(madisonville, KY) - December 19, 2012 (
See all reviews by this customer
)
Was pleasantly surprised with the quality of the fabric. It looks a lot more expensive than it was. I bought it for my two son in laws and feel sure they will love it and get lots of use out of them.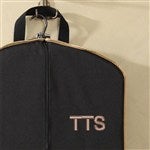 Travel Garment Bag
By
Shopper

(Ponchatoula , LA) - December 13, 2012
Great quality, Nice size and weight I feel like it will travel well. The Monogram is larger than I anticipated and wish that I would have had a choice of font types but overall pleased with the procduct.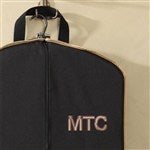 hanging bags
By
Shopper

(Burleson, TX) - August 10, 2012
These are well made and the perfect size.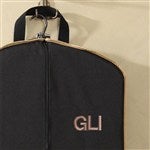 Great material...tends to lose its shape
By
Pedro V.

(Central Islip, NY) - March 2, 2012 (
See all reviews by this customer
)
Item was received as promised. The quality of the personalization was excellent as well as the quality of the bag's material. However, putting 1 suit and about 3 changes of clothes (pants & shirts) caused the bottom of the bag to flop over when folded. I may try some lightweight cardboard cut and fitted to the shape of the bag to help in that regard. I have seen one garment carrier (unable to locate it again) that had a flap on the bottom of the bag that came over the top of the hangers like a sleeve, preventing the bottom from flopping and sagging. The hanger locking system is effective and accommodates thin metal as well as thick plastic hangers although, if you stick with the thin hangers you will get better results when securing the lock. Overall I would recommend this product.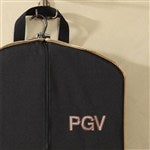 Nice Bag
By
Shopper

(El Centro, CA) - December 27, 2011
I bought this bag for my brother-in-law who is a clothes horse. The bag seemed substantial enough, and he appeared pleased. I would have liked more options for the font for the initials. One note - don't order the box, it's a rip-off. It cost $3.75 and was a really ordinary Macy's quality box, with a black elastic band and some folded white tissue. Furthermore, it was slightly too small, so I had to cram the bag in it making the sides pooch out.

Great Travels
By
Jahmela S.

(Chicago, IL) - December 12, 2011 (
See all reviews by this customer
)
I bought this garment bag for my husband for his birthday and he really likes the quality of the bag. He was a little confused on how to hang the clothes inside because the garment bag does not have a traditional whole at the top where hangers go. Of course, the personalized initials added a great touch to the gift.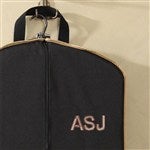 nice product
By
warren C.

(fairfax station, VA) - September 27, 2011 (
See all reviews by this customer
)
i received this product and am pleased with it. it is heavy duty nylon grade and initials just as promised. i didn't understand the hanger clamp feature but now understand how it works and think it will be useful so that your hanger items don't fall to the bottom of the bag. no suggestions on any improvements.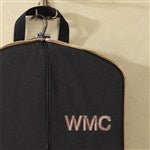 Very Pleased
By
Shopper

(Chapel Hill, NC) - September 27, 2011
I ordered this for My fathers Birthday, the quality of the garment bag was awesome and the personalization added a spark to it, he was very pleased..also the shipping was fast and timely.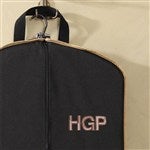 My Husband Loved this!
By
Tamiko O.

(Brentwood, CA) - June 20, 2010 (
See all reviews by this customer
)
My husband was excited to receive this as his father day gift. I was excited because at 9 months pregnant, I didn't feel like going out looking for a father day's gift. My husband is also hard to shop for, therefore this gift was prefect, because we he travel he now has his personalized garment bag. I only wish they sold this in different lengths for extra-tall men.

My husband loved it!!!
By
Felicia B.

(West Hills, CA) - December 30, 2009 (
See all reviews by this customer
)
Good quality! haven't used it yet, though! Very classic and sharp looking! Very pleased with personalizationmall.com!!!
I will now be a customer for life and will be referring lots of friend and family!!!

Garment Bags
By
Robert C.

(Grand Terrace, CA) - December 20, 2009 (
See all reviews by this customer
)
Product was ordered and shipped quickly and easily. Met expectations.


Good Product - Rec'd quickly
By
Mary Lou C.

(Tulare, CA) - October 1, 2009 (
See all reviews by this customer
)
Good Product and it arrived on time as promised.