Great looking
By
Shopper

(Decatur, GA) - December 29, 2013
The tree skirt came quickly and looks exactly like it did on the web. It is large so no matter the tree, anyone should be set.

Gorgeous
By
Shopper

(dallas, TX) - January 25, 2013
This tree skirt is large, great for a 7.5 foot tree and the embroidery is of great quality. I do wish there was a bigger gap between the name and the size of the letters were bigger also; but nonetheless, I am satisfied and looking forward to Christmas!!

Beautiful Color
By
Shopper

(Cuba City, WI) - January 16, 2013
This tree skirt is quite large. Good for a wide tree. It is gorgeous. I will use it next Christmas with my new white tree. I was surprised that it was a little thin, though. For the price I paid, I wish it would have been a little heavier weighted with more fullness. Had "Merry Christmas" put on it. Embriodery was neat.

My magic carpet
By
Shopper

(Switzerland) - December 19, 2011
Looks great have not yet placed it but I am sure it`s going to look great. Thanx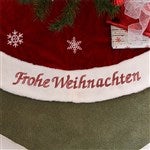 Very Pretty
By
Leanna S.

(Winston-Salem, NC) - December 18, 2011 (
See all reviews by this customer
)
This is a beautiful tree skirt. My only complaint was that it was not as large as I thought it would be. My tree stand is large, so that took up a lot of the skirt. This was my first purchase with this company, and the turnaround time was great. I'm sure I'll be using them again.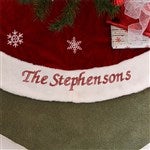 Pretty
By
Shopper

(Waukesha, WI) - December 11, 2011
Speedy delivery. Great product. A little pricey but still nice!

Good but one problem
By
Nicole G.

(New Baltimore, MI) - December 11, 2011 (
See all reviews by this customer
)
This is the best looking tree skirt that I could find that didn't look like it belonged in my grandma's house or in a house full of children. Very cute in person. Leave the extra spaces in between the last name though like the other reviewers said. My problem was that part of the tree skirt was sewed tighter than the other part so that the red underneath shows instead oft he white trim. Of course it is by our last name so I have to put a present there to hold it down. Seems like a problem with the way the two pieces were sewed together. But looks great under our tree.

Excellent tree skirt
By
Susan C.

(Lockport, NY) - December 3, 2010 (
See all reviews by this customer
)
Great tree skirt! The quality is excellent and I was very satisfied with this skirt. I purchased one for a gift for my boss and his wife and will be pleased to give it to them. The only negative is that some of the red ran into the white trim of the skirt, so there is a touch of pink, however, it's not too bad and I will be able to trim it out with a pair of scizzors. I am thinking about purchasing one for myself!

beautiful...
By
Patricia A.

(Peoria, AZ) - December 2, 2010 (
See all reviews by this customer
)
It is plush and will protect delicate ornaments that might fall onto our tile floor. Color is rich. My only complaint is that our name was embroidered over a seam, which distracts from the overall look. There was plenty of white trim to use without including the seam.

Looks great!
By
William P.

(Winter Springs, FL) - November 22, 2010 (
See all reviews by this customer
)
I love this tree skirt. It looks nicer in person than in the photo. The only problem I have with it is the name printed on it looked better when it first came in the mail. Now the white part is showing through the name a little bit... Hopefully it doesn't keep showing through more bc I just got it a week ago.

Looks great - even better with the matching stockings!
By
Sarah C.

(Clayton, NC) - December 11, 2009 (
See all reviews by this customer
)
Looks great. Very soft and beautiful color. Almost perfect but with one small glitch. When you type in your name - make sure you put extra spaces between "The" and your name. You can also notice this on the preview with about 5 spaces. Mine looks as if there are no spaces. Other than this glitch - it's great.

Good but small
By
Griselda H.

(Crestview , FL) - December 7, 2009 (
See all reviews by this customer
)
I love the material, it's high quality, BUT when I put it around my tree...it was too small. I can only see about 2inches of the skirt.

Beautiful Tree Skirt
By
Carrie K.

(Scottsdale, AZ) - December 6, 2009 (
See all reviews by this customer
)
Overall I was happy with this skirt. It is good quality, but not as plush as the picture makes it look. If it were as luxurious as the picture looks, however, I would expect to pay well over $100 for it. For the price, it is great quality and very nice. The lettering is just as it looks in the picture. I wish it were a bit larger, but it was completely as advertised.

Just like the picture & great quality!
By
Kara P.

(Royal Oak, MI) - November 25, 2009 (
See all reviews by this customer
)
This tree skirt is just as nice as it looks in the picture. The material is high quality, the embroidered stars are well done, and the personalization looks terrific as well. It is much nicer than the typical tree skirts you find in the store which tend to look unimpressive and sometimes cheap.

The only reason why I rated this product 4 stars and not 5 is because I foresee the need to attach an alternate means to close the skirt in lieu of the velcro strips in the future. But for right now, the velcro strips work fine.