Great job on my pictures
By
Ashley S.

(Morton Grove, IL) - December 27, 2012 (
See all reviews by this customer
)
The ornament itself wasn't that creative. i.e. it is flat and little dog bones. And by the picture, for some reason I thought it was silver. But they are white. Stands out on my tree in a bad way.

But the quality of the picture and writing were great. I am very happy I picked this over other ornaments. I would def recommend to other buyers. Price was great too. I made my mother tear up when she saw them. Mission accomplished!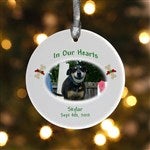 Darker than Expected
By
Karen G.

(Harrison, OH) - December 27, 2012 (
See all reviews by this customer
)
I have ordered this product before and loved it. This time the whole order turned out darker than the picture I sent and I even lightened them. You can barley tell the difference between the cat and the couch. The receiver still loved it. Packaged well and shipped promptly. Will order again.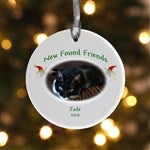 Memorial Ornament
By
Shopper

(Lubec, ME) - December 8, 2012
I was pleased with this ornament. I made it in memory of my beautiful dog.
The color on the ornament is good and the photo is rather clear. I would say it's made out of pottery with a shiny finish over the top. It comes in a fancy black personalization mall little purse. This ornament looks perfect on my tree.

Pet Ornament
By
Shopper

(SeaTac, WA) - December 28, 2011
We had several photo ornaments made this year for various individuals to capture the year in review, and we couldn't forget our pets either.
We loved this ornament, however the only reason for the "4" rating was that because a dog or cat photo is often times caught in a side profile, if you wanted more than a head shot then you had to shrink the photo down pretty small to get the full body. That was a little tricky. We opted for half the body along with the head to get the full coloring of our pets and that worked OK as well.
It was nice to have a special ornament just for pets.

Nice But
By
Ingrid S.

(Atlanta, GA) - December 8, 2011 (
See all reviews by this customer
)
This was the 2nd ornament I purchased in memory of my pet I loss in Oct. It is nice, and I like that I could personalize it, but I think the Pet Photos ornament I purchased first is much nicer.....because the picture is larger. I would recommend this product though. So far I'm at 2 ornaments....I plan to order more in her memory.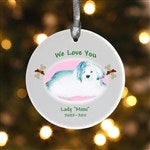 Great Ornaments for our 4 legged children
By
Chrystal P.

(Virginia Beach, VA) - November 28, 2011 (
See all reviews by this customer
)
I bought 4 of these ornaments for my 4 cats. I was pleased the way they came out. I did have problems finding a picture big enough for the program to accept but overall I thought this was a great idea!

my favorite dog
By
Linda H.

(Kissimmee, FL) - January 6, 2011 (
See all reviews by this customer
)
My daughter loved her new ornamanet of her beloved pet Princess.

I used this as a pet memorial!
By
Margaret R.

(Hatfield, PA) - December 30, 2010 (
See all reviews by this customer
)
Each Christmas Eve we give an ornament to each of our five kids, and we choose the ornament to remind us of some special time we had together during the year or some event. Well, our beloved Golden Retriever died earlier this year, and in my quest for an ornament I decided to see if I could find a pet memorial ornament. Your site, and others, had some, but I didn't care for them...so I used your "Our Favorite Pet Personalized Ornament" and changed it to be a Memorial! It read "We miss you!" on top, then her name on the bottom with her dates below that. It worked great! And the process was SO easy, especially being able to actually see the finished product on the screen! The kids loved the ornaments! My only disappointment was that one of the 6 ornaments (I ordered one for us too) had the picture & writing slightly off center to the right :-(, but I kept that one for us. The other 5 were perfect! Thanks for making this so easy!

Mostly satisfied
By
Elaine R.

(Tonawanda, NY) - December 16, 2010 (
See all reviews by this customer
)
I am happy with the pet ornament, with the following exception: it was very difficult to manipulate the photo in the manner I desired. I was not able to include the portion of the photo that I wanted. I got about 80% of the image, but ended up 'cutting off' one ear because I just couldn't get the crop feature into that area of the photo.

The quality of the ornament was good, and the photo reproduction quality was about an A-. This was a good value, especially considering that a cheap plaster ornament at the mall was the same price!

Very cute!
By
Kristi P.

(Plano, TX) - December 10, 2010 (
See all reviews by this customer
)
I ordered three of these ornaments for all the dogs amongst our family, and they turned out very cute! I will definitely order more from this site!