Very nice, but on the small side
By
Shopper

(Hamilton, OH) - January 14, 2014
This ornament is very nice! The quality is good and the look of the ornament is pretty, but the photo and the print are small. I'm afraid my Grandma will have a hard time seeing it. If it was a little larger, this would be perfect.

Cute!
By
Shopper

(Edgewater , FL) - January 14, 2014
My ornament is a memorial to our 16 yr old cat that recently died. I love the ornament except the photo is slightly darker than the preview image they showed when I ordered it. I can still see his handsome little face so overall I'm happy with my purchase. I wouldn't hesitate to order this item again.

Very Special
By
Shopper

(Oklahoma City , OK) - December 31, 2013
It is something great for a keepsake in memory of a loved one.

Wonderful ornament, but had to have re-printed
By
Shopper

(SeaTac, WA) - December 28, 2013
Loved the poem on these ornaments, but wish the font size of the 'name' to be inscribed could be made smaller, so you can add more characters of longer names. Unfortunately, we had to have these re-printed for us, due to an obvious misalignment of the printing machine (printing all 10 off-center & wrapping some of the text around one side). Quality control was missing on this batch. But accidents happen and the PM Cust Serv rep (Susanz) was VERY APOLOGETIC, took the time to go thru the entire order & make sure a replcmnt order was submitted immediately for this particular part of our order.
Please note: We have ordered from PM in the past with no problems & did order several other photo style ornaments along with these this year & they all came out great. Since PM is stepping up to correct the obvious printing alignment issue right away with no hassles, we know we'll indeed return to PM for future orders.
(Would have been 5 stars if we didn't have printing problem)

Love this item, but..
By
Valerie G.

(Emporium, PA) - December 22, 2013 (
See all reviews by this customer
)
I absolutely love this ornament! I have ordered several and keep coming back. However, the ornaments I ordered this year were not centered and it's pretty noticeable. I bought them for gifts and didn't have time to reorder or call the company about them. Overall, as I said, I love them!

Lovely
By
Shopper

(Raceland, LA) - December 7, 2013
Ornament was high quality. I sent a sepia tone photo which gave the finished product an antique look. It was beautiful. I just wish it would have been a bit larger. The font for the poem was difficult for some to read.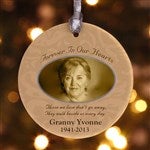 Wonderful Sentiment
By
Shopper

(Chicago, IL) - December 2, 2013
I was looking for an ornament in memory of my mom who passed away just before Christmas and loved the sentiment expressed on this. It is a nice, heavy weight and comes with a pretty silver ribbon, but the writing is tiny (my dad couldn't read it with his bifocals), and I thought the picture would have come out more clearly. The patterned beige background also made the ornament look rather bland. I still think the words are lovely, but it would be nice to have more variations on this theme to choose from.

Love you to the moon and back!
Heaven is only a memory away.

beautiful but writing a little blurry
By
Jennette B.

(North Las Vegas, NV) - December 30, 2012 (
See all reviews by this customer
)
I got two of these and they looked good from a distance but close up the writing was a litle blurry.

A great tribute!
By
KJ B.

(West Chester, OH) - December 25, 2012 (
See all reviews by this customer
)
Nice quality, a beautiful addition to our tree and a wonderful gift for our siblings!

Very nice
By
Shopper

(Royersford, PA) - December 22, 2012
I liked the fast, convenient service; received it very quickly. Looks great except for the ribbon, I felt seemed cheap looking, so I replaced it with a satin ribbon; Photo came out great, though.

Great gift!
By
Shopper

(GRETNA, LA) - December 11, 2012
I bought these after the passing of my grandparents for my mom & aunts. They came out great but were a little smaller than I thought. They loved them though!!! I only paid about $11.00 each so well worth the money!

Love it!
By
Shopper

(Elizabethtown, PA) - December 9, 2012
The only thing that kept it from five stars was the ribbon that came with it - the silver ribbon didn't really go with the earthtones of the ornament, but I swapped it out for my own ribbon and it looks great!

Loving memories forever !
By
Shopper

(Canada) - November 23, 2012
This ornament is simple and personal. Photo is crisp and sharp nicely put together. Price was good except shipping was more than I had hoped to spend.

Christmas gift
By
Shopper

(Smyrna, GA) - November 3, 2012
Very nice and great quality, but a little small. Overall, it's a great "in memory" gift!

Great gift idea
By
Lois S.

(Zanesville, OH) - December 30, 2011 (
See all reviews by this customer
)
The finished product itself is very nice. The concept is great and provides an ideal gift at a reasonable cost. The challenge is finding a good photo that is adaptable to the parameters of cropping tool. Once you have that, everything else is simple. Before you begin, I suggest you have several photos on hand to choose from. I had to keep going back into my digital archives and look for one that would work.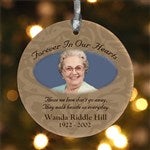 honoring loved ones past
By
Lisa H.

(Kingman, AZ) - December 29, 2011 (
See all reviews by this customer
)
I ordered this ornament in remembrance of my grandparents who's 70th anniversary would have been Christmas Eve. This is our first year without them and have decided to start a new tradition. We plan on adding a new ornament every year in their memory. The ornament was absolutely beautiful. The only negative is I feel it could have been a tad larger. Everyone loved it though. I will be using this company again!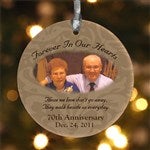 Great, Fast Service
By
Shopper

(HAWKINS, TX) - December 21, 2011
I ordered this memorial ornament for my mother-in-law as a remembrance of her mother. I ordered it on a Saturday night and my M-I-L received it on Wednesday. She LOVES the ornament and display stand.
Ordering this unique and wonderful gift was very easy and I am pleased with the quality and timeliness of delivery!

Wishing the picture area was larger for the Forever In Our Hearts Ornament
By
Shopper

(collingswood, NJ) - December 20, 2011
I was a little difficult getting the picture to crop and I would have liked it better if the picture area was a little bigger. It looked a little bigger in the preview of the ornament before I purchased it. The image makes the picture look more zoomed in than it actually is.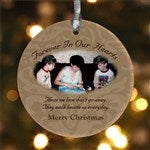 ornament
By
Shopper

(Staten Island, NY) - December 14, 2011
Thanks for easy and extremely fast service. The ornaments were packed with care and love the pouch to keep it in. After losing someone special, it's nice to have them remembered in a special way.

Memorial Ornaments
By
Shirley G.

(Topeka, KS) - December 14, 2011 (
See all reviews by this customer
)
I purchased three of the Photo Memorial Ornaments--one in memory of my son and the other two as gifts for my brother and his wife in memory of their daughter and her mother. The ornaments were shipped promptly and are of high quality. The verse is quite appropriate--heartfelt, but not gushy. My only complaint is that the horizontal requirement made it difficult to find a suitable photo. The cropping view feature was quite helpful though.

Memorable Keepsake
By
Shopper

(Mansfield, MA) - December 12, 2011
Got this for my mother whose father passed away. Nice keepsake to remember the person. Was expecting the ornament to feel a little different, but I still love it. Worth the $15 or so.

Beautiful
By
Shopper

(Canada) - December 10, 2011
I love this ornament...its perfect!

Just what I expected
By
Bethany P.

(Carlsbad, CA) - December 7, 2011 (
See all reviews by this customer
)
This ornament arrived exactly as pictured on the website. Lovely memorial.

nice keepsake
By
Shopper

(Colorado Springs, CO) - November 30, 2011
This will be a very nice ornament to grace any tree of someone who has lost a loved one.

nice & quick
By
Shopper

(Laguna Niguel, CA) - November 25, 2011
this was really nice & came quick. the only thing is the color of the ceramic is not taupe like the photo, it's more like mauve. the company should post another photo with more accurate color.


Took two tries
By
Shopper

(Roseville, MI) - March 12, 2011
I ended up being very happy with these ornaments but it did take a couple of tries. The first time I received them, the pictures weren't centered as shown in the preview when I uploaded the pictures - this led to white lines on each side of the picture. PM decided it was a quality control issue and replaced them. The new ornaments turned out very nice. They are a great gift idea for someone who lost a loved one or pet.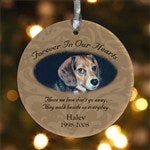 Nice Quality, Font too small
By
Kim H.

(Brighton, TN) - January 23, 2011 (
See all reviews by this customer
)
The finished product is of nice quality. The font on the wording is so small you need a magnifying glass to read it.

Memorial Ornament review
By
Mallorie J.

(Ellenton, FL) - January 16, 2011 (
See all reviews by this customer
)
The ornament was beautiful and just as described. I wish that getting the photo just right was a little easier. Also, once I had already purchased this one, the website showed me other ones I might like, and I wish I had seen those first because I would have rather purchased them.

Memorial photo ornament
By
Cynthia H.

(Wrentham, MA) - December 27, 2010 (
See all reviews by this customer
)
Photo quality was very good except wish photo could have been a bit larger along with the printed sentiment. All in all the ornament was very nice

Great
By
Daniel N.

(Olympia, WA) - December 25, 2010 (
See all reviews by this customer
)
Fast shipping and it looked great. I wish you could have more control over placement of photo on ornament. The family member I gave it too had tears in her eyes when she opened it. More family members have asked where it was from because they would also like one.

Pets too
By
Lael L.

(Horsham, PA) - December 24, 2010 (
See all reviews by this customer
)
This is a beautiful ornament to hang on the tree. It's quality ceramic material and the picture comes out great on it. I put in my dog's picture and it's very special to me.

Forever in Our Hearts- Grandma
By
Veronica C.

(Forney, TX) - December 14, 2010 (
See all reviews by this customer
)
I ordered several of these ornaments and I absolutely loved them. The quality is great and the memory will last a lifetime. I gave one to each of my family members and they were just as satisfied.

Very Nice
By
Cassandra C.

(Munster, IN) - December 8, 2010 (
See all reviews by this customer
)
This was a little smaller than expected but it's still very nice

Christmas Memorial ornament
By
Christina W.

(Cincinnati, OH) - December 1, 2010 (
See all reviews by this customer
)
This is a wonderful way to remember a loved one at Christmas time with a photo ornament also inscribed with a touching tribute. The only drawback is that the photo section is a landscape oriented oval, which limited my choice of photo.

2 ornaments
By
Wanda B.

(Covington, KY) - December 1, 2010 (
See all reviews by this customer
)
I was extremely happy with one of the two ornaments. I ordered 6 of my Mom and Dad & 1 or my Mother in law.

The ones for my Mom and Dad were very clear and nicely made and I know my brothers and sisters will love them at Christmas.

On the other hand the one of my Mother in Law was not as clear as the picture that was scanned. I was a little disappointed in this one.

Wonderful way to remember family
By
Margaret B.

(Wiggins, MS) - November 18, 2010 (
See all reviews by this customer
)
I ordered this in memory of my father and was very pleased. It is a great way to keep his memory alive.
I wish it was a little easier to see the quality of the picture. Some other ornaments were not as clear as I would like even though they were tagged as "best".

Great gift
By
Megan H.

(La Porte, TX) - November 10, 2010 (
See all reviews by this customer
)
Great gift for those who have lost a loved one.

memorial ornament
By
LINDA D.

(MECHANICSBURG, PA) - November 5, 2010 (
See all reviews by this customer
)
the ornament is very nicely done. the photo is very clear and blends with the ornament. a very nice piece to display. the ornament could be a little larger as well as the script on it so that it is easier to see. the staff was outstanding in helping me get the photo right and placed on the ornament. i would recommend this ornament and personalization.

Wonderful Keepsake
By
Robin P.

(Pawtucket, RI) - October 28, 2010 (
See all reviews by this customer
)
My beloved Memere passed away in July. This will be my first Christmas without her and I bought the ornament to hang front and center on our Christmas tree. When I showed it to my daughter she got tears in her eyes and said she would love to have one. I just ordered two more. Nice quality and exactly as pictured.