Dots on Cup
By
Karen L.

(Spring Hill , FL) - December 9, 2012 (
See all reviews by this customer
)
Cup had a few little black dots on the front of cup other then that I was satisfied liked the colors and Madelyn name shows up good.I was pleased with the fast shipping . Thank-You, Karen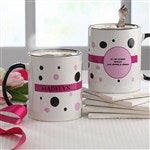 Pleased
By
Shopper

(Nazareth, PA) - December 9, 2012
The mug arrived quickly and pesonalized as I ordered it. It's a gift that will be given later this week so I hope the person I ordered it for enjoys it. The only negative I have to say is I wish it was larger. It's a standard size mug which was described in ozs in the product desciption. I don't know about you but I didn't know if that was a standard size mug or not. I prefer a larger size mug and wish it was a larger size. Other than that I like the quality of the product, the speed of delivery and the accuracy of the personalization.

Great Mother-in-Law Gift
By
Shopper

(Edwards, CA) - November 19, 2012
Was looking for a good thank you gift for my Mother-in-Law for my wedding in December. Everyone uses a mug to drink out of! So i thought this was a perfect gift that i knew she would, for sure use =p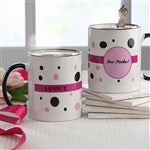 Cute
By
Shopper

(Dublin, OH) - August 4, 2012
I would have rated this a "5" had the font been easier and clearer to read! When ordering this mug, there was only was one font option - poor. The font looks like Times Roman, is small, and is not the right style for the fun flare of this mug. Price was right though and the recipient enjoyed the pink theme.

Pleased
By
Shopper

(Seagrove, NC) - April 8, 2012
I absolutely love Personalization.com!!! For people who have unusual names it is the BEST place to find unusual things!!!

sister gift
By
debra C.

(cupertino, CA) - October 1, 2011 (
See all reviews by this customer
)
I am always happy with my purchases from Personaliztion Mall. Everything comes in a very quick amount of time,usually shipped out the day after I order something. I will shop here again and again.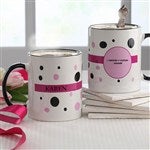 Great product
By
Katherine B.

(Council Bluffs, IA) - March 11, 2011 (
See all reviews by this customer
)
I bought this as a bridesmaid gift and it was great.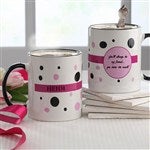 Cute mugs, they look just like the picture
By
Dionne J.

(jonesboro, GA) - December 29, 2010 (
See all reviews by this customer
)
I purchased 2 mugs and both recipients were very happy. I like the sturdiness and finish on the mugs. I would definitely recommend it as a gift.
The only downside was on 1 of the mugs I had my own inscription put on it, the writing could have been larger, but I was not given the option to increase the font size. But overall a good price and wonderful gift.

Very Satisfied
By
Zachyra R.

(Columbus, NJ) - December 27, 2010 (
See all reviews by this customer
)
I was very pleased with this mug that I ordered a second one as a gift for a family member. The price was great, but most of all the person loved the gift. Thanks!

Very Cute!
By
Kristin T.

(Los Banos, CA) - December 26, 2010 (
See all reviews by this customer
)
Great gift for someone with sassy sayings and cute dots! Delivered quickly! Wonderful go to gift!

Font size
By
Leonor C.

(Tempe, AZ) - June 29, 2010 (
See all reviews by this customer
)
I ordered this cup as a gift for my sister and LOVED it! My sister was equally thrilled to receive it. My only complaint would be that the font is a little small and not as bold as I'd like. Other than this it was a huge success!