Customize with your own message
By
Shopper

(Poway, CA) - February 23, 2014
The pillow is pretty nice. The customization looks good. Note the colors in the picture, names in a brown, message in black. You can put in your own message or use one of theirs. My husband and I have a special message for bedtime that I had printed on the pillow and he really liked it.

I ordered two days before with guaranteed delivery by Valentines Day and it was here in the afternoon so I could give it to my husband that night.

Sweet and holding up
By
Chelle Annette I.

(San Diego, CA) - October 10, 2013 (
See all reviews by this customer
)
This pillow is on our own bed, and it is sturdy, firm, has held up over the past 10 months (used as a dress pillow only), but two wishes are 1) cream/eggshell rather than basic white color and 2) removable/zippered to wash as needed. All in all we are happy with it...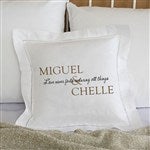 ROMANTIC
By
Shopper

(EVANS MILLS , NY) - April 8, 2013
My husband liked it, he thought it was a little bit too small but different and romantic

Great keepsake
By
Sylvia R.

(Dallas, TX) - October 27, 2012 (
See all reviews by this customer
)
This is a beautiful pillow. I purchased this for my pastor and wife church anniversary. The quality is great and they are going to love it!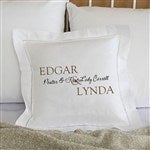 cute
By
Shopper

(Sault Sainte Marie, MI) - February 24, 2012
its very cute, i wish it was bigger, but it is great all the same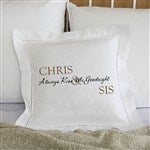 Customized pillow
By
Shopper

(Tallahassee, FL) - February 20, 2012
Nice sentimental gift, a definite buy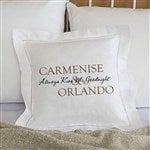 Romantic gift: kiss me goodnight pillow
By
paula D.

(LA, CA) - February 12, 2012 (
See all reviews by this customer
)
this is a great gift for couples, whether newlyweds or long term relationships. My only criticism is the pillow is smaller than I thought it would be. But still like it and will purchase more.

Smaller than expected, but still OK
By
Ray M.

(Nampa, ID) - February 7, 2012 (
See all reviews by this customer
)
Pillowm was smaller than I expected, but,hey it was only meanrt to be decotrtiv.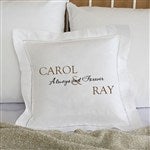 A little smaller than expected
By
Kim S.

(Lancaster, PA) - December 30, 2011 (
See all reviews by this customer
)
I gave this 4 stars because it was smaller than expected for the price but I didn't actually do the measurements so its my fault for not looking closer. It still is a nice gift excited to give it!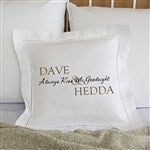 A Cute Little Personalized Couples Pillow
By
Shopper

(SEAT PLEASANT, MD) - December 28, 2011
I purchased this for my daughter and new son in-law because I thought it was just absolutely precious. When they received it, she called to say that it was lovely and was already on their bed !! She said that the quality is excellent and she looks forward to displaying it for a long time. What a cute little keepsake! I will definitely be purchasing more of these as they make GREAT wedding or anniversary gifts !!

Gift for us
By
Shopper

(Lithonia, GA) - November 4, 2011
Received many compliments.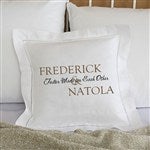 Great pillow, small in size
By
Shopper

(Orange Park, FL) - October 14, 2011
The pillow is really great; however, the size is very small. Was under the impression it would be about the size of your average throw pillow. My husband loved it for our anniversary, but do not make it the only gift :-).

Nice
By
Shopper

(Jacksonville, FL) - June 24, 2011
At first I ordered one pillow for a friend who's getting married, but when I received the pillow it was smaller than I thought. I still think it's a good gift. I ended up buying two more for the couple.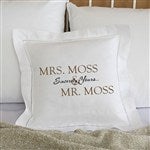 Romantic Wedding Gift!
By
Jacy K.

(Nacogdoches, TX) - June 15, 2011 (
See all reviews by this customer
)
Got this for my cousin getting married. Everyone oooo'd and awwww'd when they saw it. Very romantic. She liked it. Wish it could be a bit bigger, however. She compared it to a ring bearer pillow. Quick shipping.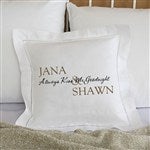 Cute, good quality, just a little small
By
Shopper

(Smithtown, NY) - February 15, 2011
It's just smaller then I thought but, I still love it.

Perfect Addition
By
Shopper

(Gilmer, TX) - February 11, 2011
Love our New pillow...Bought as a extra Valentines gift and its so CUTE!
Turned out exactly as I expected and the colors work well with any bedroom..
Another Great product!

Nice Accent!
By
Ellen B.

(Fair Lawn, NJ) - September 21, 2010 (
See all reviews by this customer
)
This pillow is just the right size.....not too over-powering. The linen case is rich-looking & is a stunning throw pillow.....I am giving at a bridal shower where gifts will be on display, so I think it will be a nice touch!

pillow review
By
jill O.

(derby, CT) - July 14, 2010 (
See all reviews by this customer
)
a little smaller than I thought still nice

Just right
By
Elaine W.

(Cherry Hill, NJ) - June 8, 2010 (
See all reviews by this customer
)
I ordered 2 of these attractive pillows. They are a bit smaller than I imagined, but provided a lovely decorative personal touch. I really appreciated the option of creating an originally written phrase.It solved my gift giving decision for an engagement and bridal shower. The recipients adored them. Shortly after I ordered them they arrived within a couple of days expertly packaged.

Personalized Linen Pillow
By
Marti A.

(Fairacres, NM) - February 18, 2010 (
See all reviews by this customer
)
The pillow is cute. I wish that it could have also been personalized with the wedding date (on the back maybe). Very pleased with the delivery time!

Lovely..
By
Donna N.

(Herndon, VA) - February 14, 2010 (
See all reviews by this customer
)
The screenprinting was perfect. If I had one complaint, it would be that I would like to have a larger size pillow as a selection.

Pillow
By
Mandy T.

(Northport, AL) - February 2, 2010 (
See all reviews by this customer
)
I ordered this for my mom-from my dad=) for her birthday-It was very nice-jus wish it was bigger-in the picture it looks so much bigger-


Cutest pillow to sit on your bed
By
Anna E.

(Steilacoom, WA) - January 20, 2010 (
See all reviews by this customer
)
I really love this pillow and the personalization on it looks really good. I think the only thing that I would change about it though is the material. It's a very plain linen, where I think it would look really nice with a sateen cotton look. Other than that, totally love it.

Pleased with the pillow, not the filling!
By
Lee-Anne T.

(Philadelphia, PA) - December 30, 2009 (
See all reviews by this customer
)
I am pleased with the quality of printing and the actual pillow, however, the filling is a kind of grey colour that shows through when inserted in the cover. If the filling was crisp white then I would give this product five stars. As it is, I am going to buy a different filling so I'll be happier with the whole effect.