Very happy
By
Michelle H.

(Sparta, KY) - December 28, 2013 (
See all reviews by this customer
)
I am really happy with how these turned out. I am excited to use it. Feels very strong.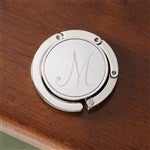 Want one for myself!!
By
Shopper

(Tinley Park, IL) - May 11, 2013
Good quality - looks great!!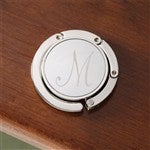 Engraved purse hanger
By
Shopper

(Port Charlotte, FL) - October 19, 2012
These devices must be perfectly balanced to function correctly and not slip or fail to hold the purse. This one is well constructed to perform its function. It is weighty, too, which helps. It is a very handy device to keep a lady's purse off the floor and near her when dining or sitting at any table. It folds up neatly for storage in the purse when not in use. Be sure to carefully try out any such purse hanger as some are simply non-functional or at least poorly so. This one measures up nicely, is very attractive, personalized and very useful.

Great gift idea
By
Shopper

(Lake Havasu City, AZ) - April 28, 2012
This is a great gift idea - I have purchased 11 over the past 2 years. Small, compact, personalized.

Best used for lighter weight purses. Wish it were designed to handle a larger, heavier purse.

Bridesmaids Gift
By
Shopper

(Rancho Cordova, CA) - March 3, 2012
I purchased these for my Bridesmaids and my Maid of Honor, I was pleased when I received them in the mail. The quality of the product is okay. I wish there was something to hold the hook together, because it just comes apart. Overall I would recommend.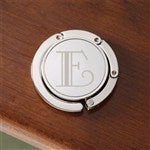 very nice
By
Ahmad A.

(Jacksonville, FL) - August 29, 2011 (
See all reviews by this customer
)
Very nice purse hanger, better than expected.Easy to use, very useful and very personal (or so my wife says). Would definitely recommend this product.

Wedding party gift
By
Sarah R.

(Lacey, WA) - August 2, 2011 (
See all reviews by this customer
)
These turned out to be a really neat gift. While a bit smaller than I expected, they are really pretty. Overall a great thank you gift for being a part of our big day.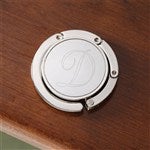 good gift
By
Shopper

(Seffner, FL) - February 17, 2011
this is a good hanger. I would give it 5 stars if only it had a lock closed on it, so it would not come open on it's own. It is a good item though.

Good
By
carter D.

(longville, LA) - December 22, 2010 (
See all reviews by this customer
)
She likes it! That is after she figtured out what it was.

Purse Hanger
By
Beata K.

(Canada) - October 6, 2010 (
See all reviews by this customer
)
Nice piece for the girls. Wish they had more fonts available.
Seems like it can hold some weight, but not sure if it can hold a very heavy purse. Find out soon! Arrived very quickly!

Pretty, but a little bummed
By
Kimberly M.

(Maple Shade, NJ) - August 13, 2010 (
See all reviews by this customer
)
The purse hanger is very pretty and looks just like it does in the picture.

However, I was a little disappointed b/c there's nothing to keep the hook part attached to the coin when it's in "closed" mode... if that makes sense?

If you're not using it, you wrap the little arm around the center circle piece, but it doesn't stay there. It comes undone.

A little magnet or or something to keep it closed would've made it nicer.

Nice
By
Sara R.

(Hampton, VA) - July 26, 2010 (
See all reviews by this customer
)
Not too elegant and not too casual. A perfect mix of both. It is a very nice simple gift.

Great Gift!
By
Rebecca D.

(Philadelphia, PA) - December 28, 2009 (
See all reviews by this customer
)
Fits on most tables....some thick tables won't hold it. Good quality. Big hit at christmas!

Good gift
By
Grace L.

(Anaheim, CA) - December 10, 2009 (
See all reviews by this customer
)
Good gift for the price I paid, I wouldn't pay the full $18 plus shipping... Like the other reviewers have said, the hanger is not quite big enough for all tables (which may defeat the purpose of having one of these) but I find that if you hang your purse first, then put it on the table this could work. The closure does not snap shut which makes storage less convenient, but the velvet bag it comes with is nice to have. I think it makes a good small gift gesture and plan on gifting these as Christmas presents. Be careful because this is a personalize item with engraving, once it is personalized you waive the right to return/exchange so be sure you want this.

Good item...
By
Grace L.

(Anaheim, CA) - December 10, 2009 (
See all reviews by this customer
)
I like the purse hanger, customer service was a little difficult but finally resolved me billing issues. I am excited to give these out as Christmas gifts and even bought one for myself :)

Very classy
By
judy S.

(massillon, OH) - December 7, 2009 (
See all reviews by this customer
)
I purchased 5 of these and they are very nice. The only thing I would suggest is maybe a little tighter link or a snap to hold this together when not in use. I could see someone dropping into the bottom of their purse and having it open up and get caught on something.

Great, but only one drawback...
By
Jennifer B.

(Hamilton, NJ) - November 17, 2009 (
See all reviews by this customer
)
Used this for the first time last night. Worked great and I had been looking at purse hangers for a while, and I bought a few, so I can't wait to gift them. The only problem is that I wish the chain around the emblem stayed shut. There are others where that chain stays closed and you can loop around your purse strap to carry it with you and for easy access. I don't know why I assumed all were like that. This one DOES NOT and I wish it did. It kind of flops around when not in use. Fishing around for it in the bottom of the black hole that is my bag to use is kind of a pain.