Great Gift, Small Script
By
Shopper

(Independence, KY) - July 8, 2014
The product is what you see in the picture and a very nice and romantic gesture. The only issue that I have is that the font for the main content is like a size 9 script, which makes it difficult to read and I have 20/20 vision. If the main script font was a bit larger it would be perfect.

Nice but...
By
Stephanie R.

(Lake Zurich, IL) - June 28, 2014 (
See all reviews by this customer
)
This product is nice but smaller than imagined. Also the writing is not as white as shown, so you may have to read it at an angle. It is heavy and sturdy, but I would not again!

product feature I do and don't like
By
Shopper

(Cary, IL) - April 14, 2014
I have ordered from your site because of great customer service!! Love your company and all it stands for. Also your site allows me to view the accuracy of the product and how it will look. Another competitor does not allow this feature. However, the one thing that did not stand out was how small the print was going to be upon completion. The product was beautiful and it fit the occasion. But I did have to write out the wording so she could read it. Otherwise I definitely recommend this company!!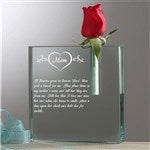 Nice Item but.........
By
Dennis T.

(Lebanon, OR) - February 19, 2014 (
See all reviews by this customer
)
this is a really nice item; substantial weight but the printing is so small it is really hard to read. With all the extra space on the vase, the printing should have been made much larger.

My Bad
By
Shopper

(Lubbock, TX) - February 17, 2014
I thought the rose came with the base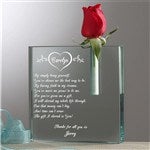 romantic
By
Jeff W.

(Dover, DE) - February 17, 2014 (
See all reviews by this customer
)
the only problem I have is the way they shipped it ,It was in bag with bubble wrap instead of a box an it was cracked during when I opened it, waiting on replacement

Great for the desk of the one you love
By
Shopper

(Royse City, TX) - February 16, 2014
My wife loved this vase and it will always be on her desk. It is helpful reminder for me to buy a single rose on a regular bases. Money well spent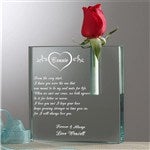 Almost Perfect
By
Johnny E.

(Hinesville, GA) - February 8, 2014 (
See all reviews by this customer
)
My wife was really blown away by this gift. The message expressed exactly how I felt from the heart. The only thing missing was the rose that was supposed to be in it. That would have sealed it's perfection.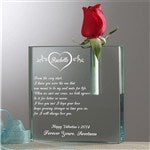 Makes a nice gift.
By
Shopper

(East Saint Louis , IL) - February 3, 2014
This item makes a very nice gift,perfect for poems.Just make sure you order a big enough size to be able to comfortably read what you had inscribed.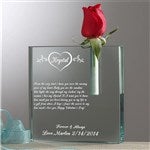 vase
By
Paul S.

(Lancaster, OH) - March 2, 2013 (
See all reviews by this customer
)
It is what I wanted .She love it .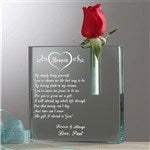 Good
By
Shopper

(Wadestown, WV) - October 22, 2012
I think that everything looked really good and very pretty. My wife loved it, it just made her day when I gave it to her. The only thing that I didn't like about it is that it didn't come with the rose, I thought since the rose was in the picture it came with it so I didn't go and get one. Other than that though I think it turned out really pretty and it was well worth the money.

Nice Product
By
Shopper

(Indianapolis, IN) - July 16, 2012
Got this for my Girlfriends Bday, She love it. Couldn't find something to give then i just found this page on google and like what they had, i bought this and some other present for my mom and they both love it.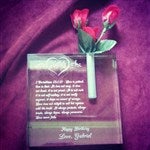 nice item but hard to read
By
Shopper

(San Antonio, TX) - June 30, 2012
The product looked amazingly great. But the problem was that it was hard to read due to the transparency of glass.

excellent
By
Shopper

(Council Bluffs, IA) - February 19, 2012
It is a little hard to read, other than that it is really nice gift.

My girlfriend loved it
By
shannon M.

(karthaus, PA) - February 17, 2012 (
See all reviews by this customer
)
I was happy with the product except the writing appears smaller than i thought it would. Very pretty and was shipped and packed well!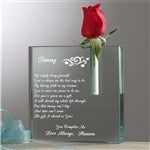 A suggestion
By
Shopper

(O Fallon, MO) - February 10, 2012
I was thrilled with this item. I loved being able to create my own poem for use with this item, but I was disappointed with the lack of a rose. I would suggest that the company offer a glass rose to go along with this item. Suggesting a real rose to the customer is basically impractical because the "bud vase" is so small.

the one i love
By Shopper (Little River , SC) - February 5, 2012
it was great

Beautiful piece
By
Shopper

(Lincoln, NE) - January 30, 2012
Wonderful vase given as a gift and they loved it! Good quality product. Only concern was the words were a little small and somewhat difficult to read.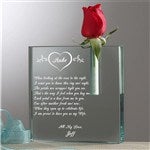 product review
By
Darrin S.

(Mansfield, TX) - January 21, 2012 (
See all reviews by this customer
)
Nice products, easy to order and prompt delivery. The engraving could be a little larger for easier reading. Overall good product and services.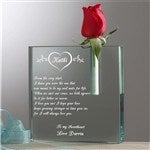 Nice but print too small
By
Chazz A.

(New York, NY) - February 17, 2011 (
See all reviews by this customer
)
The product was pretty much as I expected from the description. The only downside was the type was small and difficult to read. Keep the message short.

Nice
By
Ehsan H.

(Roseville, CA) - February 14, 2011 (
See all reviews by this customer
)
The font size is kind of too small but overall it's beautiful and have a very good quality.

a gift for any occasion
By
Anita H.

(Manassas, VA) - May 9, 2010 (
See all reviews by this customer
)
Exactly as shiwn on the image. Very good quality but thing it will have an outstanding appearance if written in silver. I was happy with the purchase

Not your ordinary vase...
By
Andrew B.

(Altamonte Springs, FL) - March 1, 2010 (
See all reviews by this customer
)
This item is a great way to say that special something to someone special to you with a unique medium. The item ships very securely so it isn't likely to get broken and I used rushed shipping which meant the item arrived on time for me. The only real negative about the item is the font can be somewhat hard to read the way it is engraved. I don't know if that is because my passage was somewhat long so they used a smaller point size for the font or if they ever change that regardless. The piece looks beautiful where we put it, but you really have to look at the item if you want to read it which is somewhat disappointing.

Bud vase
By
Andrew F.

(Conroe, TX) - February 16, 2010 (
See all reviews by this customer
)
Great Product!..If there would be one suggestion only, it would be to make it a little bigger so as to accomodate a larger font for the message.
Beautiful work!!

Nice item
By
Penny A.

(Encino, CA) - February 15, 2010 (
See all reviews by this customer
)
The item was a little smaller than I expected and the writing was not really dark enough, but otherwise, the quality was nice and I liked that I was able to write my own poem. I got it for a guy, albiet, a romantic type guy and he really liked it.

Great
This gift is so delightful, it really captures how you feel about that special person.