Smaller than seems
By
Shopper

(Columbia, KY) - June 16, 2014
This bottle bag was a great shower gift but it's much smaller than I anticipated. Without the burp cloths it probably only fits 2 bottles with a freezer pack.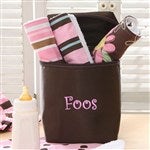 Bottle Bag
By
Shopper

(Divide, CO) - March 9, 2014
Quality was good but much smaller than it appears in photo. New mom loved it.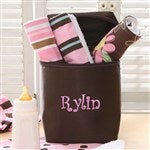 Smaller than you think but still a great gift!
By
Melissa E.

(Simpsonville, SC) - March 1, 2014 (
See all reviews by this customer
)
When I ordered this for my god-daughter, I thought it would be bigger. I was slightly disappointed with the size when I received it but as always, impressed with the quality. She loves it so I have to say I'm overall happy with the purchase.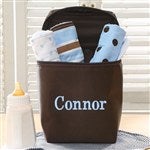 bottle Bag
By
Donna B.

(Yonkers, NY) - September 5, 2013 (
See all reviews by this customer
)
Bottle Bag was as expected. received sooner than shipment date.

A special gift, for a special arrival ! !
By
Eleanor D. M.

(Bklyn, NY) - January 1, 2013 (
See all reviews by this customer
)
This product was a GREAT Success ! I was invited 2 a baby shower,and w/ the extra detail of the personalized made it ex.special:) I just wish it was a little bigger on the inside 2 store a bottle or 2 or a bottle,if u r out in the park.But,all in all it's a cute bag.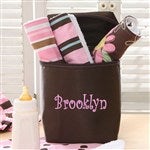 Better than expected
By
Shopper

(Kansas City, MO) - March 17, 2012
This item was cuter in person than on the website. It is of comparable quality to those non-personalized bottle bags you would find in stores, plus it has the added bonus of the burp cloths! I would definitely buy it again but next time, I would buy the set of personalized bibs to go with it to make a larger gift b/c the bibs & burp cloths match perfectly!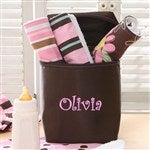 Perfect Colors
By
Shopper

(Miami, FL) - November 8, 2011
I gave this as a baby shower gift to be a little different from the same old gift. I'm sure it was a hit because I chose the same colors as the theme of babies room and since it was personalized that was even more special. I didn't give a rating of 5 stars because I thought the item was a little bit bigger; otherwise it was a good buy.

Great bag!
By
Carrie M.

(Decatur, GA) - August 9, 2011 (
See all reviews by this customer
)
The burbcloths are not very good, but the bag is great! We used one as a cooler bag for our daughter for the past two years. It fits two ice-packs and two bottles or juice-boxes, and still fits inside my diaper bag. So when our son was born, we bought one for him, too. It is a bit overpriced for just a bag since we have never used the burpcloths at all, but the bag is so cute and useful that it's worth it to us.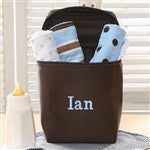 Cute!
By
Shopper

(Torrance, CA) - June 27, 2011
This is a very cute set that I ordered for my sisters baby shower. Very cute and looks very expensive. Only complaint is that I wish it was shipped in a box instead of a plastic package because it got a little smashed during transit and the wrinkles won't really come out. Other than that, very nice product.

Bottle Bag for Childcare
By
Bridgette L.

(Indianapolis, IN) - May 11, 2011 (
See all reviews by this customer
)
I am nursing so I needed a bottle bag to send to my childcare with my baby. The stiching is very well done and of high quality. The bag is great however, the width is smaller than I thought. Just be sure to review the measurements to make sure it is what you are looking for. The bag is still great. I can fit up to three bottles and a small ice pack. I also squeeze bibs and burb cloths in there as well. The burp cloths which come with it are so nice as well.

cute bottle bag
By
Khanthaly P.

(Tomball, TX) - April 17, 2011 (
See all reviews by this customer
)
cute!!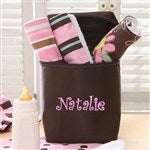 Helpful
By
Amber D.

(Ellenwood, GA) - April 12, 2011 (
See all reviews by this customer
)
The pacifier holders helped me to finish picking out a baby shower gift because it was the perfect color for boys.

A Bit Small
By
Shopper

(Timonium, MD) - April 10, 2011
Great bag. Only issue is that it is too short to accommodate a standard size baby bottle. It would be nicer if the bag was a little taller.

For A Baby Boy _Gift
By
Shopper

(Bradenton, FL) - February 5, 2011
Nice item, excellent quality, a bit small but okay; as it is meanly for baby bottle/burp cloth as wanted. The bag itself has a simmery (shinny texture look)and the only flaw was that since i was not sure which color thread for the personalization's name between "Sky Blue or Orange" I finally chose sky blue;as shown and found it looking more on a greyish blue tone. Therefore, i should of opted for the orange color instead and would look better with the brown bag.
Service and delivery was very quick and excellent.

Cute
By
Ashley H.

(Brooklyn, NY) - November 15, 2010 (
See all reviews by this customer
)
I bought this for my brother and his girlfriend and it was loved. the bag isnt as big as i expected

Very Nice
By
Tracy W.

(Converse, TX) - August 30, 2010 (
See all reviews by this customer
)
The bag is a little smaller than I expected. The personalization is beautiful and the burp cloths are of very good quality.

Satisfied Customer
By
Natalie F.

(Ramona, CA) - August 25, 2010 (
See all reviews by this customer
)
This is a very nice product, good quality, vivid colors. I look forward to seeing the recipient's reaction.

personalized bottle bag
By
Kathleen F.

(Riverhead, NY) - August 20, 2010 (
See all reviews by this customer
)
I was dissapointed in the size, it appeared larger and therefore was a little expensive


Great Babyshower Gift
By
Peggy C.

(Grandville, MI) - July 28, 2010 (
See all reviews by this customer
)
I have given this gift for a babyshower two times. I like that it is unique with the name embroidered as well as being functional. I also think it would be something that can be used as the child gets older as a lunch kit, too. Delivery was great for me, I recieved my order 4 days after placing my order.