Nice gift
By
Gail M.

(Richboro, PA) - May 24, 2014 (
See all reviews by this customer
)
Great gift as an extra wallet. Holds credit cards, ID and some money. Monogram makes it special.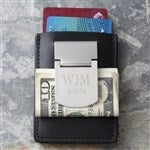 Great item
By
Shopper

(grand rapids, MI) - January 8, 2014
Met expectations. Great item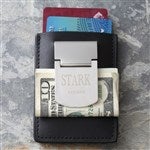 Engraved Money Clip abd Credit Card
By
Shopper

(Marina, CA) - December 16, 2013
My Husband loved it. It should be able to hold more than 2 cards, it would be perfect.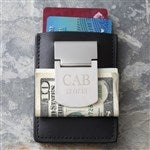 Great product!
By
Shopper

(Wantagh, NY) - December 13, 2013
We purchased 8 of these for our groomsmen. We haven't given them out yet, but we loved the look of them. The leather looks great and the engraving was well done. Only thing is that you cant fit too much money under the clip.

TJ/RI
By
Shopper

(Millersport, OH) - November 11, 2013
My wife and I purchased several of these for Christmas gifts, as always they are just what we expected.

Groomsmen gifts
By
Shopper

(Thornton, CO) - September 10, 2013
The engraving is perfect. A very nice looking case. Quick shipping. Very pleased with the product.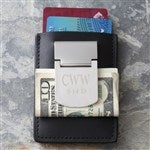 Money clop card holder.
By
debbie D.

(clarkston, MI) - June 9, 2013 (
See all reviews by this customer
)
I bought this for my friends 60th birthday and I am very happy with the high quality and craftsmanship. I got it engraved and that is a tad off center, but the engraving is nice. This is why I gave it 4 stars instead of 5. My friend is happy with it and uses it daily.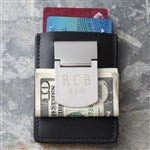 Nice one
By
Rakesh V.

(Milford , CT) - May 19, 2013 (
See all reviews by this customer
)
Good one but high on price

Did I Get What I Paid For?
By
SANTRICIA F.

(TYLER, TX) - April 6, 2013 (
See all reviews by this customer
)
Overall, I am pleased with my purchase. However; where it was engraved, it was scuffed. I'm sure, because I am the purchaser, I'd probably be the only one to notice the marks. That aside, I gave 4 stars instead of 5 due to the gift wrapping. I spent $6 to have my gift "wrapped," and this is not what I received. If I had known it would be delivered in a removable ribboned box, I would've opted out of the additional charge, considering I still need to wrap it.

Nice looking money clip.
By
Michele H.

(Lexington, KY) - March 11, 2013 (
See all reviews by this customer
)
The look of this clip is great - the leather is a little stiff but that will loosen up with use. My husband was very pleased.

Very small
By
Shopper

(Virginia Beach, VA) - March 3, 2013
This is not what exactly what I was hoping for, I was hoping it held a bit more inside. If you don't carry much in your wallet this is a good choice. It is good quality. I just wish it was roomier inside.

engraving
By
Susan N.

(Hanover , PA) - December 30, 2012 (
See all reviews by this customer
)
the gift is what i expected it to be. the engraving was nice

Stocking Stuffers
By
Shopper

(Coats, KS) - December 29, 2012
Santa gave these to the men in our family in their stockings. Quality was good for the price paid. They seem sturdy and should last several years.

Great gift
By
Shopper

(Syracuse, NY) - December 29, 2012
Extremely fast shipping! Love them! I would have given 5 stars but one clip had a tiny scratch on it.

Nice work.
By
Shopper

(Clearwater, FL) - December 26, 2012
Purchased for my daughter's boyfriend. He likes it, so I'm satisfied.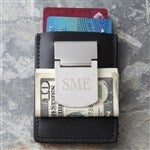 nice anniversary
By
Jessica K.

(Fresh Meadows, NY) - December 11, 2012 (
See all reviews by this customer
)
Husband absolutely loved his gift. Now to find some $$$$ to put in it, lol.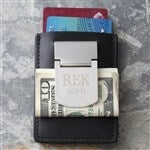 Good money clip
By
GRACE L.

(PLACENTIA, CA) - December 11, 2012 (
See all reviews by this customer
)
I liked this money clip. The quality felt durable and looked good.

Nice product!
By
Emily H.

(Atlanta, GA) - December 5, 2012 (
See all reviews by this customer
)
I really like the way that this wallet looks. I am unsure about the spring in the actual money clip though. I am hoping that it holds up okay, although I am a bit skeptical. I am giving it as a gift and keeping my fingers crossed!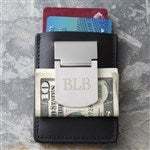 Exactly as shown
By
Shopper

(Pequannock, NJ) - August 28, 2012
Great product. It is exactly as shown. Only problem is that the pocket only holds about 3 cards. No more than that; which is hard if you carry a lot of credit cards (i.e. one for business, one personal, driver's license and then others). Would recommend this for wedding party gift. Very practical for someone who would use this for an occasion where you don't want to take a lot of money and want to keep everything all together.

Money Clip
By
Shopper

(Wheaton, IL) - May 18, 2012
Money clip is vey stylish. the clip was off center when recieved. called customer service and they sent out a new one. great customer service agent and received order in time for gift giving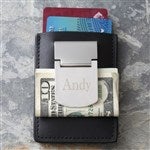 GROOMSMAN GIFT
By
Shopper

(Staten Island, NY) - May 14, 2012
It came out really great ! I think the guys are going to love it especially with all the gift cards we will be adding to it

WILL RECOMMEND IT !!!

engraved money clip
By
kelvin D.

(apo, AE) - May 14, 2012 (
See all reviews by this customer
)
This was a great gift for my father-in-law he really likes it and uses it suprisingly but this is a good gift.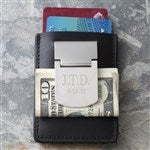 Simple, Elegant, and Convenient!
By
Ruriko S.

(San Diego, CA) - May 1, 2012 (
See all reviews by this customer
)
I gave this as a gift to my BF and he loves it! He likes how it is a much better option when going out since it is more compact: carries 2-3 cards and carries a ton of bills too:)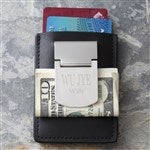 Zippo engraved money clip & credit card case
By
Shopper

(Santa Monica, CA) - April 9, 2012
I had this engraved for a new MBA graduate for his business cards and he thinks it's "cool and professional" which is exactly what I had hoped for. The job was done and mailed out within two days. The staff was terric and very helpful with their advice.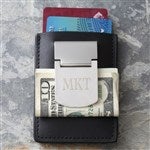 Nice gift
By
Shopper

(Bullard, TX) - March 23, 2012
Engraving was very nice and product was good quality. The money clip was a bit loose though, but overall nice gift.

Served the Purpose
By
Shopper

(North Aurora, IL) - March 13, 2012
The money clips were OK. We bought them for the groomsman gifts. Leather is kind of cheap, so is the clip. However, it's an affordable cost. I do not regret this purchase. It served the purpose, without spending a fortune.

just ok
By
Shopper

(Maspeth, NY) - March 12, 2012
the money clip&credit card case locks fine but I have to mention that I doubt it its leather .its a very ok present considering the price paid for. 3.1/2 stars

mice money clip
By
Shopper

(Fort Myers, FL) - March 9, 2012
The product came in the right time frame and was just as I expected. Good quality and engraving was correct.
Nice product.

You get what you pay for.
By
Shopper

(Alpharetta, GA) - December 27, 2011
Great customer service! Was delivered right on time. From the reviews, I was expecting better quality, but with the reasonable low price, I got exactly what I paid for. Great gift for young people.

Engraved money clip
By
Susan P.

(Canada) - December 11, 2011 (
See all reviews by this customer
)
Very pleased with my purchase. I just hope the spring for putting the money in is sturdy enough.

Money Clip and credit card holder is nice idea
By
Shopper

(Gilbert, AZ) - December 7, 2011
Everything was nice about this one......althought the leather is pretty stiff and more like plastic than leather.

well made product
By
Shopper

(Charlotte, MI) - June 24, 2011
The kids bought this for their dad on Fathers Day because he doesn't like carrying his wallet everywhere. This is just the right size to put a couple credit cards and some cash in, and put it in his front pocket.
Thanks for the quality!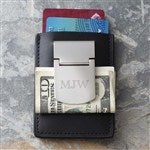 Zippo Engraved Money Clip & Credit Card Case Review
By
Shopper

(Walnut Creek, CA) - June 19, 2011
The product is great. My kids gave it to my husband for Father's Day. The only complaint is that there is not a separate spot on the outside with a plastic case for his Drivers License. But not a deal breaker, he still loves the wallet.

Great Father's Day gift
By
Mari-Anne K.

(Redondo Beach, CA) - June 12, 2011 (
See all reviews by this customer
)
Great item at a terrific price. My husband always wants a small wallet for his pocket - this is a wonderful solution. Engraving is well done.

Great Quality
By
Shopper

(Newington, CT) - May 30, 2011
The order shipped within 24 hours and arrived right when it was suppose to. Excellent quality and nice engraving. Perfect gift for graduation.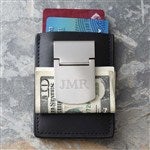 Money clip
By
Shopper

(Excelsior, MN) - April 26, 2011
I'm a little worried the clip may not be strong enough to hold much but it seems like a nice sized option for going out without him having to bring a huge wallet and still have him carry MY ID as well! Great addition to his wedding gift box!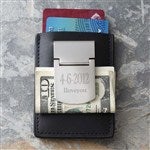 A gift well received.
By
Marlene S.

(Minot, ND) - April 2, 2011 (
See all reviews by this customer
)
I have purchased three of these personalized money clips. The men in my life, 2 sons and my boyfriend have been happy to receive them. They all use them and like the quality and practicality of a place for credit card and ID.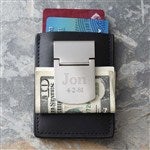 Nice money clip
By
Shopper

(hauppauge, NY) - March 20, 2011
We bought this for our brother in law Birthday. Accaully will be in the end of this month. After we got it we are pretty sure that he will love it.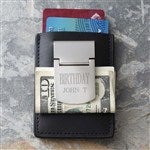 Beautiful Beginning
By
Shopper

(Mill Valley, CA) - January 11, 2011
My little brother just graduated from College and is starting a professional career. He mentioned he wanted a money clip but loved that this had his initials on it. It came out very well. I do wish that the leather pouch had some more sleeves with it but he liked it.

Amazing Credit Card Case, Bad Money Clip
By
Madeline L.

(Pittsburgh, PA) - January 5, 2011 (
See all reviews by this customer
)
The money clip itself if not very taut, however the engraving is lovely, and the leather is exquisite. Overall, a decent purchase.