Papa loved it!
This is perfect for someone who has everything and didn't want anything for Christmas. Faces & names are very easy to read. I only wish "Papa's Favorite People" was on the front and the back. The back looks like it's missing something.

Love!
By
Shopper

(Chancellor, AL) - December 29, 2013
High quality & adorable. Only issue - both my daughters have naturally CURLY hair. There is no option for that hair unless you are of African-American descent. Please change this!!! Otherwise, perfect.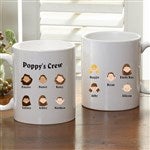 Grandma mug
By
Paul A.

(Fishkill, NY) - May 21, 2013 (
See all reviews by this customer
)
Initially I designed and ordered a "grandma mug" but I left off one of our dogs, thus I re-ordered through a sales representative and she was very helpful in helping me design the mug. Delivery was expeditious and the price was fair. This is my fourth order and I would highly recommend to "all"!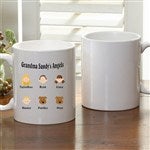 A fun gift for a Grand Parent
By
Barbra F.

(Lombard, IL) - February 8, 2013 (
See all reviews by this customer
)
I got this mug for my Mom. I included my brother, sister, husband, and son on the mug. Now my Mom is reminded of us every time she has some coffee. She loved it.

Cons:
1) the image is only on one side.
2) there is only one adult option...so if you have 2 adults with the same color hair on the mug, they will look the same. To solve this problem, I used the Mom for me and the Big Sister for my younger sister.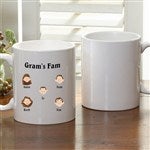 Nice
By
Shopper

(Troy, MI) - June 21, 2012
looked good, grandma liked it

character mug
By
laurie D.

(lake mary , FL) - January 28, 2012 (
See all reviews by this customer
)
this really is adorable, but I wish they had given dog/cat options too.

It was nice
By
Shopper

(VALRICO, FL) - December 29, 2011
I got the mug for my dad and he loved it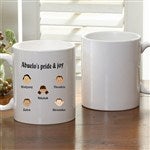 Character Mug
By
Shopper

(Gilboa, NY) - December 28, 2011
This was a great idea I actually got for my mother. Instead of using something sweet i used "MOMS MONSTERS" with all my siblings faces. My mom loved it. It was funny, cute and very true. It arrived on time and in perfect condition. I am very happy with it.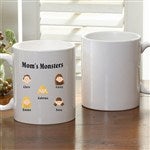 Very Cute
By
Lisa J.

(Azle, TX) - December 28, 2011 (
See all reviews by this customer
)
Mugs are cute. I wish there was some choices to put on the other side of the mug and maybe a couple more pictures choices for the front. But what we got is very cute. The Grandmothers loved them, and the kids did too. :)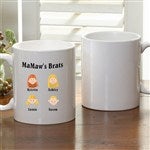 SUPER!-More uses than just for Grandparents- But need more diversity!!
By
Bethany C.

(Marshfield, MA) - December 20, 2010 (
See all reviews by this customer
)
The mug itself looks great, no issues or errors and no surprises thanks to the preview generator- which is amazing btw. As I said in the title, it is a great gift for people other than grandparents or family. I got it as a gift for a teacher with all the students on it and it was a huge hit! I'd give the item five stars, but the major complaint was the lack of diversity in the character choices!! That was a major bummer. :( There are more choices on the family mug (still not diverse enough but better), but then there are less slots on that mug. Still, really amazing for the price, decent quality, and you can order just one- meaning you dont have to order cases to make it reasonable!

Though it says to only talk about the product I want to note how quick turn around is- I ordered this item at 11 pm on Thursday and had it by monday at noon (granted paid for expedited shipping). But still, great considering it is made to order with the personalizing and this was during crazy holiday shipping.

Simply satisfied
By
Deborah B.

(Albuquerque, NM) - November 14, 2010 (
See all reviews by this customer
)
Really like the simple style of personalization. Very memorable and personal. :o)

Cute Mug
By
Kathleen P.

(Fraser, MI) - October 12, 2010 (
See all reviews by this customer
)
The mug was very cute and arrived quicky and all the names were correct. My mom will love it, as I got it for her for a Christmas gift!

Very nice
By
Shannon C.

(Scottsburg, IN) - December 18, 2009 (
See all reviews by this customer
)
I purchased this mug for my mother-in-law with her 4 grandkids names. It turned out very nicely. I would suggest that more than 4 names be selected, since it only prints on one side of the mug. The mug itself is of good quality. I am satisfied with this purchase.