Engraving placement
By
Shopper

(Livermore, CA) - August 5, 2013
I have ordered four heirloom cups and all have been perfect. However this one the engraving placement was in a different place than the others and not representative of your website or of what my example shown to me. After contacting customer service they told me my cup is fine and would not replace. The cup is beautiful and I gave it to my grandson but unfortunately doesn't match his sister's. I wanted to share my experience if customers use your website for name placement just know its not consistent. Otherwise cup itself is a beautiful keepsake. Photo as shown to me is NOT what I received.

Etching
By
Norma F.

(Tyrone, GA) - May 16, 2013 (
See all reviews by this customer
)
The cups look great. I was a little disappointed that the etching isn't very deep. They really aren't 'engraved' as I had imagined.

wonderful keepsake for new grand children!
By
Shopper

(Chicago, IL) - March 16, 2013
I bought 2 of these (for my 2 grand daughters that were born within 2 mos. of each other). My daughter & daughter in law loved them. Such a nice keepsake memory for the babies when they are grown. Personalization Mall has never been a disappointment with whatever I have purchased.

Beautiful Baby Gift
By
Shopper

(Chevy Chase, MD) - April 16, 2012
I ordered this for my grandson for his baptism - and it is exactly as pictured, very lovely, great price. I would have given it 5 stars, but it came with some kind of black tarnish covering parts of the handle and the bottom of the cup. It's coming off, but I'm having to work at it, not really happy about that....

baby cup
By
diane l S.

(torrington, CT) - December 9, 2011 (
See all reviews by this customer
)
very nice product at a great price.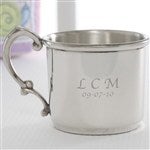 Very nice little cup
By
Andrea R.

(Yorba Linda, CA) - May 23, 2011 (
See all reviews by this customer
)
It could be a little better priced, but it's a good little cup and looks nice.

Great gift idea
By
Shopper

(East Lyme, CT) - May 22, 2011
charming cup to give as a gift. Is quite impressive

Nice Keepsake For Display
By
Shopper

(Leander, TX) - May 4, 2011
Overall I am pleased with this item but can't give it 5 stars with a smudge front where I am guessing cup was held by machine when being engraved. Also, the cup finish is very shiny but handle finish is a bit dull and is an obvious difference. Still fun to have.

Scratched
By
Shopper

(Red Bluff, CA) - April 9, 2011
The cup is very nice. Great price!! It has very light scratches all over the outside. I don't think it detracts from appearance. The box it came in is trashy and will have to be replaced with a nicer one.

It's beautiful
By
Shopper

(Redlands, CA) - February 27, 2011
I was very satisfied with the Pewter Baby Cup. My only suggestion would be to give the option of the handle being on the RIGHT side with the printing shown. I did not pay attention to that detail until I received it and being right handed wished that that was reflected.

Family was very pleased with baby cup!
By
Shopper

(Cedarville, OH) - February 8, 2011
I have not seen the cup yet, but will soon. ;)
They said that it just made their day, when the
cup arrived. Nice purchase.

Perfect Traditional Baby Gift!
By
Robin V.

(Cedarville, OH) - June 8, 2010 (
See all reviews by this customer
)
The only reason this perfect baby gift did not receive 5 stars, is simply because we would have LOVED a few more spaces, to allow for our new grand daughter's MIDDLE name -- not just her initial. She even has a short first, middle, and last name. Just add a few more. Other than that, a great purchase! Thank you. :)

MONOGRAMMING....NOT CENTERED......BUT CUTE CUP
By
Cynthia O.

(Canada) - April 19, 2010 (
See all reviews by this customer
)
This little ..... PEWTER CUP......would be nice except the printing is..... SLIGHTLY OFF - CENTER .....Wouldn't it be nice.... if the ones who did the work... would do it like it was.... for THEIR GRAND CHILD's GIFT......then it would be a keepsake ..... as it was quite expensive....Don't mind paying if the results are better !!!