mouse pad
By
Shopper

(Anchorage, AK) - December 20, 2013
Created a special saying that suited our home.
Looks good on my desk for all to see.

Great employee gift idea
By
Shopper

(Marion, IA) - December 16, 2013
These came out exactly as they appeared on the website when ordered. They're a little flimsy but will work just fine. Hope my employees like them

Mouse Pad
By
Shopper

(Terre Haute , IN) - October 14, 2013
The only negative I have on this product is there were no choices for color of the actual item itself, only for outline color choices. It looked fine, but I would have been MUCH happier if other choices were available.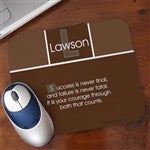 Great Boss Gift
By
Shopper

(Bordentown, NJ) - December 27, 2011
I purchased 2 of the mouse pad for christams gifts one for each boss and they loved it. I was soo happy I had made a great choice.

Personalized Mousepads a Hit
By
Shopper

(Palm Coast, FL) - December 19, 2011
I just loved the mousepads, they were thick and very well made and the personalization made them special.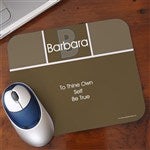 mouse pad
By
Shopper

(Auxvasse, MO) - December 19, 2011
good quality pad

Nice mouse pad
By
Shopper

(Akron, OH) - November 5, 2011
This is a nice gift item with a personalized touch. More color choices would be a good idea. I liked the blue initial the best.

Great gift
By
Shopper

(Mapleton, IL) - October 29, 2011
I purchased this for an employee at work and was able to use her own "favorite saying". She absolutely loved it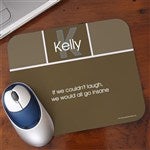 Excellent reminder of Family
By
Shopper

(Dousman, WI) - September 2, 2011
Dad turned 75 (hard to buy anything for him!) He loved this personalized mouse pad and the beautiful saying we wrote to him. We signed our family names and he loved it. Only drawback were the color selections, drab and washed out.

Mousepad with Quotes
By
Colleen N.

(Layton, UT) - May 20, 2011 (
See all reviews by this customer
)
I love the fact that there are 35 thought provoking quotes to choose from, or that you can use one of your favorite quotes on this mousepad. It is a little smaller than some, which I actually like. because I am using it on a laptop and it fits nicely. It is well made and the top doesn't seem to separate from the bottom of the mousepad. I have a lovely cat who grabs the top lining of mousepads and pulls them off the rubber base. She hasn't been able to separate this one. The only reason I gave this four stars instead of five is there isn't much to choose from in the way of colors. I would have liked a better selection of combo colors to choose from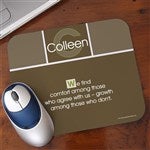 Nice quality
By
Shopper

(Twinsburg, OH) - April 26, 2011
The mouse pad came and it was almost what I expected. The yellow wasn't as bright as I expected it to be. Plus the website didn't state what the material was of the mousepad so I wasn't sure what I was going to get. Overall though very nice gift. Came in an awful smelling bag...but the item itself was great! Can't wait to give it to my hubby for his graduation!

Great!
By
Shopper

(Colorado Springs, CO) - March 10, 2011
I purchase this mouse pad for my hubby, he love it! specially when he saw one of his favorites quote printed on it! Good prices, Great quality! Thank you!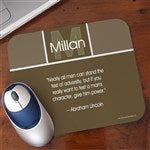 Great for Bosses!
By
Shereese C.

(Indianapolis, IN) - December 31, 2010 (
See all reviews by this customer
)
I used this mouse pad as an opportunity to showcase some of my boss' most common and memorable statements. I put her name across the top and then chose five of her most unforgettable quotes for the main area and presented this mouse pad to her during the team Christmas lunch. She absolutely loved it. It nearly brought her to tears - not sure if that was because the gift was so thoughtful or if she was just ecstatic to see that her team has actually been listening to her! There are so many possibilities with this mouse pad and the fact that it's nice and durable makes it perfect for anyone. Great gift idea!

Good buy
By
Kistina M.

(Cleveland, OH) - December 9, 2010 (
See all reviews by this customer
)
I did enjoy this product and thought it was very nice and elegant but I would like to have had more freedom to maybe add a photo on this design with the same display, just smaller words. Other than the few limitation, it was a great purchase and am happy to have it.

Great looking!!
By
Marina G.

(Carrollton, TX) - November 29, 2010 (
See all reviews by this customer
)
Wow, what style & quality! The fact that I included my own quote, made it that much more special to see it in print. Love it!

Graduation Gifts or General Gift
By
Charlene A.

(Mason, OH) - May 25, 2010 (
See all reviews by this customer
)
I like the Mouse Pad, good quality, and I think it is a nice personalized gift for anyone, especially students who are going to college or a personalized gift for at-home or office use.

Great gifts
By
Chris B.

(Eufaula, AL) - May 18, 2010 (
See all reviews by this customer
)
The mouse pads were exactly as I had hoped. They will make great gifts. CB

Mouse Pad
By
Deb F.

(Winnebago, IL) - March 20, 2010 (
See all reviews by this customer
)
Everything was great,except....It had a strange "smell", I was almost embarrased to give it as a gift.

looks and feels great
By
Alessandro P.

(Cliffside Park, NJ) - December 20, 2009 (
See all reviews by this customer
)
Excellent construction. This isnt one of those flimsy mouse pads like other companies offer. The quote was a little bit crook-ed. Which should be fixed. Great overall.