Nice quality for the $
By
Shopper

(Schererville, IN) - May 13, 2014
I ordered this set as an engagement gift for a family member. When the knife and server arrived I was pleasantly surprised! I worried about the engraving after reading some of the reviews- but it turned out perfectly! The set also arrived in an elegant gift box - it really only needs a bow.

lovely annniversary gift
By
Shopper

(Park City, UT) - May 9, 2014
The anniversary couple was delighted with the engraved server set. It would have rated 5 stars if the knife showed engraving like the spatula.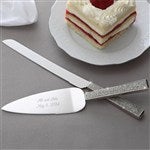 Beautiful in person!
By
Antonia H.

(Houston, TX) - May 7, 2014 (
See all reviews by this customer
)
I can't believe how pretty these are! The only reason it's not 5 stars is because I wish the personalization had better font options, larger & better centered printing and an option to add something on the knife too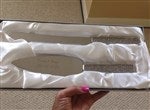 love it
By
Ashley H.

(Natchez, MS) - May 21, 2013 (
See all reviews by this customer
)
I really like the engraved cake knife & server. It really goes with my them which is fairy tale.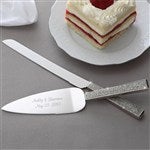 Agree with everyone else
By
Megan N.

(Bridgeton , MO) - August 15, 2012 (
See all reviews by this customer
)
Very cute, but as everyone said the engraving could be more visable. Over all very cute and go well with the matching champaign glasses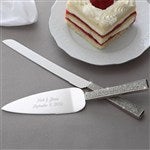 impressive quality
By
Shopper

(Belfast, ME) - May 5, 2012
This is my first order with Personalization Mall and I must say I am very happy with the quality of this product. I debated about choosing something from a website. Upon receiving this item I realized it was all I expected it to be. The personalization was correct and visible. I was concerned about the handles and whether the crystals were encased or not. They are and that makes this set smooth to handle. They are also a good weight, not to heavy but you do know that you have something in your hand. I would highly recommend this product.

Serving Set
By
Shopper

(Chino Hills, CA) - May 23, 2011
The serving set itself is sooooo pretty! My wedding has a lot of 'bling' so they went perfect with the theme!! However the engraving was not what I thought it would be... it is VERY hard to see. I did not select a 'color' I just did the regular engraving and really wish it would have come out a little better. You will not be able to see the personalization in the pictures but the bling is so stunning that I am 'okay' with it....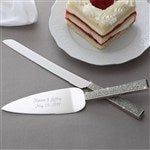 Great set
By
Shopper

(Manassas, VA) - April 4, 2011
I purchased this and the matching flute set. I loved both sets they are elegant, sparkly and have a smooth silicone like finish on top of so that you do not feel each stone on the handle. The only but is the engraving on this server set because you can barely see it. However, the engraving in my flutes were awesome.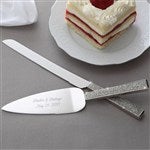 Beautiful but...
By
Tracy P.

(Pharr, TX) - April 2, 2011 (
See all reviews by this customer
)
I loved the look of the set, but the engraving was too light to even read. I might recommend not engraving them on the site and taking them somewhere to have the writing be more legible.

Great!
By
Shopper

(Denton, TX) - March 8, 2011
I ordered this set, and they are worth the money! Everyone I have shown them to so far loves them, and I have to say they are nice and heavy duty! I believe we will have these forever! Super fast shipping as well! The only thing I would change is that the engraving would show up a little more then what it does

For Our Wedding
By
Amanda T.

(Reisterstown, MD) - October 1, 2010 (
See all reviews by this customer
)
The set is beautiful. I bought the matching flutes and the engraving on the flutes is very clear. The engraving on the server isnt dark enough....but still beautiful!

Great Product
By
Jessica B.

(Lincoln, NE) - August 31, 2010 (
See all reviews by this customer
)
The engraving is a little hard to read, but otherwise I love this set. It looks stunning!

Knife & Server Set review
By
Amber G.

(Ithaca, NY) - July 5, 2010 (
See all reviews by this customer
)
The pieces were beautiful! The only thing we would have changed would be to make the engraving more noticeable. The writing seemed very faint.

liked it but the engraving was not dark/deep enough
By
Vivian P.

(Houston, TX) - July 2, 2010 (
See all reviews by this customer
)
The engraving could have been darker. I loved that they packaged it so well. LOVED the handles. My fiance thought it was a little much but he liked it after I said I did! fast shipping! I will order again and will recommend this site to friends. We also ordered the mom hanky and a glass clock and they came out great!

This cake knife server set is so lovely!!
I purchased this cake knife server set for my daughter and future son-in-laws wedding. I also purchased the matching champagne flutes (simply elegant and classy). The sparkle on the handles is gorgeous. I rated the cake knife server set only 4 out 5 stars simply because the engraving is very light and difficult to see. You must tip the server in the light just the right way in order to actually read the engraving. It is packaged in a white paper box and also arrived very quickly. Overall, I am very pleased with the quality of the products on this site!

nice pieces for the price
By
Susan J.

(Alexandria, VA) - May 11, 2010 (
See all reviews by this customer
)
not a bad set, but i wish that you could select for a larger sized font. the engraving seemed a little small and not very indented. but overall, not bad.

Very pretty
By
Tapasvi A.

(Framingham, MA) - April 30, 2010 (
See all reviews by this customer
)
The set was really pretty to look at. The engraving was very light and it was visible clearly at a certain angle. The handle didn't look like it had rhinestones. Just looked like glitter.Over all the set is beautiful.

Great!
By
Janine O.

(Scarsdale, NY) - March 15, 2010 (
See all reviews by this customer
)
I am a maid of honor and bought this along with the matching flutes as a a gift for the bride. My only complaint is that the flutes came in a very nice storage box and the cake knife and server set did not. Otherwise a great buy.

beautiful
By
deborah R.

(fort wayne, IN) - March 4, 2010 (
See all reviews by this customer
)
i ordered this set for my daughters wedding. she loves bling and these were perfect. we haven't used them yet but can see no reason they are not perfect for the occasion and the coating on the handles is perfect,no fear of the stones falling out. the only thing i wasn't totally satisfied with was the engraving. it doesn't show up as well as i thought it should.. my daughter was very, very pleased and yes i would purchase these again

for my wedding
By
NIA B.

(CRANSTON , RI) - February 15, 2010 (
See all reviews by this customer
)
this product is very elegant and i do love it the only thing that is a little disappointing is that the engraving is very light and u can bearly see it but other than that i love this product