Great Gift
By
Shopper

(Pomeroy, OH) - September 27, 2014
Quality corresponds with price. We gave as a housewarming gift and I was worried that the yard stake would not be durable or heavy enough to withstand weather but it appears that it will withstand the elements. The recipients seemed very pleased with it and immediately put it in their yard.

Address Magnet
By
marianne and lawrence N.

(bartlett, IL) - September 26, 2014 (
See all reviews by this customer
)
I love this for a basic house address sign. Color is perfect.
All that I wish is there would be more variety for all of the holidays vs just one or two for each holiday.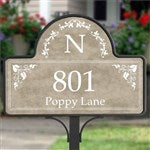 Nice Purchase
By
Shopper

(Kingman, AZ) - September 5, 2014
This looks very nice in our front yard. Stake is very sturdy. I have had to replace the magnet address as it got damaged from the weather. I like the fact that you can change it for holidays.

Quality
By
Shopper

(Ponchatoula, LA) - September 2, 2014
The garden stake looked exactly like I expected except it was a little shorter than I imagined.
Colors were vibrant (green and white) and the numbers stood out. The metal was strong and very easy to push in the ground. I love the fact that you can see exactly what your personalization product looks like before you buy.



Beautiful sign :)
By
Patrice B.

(Woodbridge, VA) - August 26, 2014 (
See all reviews by this customer
)
Looks nice and elegant. Not very large. My magnet was a little creased but you can't see it from a distance. Sign is a wonderful announcement for our new family in our new home.

Good value
By
Shopper

(N Tonawanda, NY) - June 28, 2014
I am pleased with my purchased. The quality and value was there. Ording was easy and delivery was prompt.

Love product, hate that it got ruined in the mail...
By
Michelle T.

(Ponte Vedra, FL) - June 24, 2014 (
See all reviews by this customer
)
Unfortunately this awesome product got jammed into my mailbox and crinkled up. Totally unusable. Wish when it were packed it might be packed between 2 pieces of cardboard so this wouldn't happen. Have tried un-crinkling... to no avail :(
Bummed. Really like this.

Yard Stake Review
By
Shopper

(Miami, FL) - June 9, 2014
Nicely done, just a TAD smaller than I expected but thats on me for not paying attention to dimensions.

Great stake
By
Shopper

(South Bend, IN) - May 15, 2014
I really like this yard stake and magnet. I plan buy additional magnets to change the look on our front lawn. I only wish the stake was taller.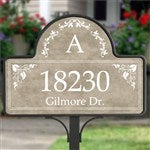 Didn't last long enough
By
Shopper

(Saint Petersburg, FL) - May 15, 2014
I love the yard sign and stand but after 1 year it was completely faded and the stand was rusted. I know that is bound to happen with the elements, but I was hoping it would last longer. I spray painted the stand with rustoleum and bought a new magnet sign.

address sign
By
Sarah Jane B.

(West Columbia, SC) - May 2, 2014 (
See all reviews by this customer
)
This is the second one I've had. The sign has a classy look; my only complaint is that after a while the color faded until it was no longer visible. My last one lasted ~4 years.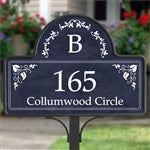 Love it!
By
Shopper

(Pottsville, PA) - April 13, 2014
I was very pleased with the elegant monogram address yard stake. The quality is what I expected and I like the fact that I can change the magnetic for the seasons. However I do wish that it was a little larger.

Cute yardstake
By
Judy D.

(Fayetteville, GA) - January 14, 2014 (
See all reviews by this customer
)
I love the look of the yardstake. I received it in a timely manner and it was exactly what was pictured. I just wish we had an option to put something besides an initial at the top so that new owners of my house can use it too.

I bought this for a new address and home as a gift
By
Gail P.

(Corinth, NY) - October 13, 2013 (
See all reviews by this customer
)
I wish the sign was a little bigger, but all in all I am vry pleased with it and so was the people I gave it to. I will shop here again.

cute
By
Shopper

(Port Saint Lucie, FL) - September 20, 2013
this is a cute sign, I was a little disappointed that is was on the small side, but it really temporary until our house remodel is complete so deliveries and mail will now come to the right house.

Very nice looking
By
David M.

(Erie, PA) - June 15, 2013 (
See all reviews by this customer
)
I am pleased with this purchase, but do have a couple of concerns. The address numbers are small, only 2" high. The other concern is with the metal frame that holds the magnetic sign. It is made of metal that seems to be thinner than it should be. One must be careful when putting the frme in the ground or it will be bent.

Lovely
By
Shopper

(East Greenbush, NY) - May 18, 2013
The burgundy is perfect with our brick house. The stake is metal so it enters the ground easily. Can be seen from the road. Many compliments since we put it in.

I love yard stake for my parents present!!
By
Alex K.

(Flushing, NY) - May 8, 2013 (
See all reviews by this customer
)
I bought for mothers day my parents.
It was fast shipping and product was good and uniqe..
Only weakness was it was small compare that i saw the picture.

awesome
By
Shopper

(Hampton, VA) - April 18, 2013
Hubby and I love our address yard stick!!! now our neighbor and my mother in law wants one too!! :) will order again!!

Rich Looking Idea
By
Nicki F.

(Westminster, MD) - April 7, 2013 (
See all reviews by this customer
)
I ordered the burgundy magnet which was so rich looking but since we receive full sun it faded. This happened over a year or more setting in the sun's heat. However, at the special price, I purchased another one and placing it in the shade will protect the color.

Address Sign
By
Timothy M.

(West Chester, OH) - February 11, 2013 (
See all reviews by this customer
)
The personalized sign arrived very quickly, but is of only standard quality. It appears "cheap" when you are close up on it, but at a distance, looks better.

Looks very cute!
By
Michael H.

(Loveland, OH) - October 30, 2012 (
See all reviews by this customer
)
This little sign looks very cute in my landscape.

Just what I needed
By
Carrie P.

(rochester, NY) - October 23, 2012 (
See all reviews by this customer
)
My house has a stone front and a screened in porch that spans most of the front of the house. The design makes it difficult to find anywhere to put a visible house number. I had been looking for something that I could stick in the fron flower bed. This does the trick and was reasonably priced. I would prefer not to have my "initial" on it--just the rectangle of the address. Also I wish that the stake were just a little taller so it rose above the black-eyed Susans a little more.

Nice product
By
Jennifer D.

(Olive Branch, MS) - October 20, 2012 (
See all reviews by this customer
)
The yard stake is nice and looks great. The metal is sturdy and it's a neat idea that the printed part is magnetic. That way, if you move, you can have another printed up.

need the numbers to be darker
By
Shopper

(phoenix, MD) - October 19, 2012
Very good quality but the numbers and words should be in black or another color so it is easier to see.


Cute
By
Christina S.

(Colorado Springs, CO) - September 20, 2012 (
See all reviews by this customer
)
Loved that the magnet on this yard stake is changeble in case we move or want to change it out with the seasons. The magnet seemed to have warped just a bit but it is not too noticeable and things do happen when exposed to the elements. Shipping was quick, thanks!

Perfect 'New Home" gift!
By
Theresa F.

(Norwood, MA) - September 12, 2012 (
See all reviews by this customer
)
The sign is sturdy and is easily placed in the yard. I like that you can remove the magnet and have replacement magnets for each season, or for every time you move! I bought one for myself last year and this year I bought one for my clients who just bought their first home. They loved it!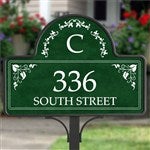 Difficult to stake!
By
Shopper

(Saratoga, CA) - September 7, 2012
Bought this as a surprise gift back in July.
Husband was delighted with it, but 2 months later it's still in the garage, as we could not stake it easily.
Plan to have it as a wall plaque in place of door numbers instead.

Cute Yard Accesory
By
Shopper

(Killen, AL) - August 22, 2012
The sign is adorable. Looks great in our flower bed by the front door. Even our mail carrier commented on how nice it is. Love that if we move we can take the post with us and just purchase another magnetic address sign.

Good but short
By
Pranamee S.

(Pleasanton, CA) - August 17, 2012 (
See all reviews by this customer
)
I liked everything about it; quality, texture, sturdiness, finishing and the price. But, the length of the stake is a little too small.. rest everything goes fine :) Thank you for the great product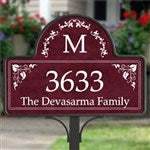 Love these magnets
By
Shopper

(Saint Augustine, FL) - April 4, 2012
Love these and have them for just about every occasion. Only reason I didn't give 5 stars is not sure how they'll hold up to the weather and sun here in FL. Had no problems with the Fall leaves one or the Seasons Greetings one so hoping the rest will not fade badly in the FL sun...we'll see. Anyway got this one for the in between times...would like to see more to choose from too :) Hoping they'll last too. Put the fall, Halloween and the Season's Greetings ones away without any problems...have the tulips one up now for Spring!

Pleased with purchase
By
Shopper

(Gilbertsville, PA) - December 27, 2011
Very pleased with this purchase. Got it for my husband for Christmas. He liked it and thought the quality was very good.

Very cute...just a little smaller than I thought
By
Chantal A B.

(Knoxville, TN) - October 9, 2011 (
See all reviews by this customer
)
It's a cute sign and great design with being able to swap out magnets. The sign is a little smaller than I thought it'd be.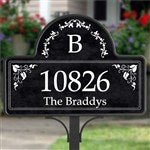 Great product
By
Shopper

(Des Moines, WA) - October 3, 2011
This is a great product. I like that you can change out the magnet with the seasons. I will definately be purchasing a magnet in the future.

2nd 1 bought
By
Shopper

(levittown, NY) - August 16, 2011
This is the 2nd one I bought. I think this is really cute but my only complaint is that it does fade after a few months.

Stake shorter than I thought and damaged during transport
By
Alex K.

(Canada) - June 29, 2011 (
See all reviews by this customer
)
The stake is shorter than I thought.

Also the shipping packaging is poor and the top of my stake was bent during tranportation. The packaging could of been a lot better to avoid damage. Basically a box with some paper wrapping to prevent the stake from moving. Nothing to protect it.

Other than the stake looks great, except I know there is a dent in it and it bugs me.

Just what we needed
By
Shopper

(Laurel, MD) - June 18, 2011
It was perfect shape and size. Our house isnt seen right off the road, so we needed a sign with our address. This is perfect. I just got it, so not sure how it holds up yet, but happy thus far

Magnetic Yard Stake
By
Sheryl M.

(Cridersville, OH) - June 12, 2011 (
See all reviews by this customer
)
This yard stake adds an elegant way to decorate your garden. We recently redid the front garden and this was the perfect touch at a small price! Somewhat concerned with the power of the magnet, but other than than completely satisfied!

Great Quality/Wish it wasn't so small
By
Athena M.

(Plymouth, MA) - April 16, 2011 (
See all reviews by this customer
)
This is such a nice sign. It looks so classy and the quality was better than I expected, but it's just so short that it gets overlooked.

Really Nice!
By
Shopper

(Brandon, MS) - February 7, 2011
I ordered the yard stake in "blue". My only issue is that the blue looks black. Otherwise I like the way it looks and it looks good in my front yard.