cute and personalized but expected better quality
By
Shopper

(Hebron, CT) - August 26, 2013
This bottle certainly is adorable and my daughter loves it. The personalization on it looks great. The bottle itself is not very good quality. It is thin and I don't expect it to be very durable.

Can u say noisy bottle?
By
Ginger M.

(Great Falls, MT) - June 1, 2013 (
See all reviews by this customer
)
I find the metal clip hanging on the bottle rattles in the car and is 'noisy'! Also find that putting ice cubes into the bottle is VERY difficult. We bought this for summer camps and I'm hoping that it will in deed hold up. My daughter however loves her new water bottle and the variety of tops.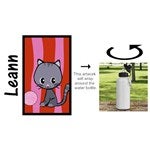 personalized water bottle
By
Shopper

(Fort Worth, TX) - January 24, 2013
My granddaughter needed a water bottle to be kept at her preschool. Since everyone has one personalizing it seemed that best choice. She loves it. It's durable and easy for a 4 year old to open the spout which has an attached cover to keep it clean.

Adorable, but the metal gets too cold!
By
Shopper

(DELRAY BEACH, FL) - August 24, 2012
My daughter loves this water bottle! I got her the kitten and butterfly designs to use in her first year of Kindergarten. They are good quality and look adorable; however, they are made out of metal, so the outside gets really cold if you put ice in it. Otherwise, we are really happy with this product.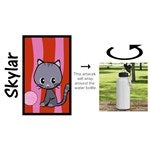 back to school water bottle
By
Shopper

(Scottsdale, AZ) - August 11, 2012
Bought for back to school water bottle. Very cute, keeps the water cool but durability not the best for a young school age child. Dents easily if dropped

Ladybug theme
By
Shopper

(Rochester, NY) - April 6, 2012
Purchased the adorable ladybug carry on and have kept the theme going filling it with everything my 2 year old granddaughter or anyone for the matter would need on a beach vacation...
duffel bag
tee shirt
bathing suit
beach towel
water bottle
Ladybug Book
etc.
Purchased the duffel bag, tee shirt, and water bottle from Personalization Mall. I am very pleased with all the items, especially the carry on, and duffel bag. TY Personalization Mall!

Good Water Bottle - Dents from Drops
By
Cynthia O.

(Fremont, CA) - December 9, 2011 (
See all reviews by this customer
)
I bought three of these in various designs for my children. The designs are bright, clear, and so fun showing off their individual interests (two "boy" designs and one "girl"). The children get lots of complements and adults ask where they got them. My only complaint is that they dent easily when dropped on a hard surface (concrete or ceramic tile). The bottles are not particularly top heavy and do not wobble - drops just happen (children ages 3, 5, 7,). Didn't see any dents after a fall onto the grass. Bottom line: delighted with my purchase and would do so again.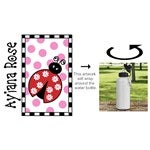 Great for school kids!
By
KIMBERLY L.

(SAN CLEMENTE, CA) - August 23, 2011 (
See all reviews by this customer
)
Purchased this for our daughter who is starting preschool. No need to worry about sharing water bottles and therefore sharing germs....she will know which one is hers! Super cute and a great quality....we are pleased and will purchase more!

Love it
By
LaToya W.

(Lithia Springs , GA) - August 16, 2011 (
See all reviews by this customer
)
My daughter love this water bottle, very colorful not cheap at all nice quality would have gave it 5 stars but water spout is hard to open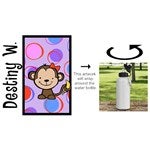 Super cute!
By
Shopper

(Muskegon, MI) - March 7, 2011
This water bottle is great! My daughter brings it to school everyday and loves it. It is nice that it comes with two different tops too. My only caution is that it does leak if tipped upside down.

Very Happy with purchase
By
Nicole L.

(Round Lake Beach , IL) - February 8, 2011 (
See all reviews by this customer
)
WAter bottle is decent quality. Design and name print is completly adorable. Get lots of compliments on it and wondering where we purchased it. Would buy more in future.

My daughter loves it!
By
Deann K.

(New Bedford, MA) - April 21, 2010 (
See all reviews by this customer
)
My daughter does not have a common name, so for her to see her name on this water bottle was great for her.

Good Bottle
By
Nicole G.

(Beaufort, SC) - March 20, 2010 (
See all reviews by this customer
)
The bottle is good size and the pictures are very colorful. I gave it 4 stars because it's aluminum but I thought it might have had a plastic coating on the outside. If I put cold water in it, the outside also gets very cold. Other than that, it's a great water bottle.

Very cute
By
Nicole O.

(Austin, TX) - October 7, 2009 (
See all reviews by this customer
)
This water bottle was very cute. It looks just like the picture. My 3 year old loves it. The only problem is that the aluminum dents when it is dropped, and my daughter drops hers a lot. This is probably true for all aluminum bottles, so I'd say give this to older kiddos.

Perfect water bottle
By
Stacey G.

(Land O Lakes, FL) - October 7, 2009 (
See all reviews by this customer
)
Love this and it is so easy to recognize