Fabulous memories
By
Shopper

(Hollywood, FL) - October 19, 2012
This is the second personalized platter I ordered for special occasions. The photo and message looks crisp and the platter is a nice weight.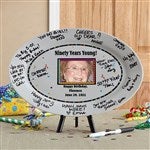 Look Who's Turning 30!!
By
Athena R.

(Santa Barbara, CA) - September 25, 2012 (
See all reviews by this customer
)
Love your company. This is the second plate I have ordered and am more than thrilled with each purchase. The quality of the plates is great!! The price fair and the customer service and delivery are always perfect! The plates are a great hit at special celebrations!! and everyone can sign so you have a lasting "card!!" I will definitely order again and again!! Thank you!!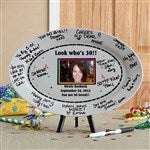 Signature platter
By
Shopper

(Diamond Bar, CA) - November 14, 2011
Item as described and thx.

A terriffic party memento!!
By
Tammy L.

(cape coral, FL) - September 19, 2011 (
See all reviews by this customer
)
This was a great addition to our Mom's party. We were very pleased with the quality as well. The product arrived just as expected - THANKS AGAIN!!

Huge hit with recipients!
By
Shopper

(Novato, CA) - July 24, 2011
We gave this to relatives celebrating their 40th wedding anniversary. Was looking for something personal and it was perfect! I loved that it came with a permanent pen so everyone at the party could sign the plate.

We really loved this!
By
Shopper

(Franklinville, NC) - April 11, 2011
We bought this plate for my son's first birthday party so he would always have it as a reminder of his special day. We had a photo of him and the party theme put on there and it looked adorable. Very professional and everyone loved it! Plenty of space for everyone to sign, we had 35 people at his party. Highly recommended!

Excellent 50th BDAY Gift
By
Pamela J.

(Washington, DC) - February 4, 2011 (
See all reviews by this customer
)
Great 50th gift. Just wished the platter was a little larger.
Shipping was ok first one was broken on delivery. However, customer service responded quickly and I had replacement in 2-3 days.

Photo Signature Platter
By
Shopper

(Indian Trail , NC) - January 20, 2011
Very pleased with this item. Had to send item back for correction and it was corrected and returned w no hassle. All over the holidays ! Plate was a HIT at the party and family and friends alike were all able to sign it and birthday girl has it proudly displayed now for all to see. What a wonderful keepsake she will be able to have to always rememeber this moment. Thank you Personalization Mall !!

Great Gift Idea
By
Lisa M.

(Artesia, NM) - September 29, 2010 (
See all reviews by this customer
)
The plate was such a unique and personal gift. We used it as a retirement gift. It was from us to them but allowed all to join in and write a few words. Someone else on the review said that the picture quality was not that great but mine came out perfect. When you download a picture it gauges your picture quality from poor to excellent. My picture quality was excellent and the picture came out beautiful on the plate.

WELL WORTH THE MONEY!
By
Pam F.

(Kannapolis, NC) - September 16, 2010 (
See all reviews by this customer
)
This platter is a perfect rememberance of a special occasion. The picture in the center is amazingly clear and we are very pleased with the quality and workmanship.

Guests love this novel idea
By
Delores C.

(Canada) - August 3, 2010 (
See all reviews by this customer
)
The perfect item for your guests to leave a message for that special birthday person. Just what we needed for my granddaughter's sweet 16th.

Happy Retirement
By
Christine R.

(Folsom, PA) - June 17, 2010 (
See all reviews by this customer
)
I actually used this gift as a retirement gift for my second grader's teacher. All of the parents thought it was a great idea. And it turned out perfectly.

Great quality gift
By
Michelle M.

(San Diego, CA) - June 9, 2010 (
See all reviews by this customer
)
I was very pleased with this personalized platter. I customized the text so that this was a "farewell and good luck" platter for signatures at a farewell party for friends moving out of state. The recipients LOVED it, the quality was great and the picture transferred quite nicely. I always come back to this site for personalized gifts and haven't been disappointed yet.

60th Birthday Platter
By
Judy C.

(Naperville, IL) - April 19, 2010 (
See all reviews by this customer
)
You all are amazing. This is the second order I've placed and both have been quick, correct and with higher quality than I would have thought for the price! The 60th birthday platter I ordered with my own downloaded photo is ABSOLUTELY WONDERFUL. Can hardly wait til the party. Thanks so much!

Pleased
By
Jesse H.

(Miami, FL) - March 5, 2010 (
See all reviews by this customer
)
The platter is a great gift piece. It's a bit heavy, but nice. DO NOT GET THE "WOOD EASEL", it's cheap and does not hold up the platter securly.

Better than expected
By
Kris C.

(Clovis, CA) - March 1, 2010 (
See all reviews by this customer
)
I was not sure how the picture would transfer onto the plate, but it is very cute and I am very happy. It will be a fun 18th birthday memory for a special young lady.

hit of the party
By
J.L. B.

(holland, OH) - February 1, 2010 (
See all reviews by this customer
)
great detail- quick turn around- effective pricing

GREAT PRESENT FOR EVERYBODY
By
Alessandra A.

(las vegas, NV) - November 23, 2009 (
See all reviews by this customer
)
I love this present, it`s original and its easy and very nice. I know that the people I will send it to will enjoy it a lot and hang it. I think they will also use your site for their own orders. Thank you. Great gift idea for special occasions!

Great work and Quick turnaround
By
Tyrishma A.

(Alexandria, VA) - November 16, 2009 (
See all reviews by this customer
)
Ordered on Nov 6th received on Nov 13th. Picture and wording was great. Would highly recommend!

Neat Looking
By
Stacie L.

(Loveland, OH) - October 9, 2009 (
See all reviews by this customer
)
I bought this for my mom 60th birthday and it came in a few days ago, however, they forgot to send the pen that goes with it, so i'm waiting on that now. But the plate is awesome and I'm very pleased with it! Its definately a great gift. However, my mom hasn't seen it yet, not until November...and I'm glad I ordered it when I did cause it seems to be on backorder a lot...so if you want this..you better keep an eye on it. I had given them my email address and told them to email me when they came in, but they never did..so make sure you check daily and order it as soon as you see it available.

93 year old mom was THRILLED
By
Pamela W.

(Moline, IL) - October 7, 2009 (
See all reviews by this customer
)
ordered this plate w/mom's picture for her 93rd Birthday. Everyone at party signed, and she was just thrilled with it, thought it was great. It came in just 2 days and looked wonderful. The picture was crisp and clear, couldn't be happier with it and the service.

Elaine
Sweet Fifteen
October 17,2009