Snow
By
Shopper

(Chicago, IL) - December 22, 2013
Very nice card. Looks expensive. Photo was taken on a snowy night and showed up well with black background of card..

Adrorable cards!
By
Melissa H.

(Richardson, TX) - December 20, 2012 (
See all reviews by this customer
)
We ordered 75 cards and loved them! Our friends and family loved them as well. The are printed on good quality card stock and the colors are very nice.

Beautiful!
By
Shopper

(Sandy Springs, GA) - December 18, 2012
I am so glad I found this website; these xmas cards are absolutely beautiful. I cannot wait for my family to see them. Great product, good quality! Thank you…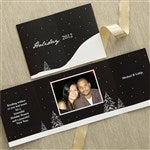 very nice quality
By
Shopper

(Creighton, PA) - December 13, 2012
I recently ordered these and customized them to meet my needs. My chosen finish for the cards was the matte finish. These cards are not flimsy by any means and the matte finish makes them more like a higher grade cardstock. The photo that I used came out perfect. My husband and I are really happy with the cards and can't wait for the people we sent them to to see them! Thank you!

Beautiful cards - great value
By
Roberta L.

(Woodbridge, CT) - November 12, 2012 (
See all reviews by this customer
)
We order personalized photo cards each Christmas to showcase our "children" - 2 papillon dogs name Rory and Gracie. The paper quality is excellent, the photo -clear and exactly as downloaded, the production/delivery time - outstanding. Personalization Mall also participates in Goodshop.com so a percentage of our purchase goes to our chosen charity. Would happily order here again.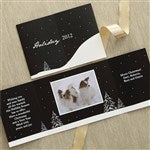 I come back again & again for PM's cards.
By
Brianna B.

(Fulton, MO) - September 25, 2012 (
See all reviews by this customer
)
This is our 3rd year ordering personalized Christmas cards from Personalization Mall. They are always shipped quickly and are as promised. My pictures have never been blurry and we receive many many compliments. This design in particular was EXACTLY what I wanted this year and the capability to choose a message or create your own is wonderful. Their cards are unique and the quality is unmatched. I highly recommend to all of my friends and family to order from PM. I favor the matted style of cards and PM does it well.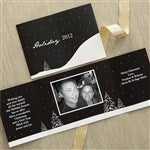 EXCELLENT QUALITY
By
Shopper

(Northfield, NJ) - December 20, 2011
WOW! These cards made a quality statement! Nice paper! Nice printing! We received rave reviews from the cards' recipients. Thank you for another quality product!

Love these cards!
By
Shopper

(Staten Island, NY) - October 27, 2011
I am so happy with these cards! They came out really beautiful. It was easy to upload my photo and the image looks great on the card. I am really excited to send them this holiday season. I love the tri-fold instead of the usual 1-sided photo card.

Love them!
By
Patricia S.

(Katy, TX) - September 14, 2011 (
See all reviews by this customer
)
Lovely cards, picture came out so nice and I can't wait to send them out at Christmas!

Finally a different card
By
Cathy M.

(Homewood, IL) - December 27, 2010 (
See all reviews by this customer
)
This year we wanted to do something different than just a printed picture postcard. The Snowscape card offered us just that. We got so many compliments on our card this year. I would definitely go this route again. Delivery was prompt and we had no problems with the company itself. I loved the finished product.

Beautiful cards!!
By
Callie H.

(Kansas City, MO) - November 19, 2010 (
See all reviews by this customer
)
I am VERY pleased with these cards. They are the perfect size and shipped VERY fast!

Lovely
By
Sharon R.

(Canada) - November 19, 2010 (
See all reviews by this customer
)
The cards turned out great. I can hardly wait to mail them out to our friends and family.

It was so easy!
By
Deb B.

(Johnson, NY) - September 13, 2010 (
See all reviews by this customer
)
From start to finish this process was quick with fantastic results! The step by step instructions were simple and I received the cards fast. The cards look amazing and professional. That's one less thing off my to do list! Great Company!

Best place to create your holiday cards
By
Mari-Anne K.

(Redondo Beach, CA) - December 27, 2009 (
See all reviews by this customer
)
This is the second year in a row Personalizationmall.com has created my holiday cards for our family. I must say we got this both times: "Your cards were the best we received this Christmas!". The upload is easy, I love being able to preview the final product, and the quality is fantastic.

I truly love this site and purchase gifts and stationary regularly. Thanks, Personalizationmall.com!

Christmas Cards
By
Susan F.

(Center Point, AL) - December 22, 2009 (
See all reviews by this customer
)
I am very pleased with your personalized Christmas card service! I have used it for the past few years to make customized cards. The choices of cards and verses is great, and personalization portions of the process (picture upload and greeting creation) are easy to use! Thanks! I look forward to using your service next year for my cards.

Extremely Pleased
By
Shannon S.

(Kansas City, MO) - December 18, 2009 (
See all reviews by this customer
)
I recently ordered these and am extremely pleased with the quality. It is represented on the website very well and I was also pleasantly surprised to have received a few extra envelopes and cards than what I ordered which came in handy. I would highly recommend the product if you like what you see on the website.

Extremely pleased
By
Roxanne Y.

(Incline Village, NV) - December 13, 2009 (
See all reviews by this customer
)
Excellent quality
Excellent customer service
Can't wait to hear feedback from the recipients for these cards. The order process was extremely easy and customer friendly. I will certainly be ordering more in the future.

CLASSY CARDS!
By
Michelle J.

(Taunton, MA) - November 19, 2009 (
See all reviews by this customer
)
LOVE THIS! I was so excited to get my cards in the mail and when I opened the box, I was even more thrilled. The picture I chose turned out really nice with the surrounding verses and card design. I was able to personalize the card to my standards, which made me want to do this in the first place. The cards are very classy and will make a great holiday card for my family and friends. I only wish I would've ordered more! :)

Very nice
By
Teresa W.

(Seaford, VA) - November 10, 2009 (
See all reviews by this customer
)
These look awesome!

First Snow Christmas Cards"
By
Carmen S.

(Newport, RI) - November 3, 2009 (
See all reviews by this customer
)
I normally order my Christmas photo cards from another site but I really liked the design of this particular card so I decided to go with this one this year. It was my stepdaughter's first year in the US and first time ever seeing snow so this was a special card for us. When it arrived, I thought, how beautiful! As I looked at the cards, I found a couple flaws in printing and notified Personalization customer service. They had me send a photo of a card that was flawed and after viewing it, immediately sent me a whole new order of cards free of charge. I was very pleased with the cards and the customer service. My family and friends will love their Christmas cards this year when they see that special smile on all of our faces as my stepdaughter sees her first snow!

Gorgeous
By
Shannon B.

(Spencerport, NY) - October 8, 2009 (
See all reviews by this customer
)
This is def the best card that i have ever had. It's so elegant and classy!! Top Notch!