Dad heart
By
Debbie R.

(Lenoir, NC) - December 13, 2013 (
See all reviews by this customer
)
AWESOME GIFT!! LOVE THE SENTIMENT ON THE ITEM! PERFECT!

AMAZING!!!
By
Shelby J.

(Naples, FL) - November 23, 2013 (
See all reviews by this customer
)
I got this for my fiance for Christmas and when I took a quick peek I was amazed!! It was more than what I expected! I can't wait to see his reaction to it! Money well spent!! :]

Absolutely Amazing
By
Shopper

(Fort Wayne, IN) - November 17, 2013
I was so pleased with the product.. it shipped and arrived very quickly and was absolutely beautiful. The price was great as well!!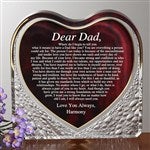 Great
By
Shelby C.

(Taylor, MI) - October 28, 2013 (
See all reviews by this customer
)
Everything about it was great, I ordered it for my boyfriend for our 1 year since I was out of ideas and I noticed that you can change to who it was too. I came across this as it was small but good enough for a guy and didn't have to pay a lot for it either. All I can really say is how nice it is.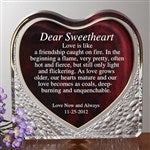 SO REAL SO QUALITY
By
Shopper

(WOODBRIDGE, NJ) - October 24, 2013
THIS WEBSITE IS THE BEST !!
IAM SO LUCKY TO FIND SUCH QUALITY PRODUCTS AFFORDABLE AND DELIVER FAST EFFICIENTLY .
LOVE THE COUPONS HELP THEY REALLY ADD SOMETHING SPECIAL INSTEAD OF THE REGULAR BORING GIFTS

Excellent Service
By
Rochelle S.

(Phoenix, AZ) - October 6, 2013 (
See all reviews by this customer
)
Very elegant gift,look even better in person, great quality..My mom was very satisfied and appreciative. The ordering process was simple and the shipping was quick. It came faster than I expected. The price is very reasonable compared to some other online companies. I love how the personized cost is included with the price.

Wonderful gift
By
Jennifer H.

(Waterloo, IA) - September 3, 2013 (
See all reviews by this customer
)
This was exactly as described. I was very happy with it. I chose to write my own verse and it still turned out very well.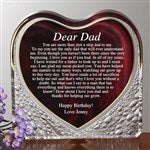 best father's day gift ever
By
Joanna R.

(New Bern, NC) - August 31, 2013 (
See all reviews by this customer
)
this definitely melt my hubby's heart.

Heart shaped keepsake
By
Shopper

(Raleigh, NC) - July 16, 2013
Ordered this for my nephew who is going away for the Marines. It came out beautifully and he almost cried. (almost)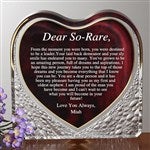 Nice product
By
Curtis B.

(Franklin, OH) - June 25, 2013 (
See all reviews by this customer
)
Delivery was right on time and the product came out really nice. My dad loved it and said he will cherish it.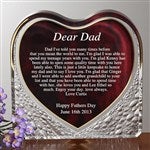 Satisfaction Guaranteed!!!
By
Jerrian L.

(chesapeake, VA) - June 23, 2013 (
See all reviews by this customer
)
My keepsake was beautiful, the service was excellent, They even gave me another discount on top of the 25 percent sale that was going on at he time, i purchased my product. Working with personalized.com is fast and simple,and satisfaction is definitely guaranteed. I'm a lifetime customer!!. Thanks again.

Beautiful
By
Shopper

(Portage, MI) - June 22, 2013
When my dad received this it brought joy to his heart. This is a beautiful piece. I was impressed with the item. Very sweet keepsake.

My Dad loved it
By
Deidrah M.

(Cerritos, CA) - June 22, 2013 (
See all reviews by this customer
)
This was a perfect gift for Father's Day. I was able to write how I felt and put on something that would last a very long time. And the price is very reasonable. My Dad loved it and it even made him a little emotional. My Mom says he proudly displays it in the house :-) What a great gift that is great quality and will last. Will definitely be purchasing things from here again.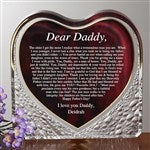 my kids gave this to thier dad for father's day.
By
Shopper

(MORROW, GA) - June 17, 2013
My husband was so excited and he is so proud of how our kids see him.

Very nice
By
Shopper

(Somerset, NJ) - June 15, 2013
It looked even better when delivered, loved it and Dad loved it even more. Great gift ideas here!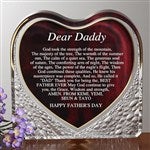 great gift
By
Kathleen E.

(Williamstown, NJ) - April 19, 2013 (
See all reviews by this customer
)
Really great gift idea. Loved it!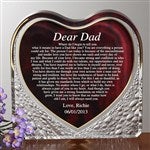 Lovely
By
Shopper

(Clyde, NC) - February 20, 2013
I thought this was very pretty. My Dad also loved it. Very nice personalized gift for someone you love.

perfect to give dads!
By
Erin T.

(Centre, AL) - July 26, 2012 (
See all reviews by this customer
)
I am a big daddys girl and this is the perfect gift for me to give him before i get married!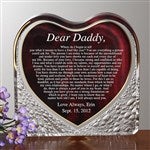 Wonderful Gift!
By
Balinda C.

(Wesley Chapel, FL) - June 21, 2012 (
See all reviews by this customer
)
I was pleasantly surprised how beautiful this was when it arrived. I Loved the verse and the quality and look of the product was even better than I had imagined! My Dad loved it, and I was happy I could find something with a 'personal' touch to give him... since he is a man who already has EVERYTHING! Very happy with this purchase!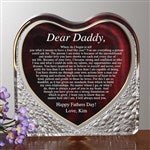 Great Fathers Day Gift.
By
Raviyn C.

(Bronx, NY) - June 16, 2012 (
See all reviews by this customer
)
I bought this gift for my dad for fathers day and it made him cry tears of joy. I would highly recommend this product!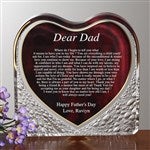 Beautiful
By
Stephanie C.

(Fort washington, PA) - June 4, 2012 (
See all reviews by this customer
)
The heart came exactly as I anticipated. Absolutely beautiful piece. My dad loved it!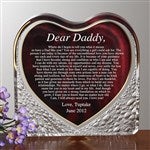 Excellent Product
By
Meghan D.

(ELIZABETHTOWN, KY) - April 3, 2012 (
See all reviews by this customer
)
The product is wonderful. Exactly what I wanted. The shipping was super fast and the item well protected. I will be returning to this site for all my personalized presents. Thanks!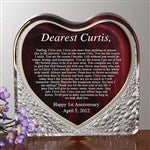 love this!
By
Shopper

(Manchester, NH) - February 14, 2012
I got this as a vday gift for my daughter to give to my husband. It came out beautiful and I love that I got to write my own message to put the special moments they share together everyday in it. Such a great gift!

GREAT gift item!
By
Shopper

(Plymouth, PA) - December 21, 2011
I would suggest this item and site to anyone!
Quality item at a very fair price!
I expected something a little smaller and thinner as I did not measure the size of how large or small to expect it to be.
Perfect size and pretty thick, came out better then expected!
Got two of these delivered today, one for my mom and sis for Xmas.
They are SO gonna be crying over them!
Couldnt have found a better heart filled present!
A+++++++++++++++++++++++++++++++++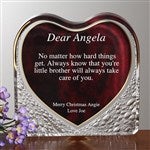 Awesome keepsake
By
Shopper

(Fort Lauderdale, FL) - November 21, 2011
i am so pleased with my order. Fast delivery and the quality of my item is excellent. I cannot wait to give my gift to my husband. I will definitely be back in the future. Thanks a bunch!

Great gifrt
By
Deborah M.

(Cumming, GA) - August 19, 2011 (
See all reviews by this customer
)
Great gift it is my father's 85th birthday and he has everything so this was a great gift to give him very personal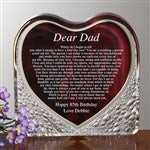 Love this keepsake!!!
By
Melissa O.

(Baldwinsville, NY) - July 23, 2011 (
See all reviews by this customer
)
Communication with this company was amazing. My item was at my door quickly. I highly recommend!!!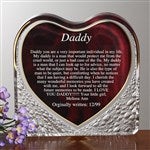 Gifts that keep on giving
By
David S.

(Nashville, TN) - June 26, 2011 (
See all reviews by this customer
)
This gift brought tears to my father-in-laws eyes when my wife gave it to him on Father's Day. We live several hours apart and we were only able to visit with him for a few hours. During our short visit I watched him pick up the heart and read the phrase three times. Each time it was clear how much the sentinment meant to him - it truly is the gift that keeps on giving.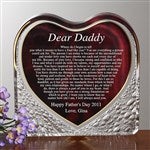 Just like the Picture
By
Shopper

(Dickson , TN) - June 23, 2011
My Dad loved it said it was just awesome he cried when he saw it I loved that I could edit the text to make it my own thanks again

Gift
By
Casey K.

(New Albany, IN) - May 9, 2011 (
See all reviews by this customer
)
We made these into personalized letter to give to our parents at the rehersah dinner the night before our wedding. I wanted something that our parents will be able to keep and charish. They are completely personalized and express our heart felt love for everything that they have done for us. I can't wait to give them to our parents.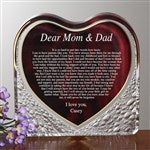 beautiful item
By
Shopper

(Middletown, CT) - April 15, 2011
I ordered this for my dad as a gift to give him on my wedding day. It was absolutely beautifully made!

More than what i expected
By
Renee M.

(Akron, OH) - February 9, 2011 (
See all reviews by this customer
)
I was extremely happy with the gift i had ordered for my father. I thought it was going to be something nice and it ended up being amazing. I couldn't have picked a better item. They also provide you with samples so you can see how you want to format what you write, but they let you put your heart into it. From this item i will definantly do more shopping with this site.

Absolutely beautiful
By
Shopper

(Tampa, FL) - February 4, 2011
Slightly different then I thought it would be from the picture (thought the engraving would be on the front side of the glass, but is actually on the back side with an inch or so of glass in front of it. This actually looks 10x better than expected.

You will love this!! And so will the person that receives it!

LOVE IT!!
By
Tesalla G.

(Howard Beach, NY) - December 20, 2010 (
See all reviews by this customer
)
I was amazed at how promptly this was delivered. The product itself is absolutely beautiful, and the price a steal! I haven't given it to my husband yet, but I'm pretty sure the rock of our family is going to dissolve into tears when he sees this lovely letter from his wife and children. Thank you for outstanding service and a lovely gift idea! I shopped around for a good personalization site - and I've found it!! I will be back for sure!

A letter to Bill
By
Vickie D.

(Jersey City, NJ) - April 5, 2010 (
See all reviews by this customer
)
I have enjoyed all your products I have purchased. I wrote a letter to my husband for our anniversary. I could not have been more pleased, it is perfect. Your delivery service has been great, only a few days it has always been at my door. I will continue to use your service and I am also telling my friends to check you out. Thank you so much, Vickie-

Perfect!
By
Nicole A.

(Spencerport, NY) - April 3, 2010 (
See all reviews by this customer
)
This heart shaped letter to my dad came out amazing. It's absolutely the nicest thing I've ever bought for my dad. The lettering is perfect and it all fit perfectly. My dad will surely tear up when he sees this personal message written by me. Such a unique gift!!! I love it and recommend everyone to buy one for someone they love!!!!

AWESOME
EXCITED