Happy with the tins!
By
Shopper

(Westfield, MA) - November 26, 2013
I wanted to showcase my hubby's artwork on these tins and they came out beautiful! Definitely worth the purchase! They were not as big as I thought, though. They can hold somewhat less than the commonly known danish butter cookie tins. But I sill gave 5 stars for how well made the tins are.

I loved this tin
By
Jessica R.

(Yakima, WA) - December 29, 2012 (
See all reviews by this customer
)
We had just taken pictures in black and white and where finding gifts to give to all of our aunts. The tin's backround was perfect for adding our picture. We ordered several and it made the price even better. Each one was done perfectly with no flaws.

It Looks Great!
By
Dennis B.

(Sandy, UT) - December 21, 2012 (
See all reviews by this customer
)
The snowscape personalized gift tin looks great! The tin itself is very good, and the quality of the photo on the tin exceeded our expectations! Time from order date to receipt date was very good, about 7 days. Highly recommended!

Great
By
Lisa M.

(Hot Springs, SD) - December 10, 2012 (
See all reviews by this customer
)
Great product. Super fast shipping

Birthday Tin
By
Shopper

(Perrysburg, OH) - December 8, 2012
Very nice gift for my son. Looks just like it does online. I would recommend buying these personalized tins to anyone.

Fabulous Looking Cookie Tin
By
Linda M.

(Island Heights, NJ) - January 10, 2012 (
See all reviews by this customer
)
I ordered this cookie tin as a gift to send to my sister-in-law to say thank you for all that she does for my grandchildren....I personalized it with a pretty Christmas photo with she & her husband and 6 of my grandchildren. It looks very nice and the tin was large enough for me to fill it with her favorite home made cookies. I like the look of this tin as it is quite attractive and well made. A few years ago I made 3 of these tins as gifts for close friends and they were all well received. The one I made for myself is holding up very well too. I'd order this product again without any reservation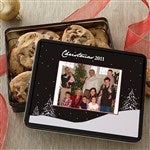 Loved it!!!
By
Shopper

(Branford, CT) - January 1, 2012
The picture was very clear! It was the perfect gift!

excellent
By
Shopper

(Greentown, PA) - November 8, 2011
Product and personalization is perfect....ordering and delivery easy and extremely prompt. A wonderful place to shop.

Photo Tin
By Shopper (Osyka, MS) - November 6, 2011
Love It!!!!

Oh,my!
By
Judy M.

(Grand Prairie, TX) - December 29, 2009 (
See all reviews by this customer
)
Made this with an old family photo and sent it to my Aunt. Major hit! She was just thrilled. Don't even think twice-just do it! Super fast delivery-I just love this company.

Blown away...
By
Amanda B.

(Houston, TX) - December 28, 2009 (
See all reviews by this customer
)
I was a little skeptical at first. I didn't know if the picture would come out clear. I was so happy when my Mom called me crying because she loved it so much! The picture was perfect. Definitely buy this product.

Pleased with speed and quality
By
Wendy H.

(Leesburg, VA) - December 24, 2009 (
See all reviews by this customer
)
I just found this site this year, and ordered several things. All came fast, all are good quality. I will use again and again I am sure.


AWESOME! AWESOME!! AWESOME!!!
By
Tiffany B.

(Mount Orab, OH) - December 17, 2009 (
See all reviews by this customer
)
What a great Christmas gift! I bought this tin with a photo of my kids on it. I made fudge to go in it. The perfect gift for a hard-to-buy-for person!!!

EXCELLENT VALUE
By
laura R.

(la plata, MD) - December 11, 2009 (
See all reviews by this customer
)
I was searching the web for an idea for something different to send to relatives in Florida. I know they are very fond of my chocolate chip cookies so I wanted a tin that was not the average, every day container. I searched and found this tin. Luckily I did some comparison shopping because this tin was more than half off the other sites I found. Great price and fast shipping. I am very pleased with this item. Highly recommended

More than I thought
By
adrienne S.

(Santa Cruz, CA) - December 2, 2009 (
See all reviews by this customer
)
I admit I didn't have especially high hopes for this item, I was worried the photo would come out blurry or the names potentially spelled wrong, but I was pleasantly surprised that it came to my home bubblewrapped and perfect.The quality was so good I ordered 3 more and will definitly order from this site again

Beautiful results!...... and larger than expected!
By
Jennifer R.

(Tampa, FL) - November 23, 2009 (
See all reviews by this customer
)
I'm so thrilled as we just received our order and these personalized tins w/our family portrait turned out amazing! The tins are much larger than I expected and are really a great keepsake.
This year we're having to scale back on our Xmas spending for our adult friends/family, so I thought I'd do home-made gift boxes of cookies. The personalized photo of our family adds a really extra special touch.
I highly recommend this item!
(Tampa, FL)

Great Christmas gift for the whole family!
By
LeeAnn Y.

(Paducah, KY) - November 12, 2009 (
See all reviews by this customer
)
I love personalizing things with my daughter's picture, and my family loves getting them! This cookie tin is perfect, the price was low enough I was able to get one for everybody, and my little girl will love to help me make the cookies to put in them! The only thing I would have changed about it is that you can't do a whole lot with the text. I would have liked maybe to put one line at the bottom. That's definitely not enough to keep from buying and loving it though!

Girls Club Annual Cookie Swap
By
Joann C.

(Long Branch, NJ) - November 4, 2009 (
See all reviews by this customer
)
I was trying to find something that nine women would all like..something that would last forever, mean something to all and of course get a smile and laugh out of it..
I personalized your cookie tin with a picture of the nine of us girls in Times Square. We have an annual cookie swap and this year at our Christmas get together they will love the favor I chose! The sentiment says "Girls Club Annual Cookie Swap" So perfect! I love your sight and I continue to thrill people with your unique gifts..Thanks for making the shopping fun!