Very happy
By
Shopper

(Mt. Vernon, SD) - August 19, 2014
very happy with quality and timely service will order again

Beautiful!
By
Shopper

(Orchard Park, NY) - August 19, 2014
I was so pleasantly surprised with the beauty and fine quality of this vase! It was ordered for a 50th anniversary present and the personalization turned out beautifully. Would highly recommend!

Etched Crystal Vase
By
Shopper

(Belvidere, IL) - August 16, 2014
Totally impressed with this vase. It is so very nice. Etching is perfect.

Really liked the features
By
Shopper

(Vienna, VA) - August 11, 2014
The vase was elegantly made and the inscription was perfect for the occasion. It was crystal with etching, well presented. It is the perfect keepsake.

Beautiful
By
Janel C.

(Marstons Mills, MA) - July 26, 2014 (
See all reviews by this customer
)
Better than I expected. The crystal is non-lead though FYI. It is much lighter than lead crystal.

happy customer
By
Susan S.

(Smithtown, NY) - July 22, 2014 (
See all reviews by this customer
)
I purchased this vase for my sister's 25th anniversary gift. It came right away - perfectly inscribed and carefully shipped so no breakage - it arrived in perfect condition and I loved the way it looked. I would purchase something else from this company with no hesitation! Happy customer!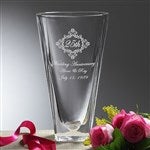 Better than expected
By
Thomas B.

(Staten Island, NY) - July 11, 2014 (
See all reviews by this customer
)
We purchased this for our best friends 50th Anniversary and we will be giving it to them tomorrow at their big bash. Knowing what they like, we knew this would be an excellent choice.

personalized 25th anniversary Vase
By
Nancy L.

(Stratford, CT) - June 30, 2014 (
See all reviews by this customer
)
I received the 25th Anniversary Crystal vase for a gift last year and just love it Had to order it for another friend! Ordered it on line and 3 days later it was at my door! Fast service!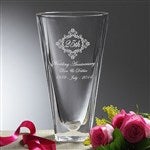 Very Classy
By
Shopper

(Kalamazoo, MI) - June 27, 2014
I got about 10x the quality I was expecting and would have settled for but this vase is just stunning! I ordered one for my parents' 50th wedding anniversary and after using a discount code paid around $50...This vase is very large and very heavy, it will hold any bouquet size you throw at it...The crystal is very thick and heavy. The inscription looked very very well done (unlike what someone would probably be able to do for you at your local mall). I added a stunning personalized card for an extra $4, this now looks like a $150 gift! Highly recommend!!! Their shipping was amazing experience for me also...very fast. I will certainly shop here for all my personalized gifts for family and business. Thanks and keep up the good work!

Pleased in east islip ny
By
Shopper

(east islip, NY) - June 8, 2014
I sent this vase to our cousins for their 25th anniversary .
They were so thrilled with the vase and very grateful
For such a beautiful gift.

Anniversary Memento Etched Crystal Vase
By
Shopper

(DELTONA, FL) - May 12, 2014
This 10th Anniversary Memento Etched Crystal Vase is awesome. I received it and it looked stunning. It is also heavy. You will enjoy this for yourself and to give as a gift. I will order again from PersonalizationMall.com

Thanks.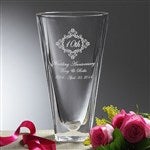 EXQUISITE CRYSTAL VASE
By
CHRISTINE D.

(CLEMMONS, NC) - May 11, 2014 (
See all reviews by this customer
)
I have bought a few items from Personalization Mall and have never been disappointed in the quality of the items that I have purchased as gifts and the recipients were always very pleased. I bought this vase for my sister's 40th wedding anniversary surprise party and find myself keep taking it out of the box just to look at it over and over again because it is so beautiful! The weight, design and the engraving is exquisite!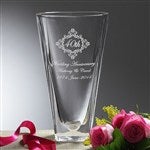 Beautiful Vase
By
Shopper

(St. Clairsville, OH) - April 20, 2014
Beautiful crystal vase. Good quality. Purchased as an anniversary gift.
Very pleased.

Best of the Best
By
Shopper

(Kansas City, KS) - April 15, 2014
As always, you guys came through like clock-work! The vase was absolutely positively gorgeous. It was so obviously an expensive vase, but then the engraving that went into it - incredible! I can't say enough good things about you guys! You come through with the most special items for the many occasions we try to celebrate with people. Everyone we give your product to loves them! I now have several people call me when they need something special, and ask me to pick it and order for them. I couldn't do it without YOU! Thanks again.

Amazing!
By
Shopper

(Farmington, CT) - April 13, 2014
This will exceed your expectations! It is hard to find a great gift for someone special on their 25th anniversary. This is the perfect gift, terrific quality and great price.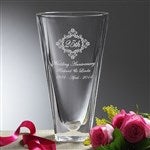 Etched Vase
By
Shopper

(Amarillo, TX) - April 11, 2014
Thanks Personalization.com. I had no idea what kind of gift to get my wife until I came across your website. The etched Vase was for my 21st wedding anniversay. The quality of the Vase was excellent and I'm very satisfied with my purchase. I would recommend a purchase to anyone wanting a unique gift to celebrate any occassion.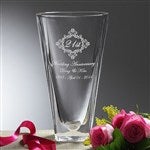 Beautiful vase!
By
Shopper

(Calhoun, GA) - January 21, 2014
I gave this etched vase to my parents for their 50th wedding anniversary. It is simply gorgeous! Heavier than I expected which is a plus. They were so surprised! The vase will be a wonderful memory of their years together. The company packaged the vase with extra care. I highly recommend this product to everyone. I will be a return customer in the future. I am very pleased with my purchase! Thanks!

What a beautiful vase !!
By
Giuseppina D.

(Philadelphia, PA) - December 18, 2013 (
See all reviews by this customer
)
I ordered this vase for my parent's 50th wedding anniversary. I am extremely pleased at how beautiful it came out. I had read other reviews about the weight of this vase and after I received the vase I realized how true it was. It is substantial in weight so you will never have to worry about it toppling over.

I was concerned it would arrive damaged but to my delight it arrived very carefully packaged. The lettering etched on the vase is just beautiful. And I love that it is personalized with my parent's names. After all a gift is more personal and special when it is especially made for someone. I just know my parents will love it just as much as I do.

If you are looking for a great anniversary gift for the couple who has everything then this is it. You won't go wrong !!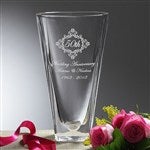 Beautiful!!
By
Shopper

(Mukwonago, WI) - November 16, 2013
This was a perfect 50th anniversary gift for my parents. Very beautiful and heavy vase. Nice size, too! Very happy!

perfect gift
By
Kelsey C.

(Abilene, TX) - November 6, 2013 (
See all reviews by this customer
)
We got this for our grandparents. Quality was excellent. A lot heavier than expected. Elegant look. They loved it.

Great Vase
By
Shopper

(Perkasie, PA) - October 15, 2013
I ordered this vase for my parents 50th anniversary. The writing was done very nicely and my parents loved the personalization. It is a very nice keepsake. The vase is large and heavy and we could fit a lot of beautiful flowers in it without worrying if it would topple over. The sides have a nice ribbed design so is nice for fancy occasions. I would encourage anyone to purchase this item. My son is getting married in a year and I will be purchasing this vase with their names.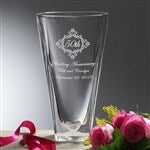 Perfect anniversary gift
By
Karol C.

(Charles City, IA) - September 18, 2013 (
See all reviews by this customer
)
Very nice wedding gift for a 2nd marriage for a couple who already had everything.

VERY Nice Quality!
By
SAM C.

(PANTEGO, TX) - September 16, 2013 (
See all reviews by this customer
)
I purchased this for a 50th wedding anniversary gift and it was stunning! I couldn't be happier with the quality, size and appearance. It was a gift I was proud to give and it was well received and appreciated!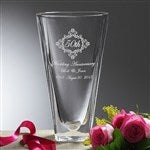 Very Elegant!
By
Shopper

(GARDENDALE, AL) - September 16, 2013
I was a little hesitant to order since this was my first time using Personalization Mall and needed this gift to be everything I expected. I must say I was very pleasantly surprised and delighted with the craftsmanship! The vase was very carefully packed for shipping and delivery was prompt. Will definitely order from this company again! Thanks!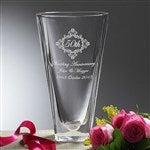 Beautiful Vase!
By
John K.

(N. Fort Myers, FL) - September 15, 2013 (
See all reviews by this customer
)
Absolutely beautiful vase with very nice engraving. Purchased for anniversary and very happy with purchase. Very heavy...high quality!

Beautiful!!!
By
Shopper

(Rutland, MA) - August 19, 2013
I ordered these vases for my in-laws 50th wedding anniversary and was more than happy with the results. I ordered 6 vases and they all were perfect and at my door in a week. They make a beautiful memorabilia celebrating a special time! I will definitely order from Personalizationmall.com .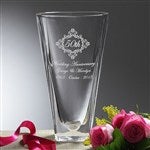 Beautiful Vase!
By
Shopper

(Eden Prairie, MN) - July 28, 2013
Perfect for my parent's 50th. They were very impressed and so were the other guests at the party!

Excelllent Quality
By
Rosalia A.

(Hialeah, FL) - July 21, 2013 (
See all reviews by this customer
)
Yesterday we went to my cousin's celebration an took some flowers for the vase. They looked beautiful. The vase is great and they loved it. It arrived in the mail and there was no problem with them receiving it.
I always order my mementos here because I have received quality and promptitude every time.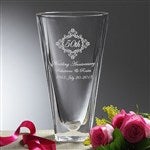 Anniversary gift
By
Shopper

(Beaumont, CA) - July 13, 2013
This vase is beautiful and beyond met my expectations. The glass is heavy and the engraving is so nicely done. My parents loved this gift!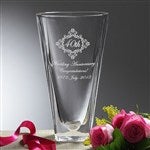 60th Wedding Anniversary Vase
By
Shopper

(Glendale, AZ) - June 29, 2013
It is beautiful... came so quickly packaged so nicely wrapped so no breaking it will be treasured.

PRODUCT FEATURES
By
Barbara M.

(Philadelphia, PA) - June 27, 2013 (
See all reviews by this customer
)
The vase is absolutely beautiful. So pleased with the quality of it and even more, the etching. Couldn't be more pleased with my choice for this purchase. Thank you!!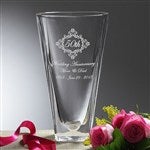 Treasured Memento
By
Jennifer C.

(Plano, TX) - June 10, 2013 (
See all reviews by this customer
)
I ordered this for my parents' 60th wedding anniversary and had a local florist fill with a gorgeous arrangement that was placed on the altar at Mom and Dad's church the Sunday before their anniversary on Wednesday. There was a notation in the bulletin drawing attention to the arragement. Mom and Dad and their many friends were so impressed by the vase, and I know Mom will enjoy using it in the future for cuttings from her garden. Perfect gift!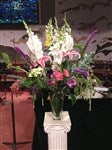 The perfect keepsake
By
Eunice K.

(Ellicott City, MD) - June 1, 2013 (
See all reviews by this customer
)
What do you get a couple who have been married for 50 years and have all of the serving pieces, silver, and china they could possibly need? I immediately went to Personalization Mall since I knew I would find the perfect gift. I found this vase that I had inscribed with their names and anniversary date and when it arrived, I was thrilled by the quality and workmanship. The vase is heavy crystal and the inscription was beautifully done. And who doesn't love to have fresh cut flowers in their home? I can't wait to present it to them so they can begin enjoying this very special keepsake of their long and happy life together. I always turn to Personalization Mall when I need that special gift for any occasion.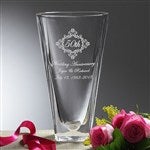 Second Purchase
By
Kevin A.

(Worcester, MA) - April 15, 2013 (
See all reviews by this customer
)
This is such a beautiful vase. The engraving was wonderful.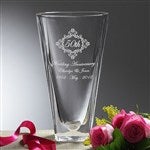 Love it!
By
Nelle C.

(San Antonio, TX) - March 20, 2013 (
See all reviews by this customer
)
I ordered this for the 10th wedding anniversary of our daughter and son-in-law, and we are thrilled with it! We can hardly wait to give it to them in June! Not only is it beautifully shaped, but it is very heavy, as leaded crystal should be. The etching is perfect. We can't think of a better, more memorable gift for them, and I am certain they will use it (and cherish it) for years and years to come!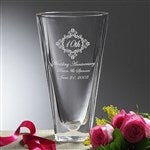 Love the Quality
By
Shopper

(Sapulpa, OK) - March 6, 2013
I love this vase. My husband purchased this for our 10th Anniversary and I decided to purchase one for my parents 40th Anniversary. The vase is very heavy and sturdy - very high quality. It is definitely a wonderful keepsake.

Perfect Anniversary gift
By
Shopper

(Hudson, FL) - February 26, 2013
I ordered the etched crystal vase for a 50th anniversary gift. It arrived, as was promised, elegant and classic in design, it was everything I expected. It was packaged in a lovely box and ready for wrapping. I would recommend your site to anyone who wanted a personalized gift.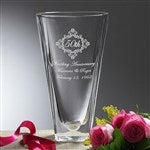 Why I purchase thru Personalzation
By
Greg Z.

(Paw Paw, MI) - January 19, 2013 (
See all reviews by this customer
)
Why, because you can always count on good products and outstanding service, that's why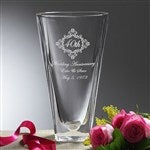 Gorgeous crystal vase!
By
Shopper

(Lubbock, TX) - December 27, 2012
I bought this for my grandparents 60th anniversary and they loved it. My Grandma puts fresh flowers in them everyday.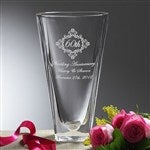 50th Anniversary Vase
By
Shopper

(Whitinsville, MA) - September 17, 2012
I am 1000% satisfied with this Anniversary vase. It is beautiful online but even more beautiful when you receive it! I was happily surprised on the quality of this gift!! Makes the perfect Anniversary gift for the happy occasion...