Perfect!
By
Shopper

(Dallas, GA) - October 27, 2013
Perfect addition to my granddaughter's room!

So Cute
By
Joseph L.

(North Bellmore, NY) - February 10, 2013 (
See all reviews by this customer
)
Simple and perfect!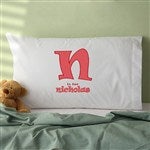 Great gift for little girls!!
By
Shopper

(Griffin, GA) - October 28, 2012
the pillowcase was a huge hit for a five year old little girl. It was of good quality, and the quick turnaround on shipping was great! Will purchase again for a gift

NICE!
By
Shopper

(Jeannette, PA) - July 25, 2011
Bought this item for my granddaughter. I bought the pink one. She cries when her mother takes it off her pillow to be washed. So, I bought a purple one for my house when she stays. I'll probably have to buy the blue one too! Perfect gift for a child!

Pillowcase
By
Shopper

(Franklinton, LA) - July 19, 2011
LOVE the pillowcase. Well worth the price. Initial and name is perfect size (not too little) and pillowcase is of nice quality, not a cheap made pillowcase. Will be purchasing some more for christmas.

Cute Gift Idea
By
Shopper

(Branch, LA) - July 17, 2011
I bought my son and daughter one. It is really cute, esp for traveling or sleep-overs. It would make a really cute gift idea also. Not to mention price is just right!

Alphabet name pillowcases
By
Sharron P.

(Wichita, KS) - March 14, 2011 (
See all reviews by this customer
)
I ordered 5 of these and I love them! The lettering is big and easy to read and the embroidery is great AND they come in different colors, which made it so easy to personalize each grandchild with their own color favorite!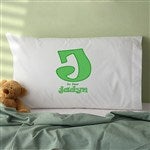 Gorgeous!
By
Giovanna P.

(Canada) - January 3, 2011 (
See all reviews by this customer
)
I was super pleased with this product! I ordered it as a surprise for my 7 year old daughter's bed in her new room .
The quality of the fabric is wonderful and the graphics are clear and crisp. The color is also true to what you see on screen (I ordered the purple) and it was just what I had hoped for!
Will order more for gifts!

alphabet pillowcase
By
Marilyn D.

(Jeannette, PA) - December 30, 2010 (
See all reviews by this customer
)
I bought a pink one for my granddaughter for her birthday in September. She loves it. She is always asking where her "B" is when she comes to my house so I ordered her another one for Nana's house. However, after I ordered it in purple, she stated she wanted blue. Maybe I'll get a third one in blue! They are really nice.

Very Cute!
By
Jodi P.

(Colonie, NY) - June 11, 2010 (
See all reviews by this customer
)
The lavender is really cute... not too light or too dark. My daughter loves that her name is on it and spells it every night before bed. I will be ordering another for my youngest. It looks very cute in her room too! Great purchase!

Perfect Pillowcase for Grandson
By
Lila T.

(University Park, FL) - February 16, 2010 (
See all reviews by this customer
)
Our four year old grandson is learning his letters and how to write his name so we thought the perfect pillowcase for him to use at our house would be the C is for Cole, in green. It arrived in just a few days and the quality is excellent. He can enjoy this, as his very own, for many years. Thanks for the excellent service.

My God Daughter Loves It!!!
By
Patrick V.

(Maringouin, LA) - January 13, 2010 (
See all reviews by this customer
)
My god baby and her mother loved this gift. Evry child shall have one of these pillows of their own. I greatly recommend this as a gift for any baby girl.

Great!
By
gail C.

(grosse ile, MI) - December 31, 2009 (
See all reviews by this customer
)
The kids love this personalized pillow cases, especially for unique names.

GREAT
By
Cassie D.

(Henderson, KY) - November 9, 2009 (
See all reviews by this customer
)
Bought this as a birthday gift for my neighbor's 2nd birthday. They loved it and said it was their favorite gift! High quality! :)