Rosewood Pen Set - Great Gift
By
Cheryl M.

(Amarillo, TX) - August 11, 2014 (
See all reviews by this customer
)
I ordered 3 of these for our management team. They are very nice quality. Looking forward to bosses day to present them. They do make a little bit of noise when the pen rolls in the case.

Beautiful Gift
By
Shopper

(Reno, NV) - August 4, 2014
We bought this for our dear friend's 75th birthday and, as usual, the quality of the pen and the box were incredible. The recipient was very impressed and grateful - we never cease to be amazed at the quality of products we order and the expeditious processing. Thanks!

Excellent graduation gift!
By
Marilyn B.

(Dublin, OH) - July 19, 2014 (
See all reviews by this customer
)
This is an excellent graduation gift! Quality is top notch - personalization options are great! I have ordered this item for numerous doctorate graduating students who live in countries around the world. It is very well received and provides a wonderful momenta of the university, graduation date and their new doctor title.

Great gift
By
Shopper

(Elizabeth, NJ) - June 28, 2014
I got this for my boss as a gift as an appreciation. She loved it.

Father's Day Gifts
By
Fatima D.

(Monroe, LA) - June 20, 2014 (
See all reviews by this customer
)
I was truly satisfied with my purchases. The Fathers at our church were speechless.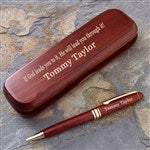 Handsome gift
By
Shopper

(Newtown, CT) - June 18, 2014
We ordered a pen set for my son and were very happy with our purchase. The box is nice and heavy and the rosewood is just beautiful! I tend to be very picky (VERY PICKY!) and I was very satisfied with this item. The quality far exceeds what you would expect for the price. I would definitely recommend this pen set for any occasion.

Personalized Rosewood Pen Set
By
Gwendolyn W.

(Bolingbrook, IL) - June 17, 2014 (
See all reviews by this customer
)
This set was just what I was looking for. I gave this gift to my Family Reunion Committe members. Elegant and beautiful. The perfect thank you.

Very pleased
By
Shopper

(Tyler, TX) - May 31, 2014
The pen and case were very nice and I received it much more quickly than what I had hoped so it made it to me in time to be able to give it as a graduation gift.

Have it Your Way
By
Shopper

(Ville Platte, LA) - May 30, 2014
For graduation gifts I was able to select a quote appropriate to the graduate. On the other gift I was able to create the graduate's class motto on his. I am most happy for the choices Personalization Mall gives. Presentation(engraving) is excellent.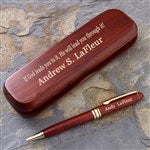 Exactly as described
By
Sean M.

(Clewiston, FL) - May 26, 2014 (
See all reviews by this customer
)
Excellent service, Quick ship.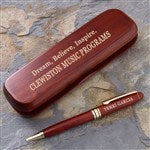 Excellent quality
By
Allen E.

(Deridder, LA) - May 25, 2014 (
See all reviews by this customer
)
The recipient of this gift was delighted that we chose this way to honor his service. He did not really need one more plaque since he was retiring and would have no office wall to hang it on. This gift is useful and is one he can use on a regular basis and be reminded daily of our appreciation for his service to our board.

Great gift! Rosewood Pen Set
By
Shopper

(HERMON, ME) - May 15, 2014
I was actually surprised how nice this set was, because it was not very expensive.I recommend this Rosewood Pen Set to anyone looking for a nice graduation gift .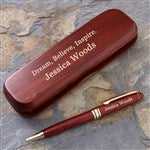 Pen set
By
Shopper

(turnersville, NJ) - May 9, 2014
I bought this for my sons. Graduation. I didn't give it to him yet but I looked out it and it's beautiful engraved and the wood box I will tell everyone to buy from this company my son graduates in May 17 2014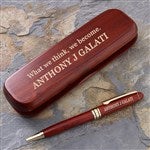 What a keepsake!
By
Leann T.

(Greenwood, IN) - May 7, 2014 (
See all reviews by this customer
)
This was simply beautiful!!! This is a great gift for any special occasion. The pen set was delivered just as expected.

Great gift idea
By
Karen S.

(Martinez, CA) - April 20, 2014 (
See all reviews by this customer
)
I purchased this as a gift and was very pleased with how it turned out. Nice remembrance.

Exactly what I expected.
By
Judy F.

(Charlottesville, VA) - April 14, 2014 (
See all reviews by this customer
)
I was very pleased w/the Pen Gift Set that I ordered. It was exactly what I expected. Will def order again from Personalizationmall.com.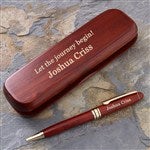 Very nice
By
Laury D.

(Delray beach , FL) - March 23, 2014 (
See all reviews by this customer
)
When it came, it looked exactly as it did in the review. It was a nicely appreciated gift. The person loved it and so did I. Came on time too. Thank you.

Great item!
By
Shopper

(San Antonio, TX) - March 8, 2014
The rosewood pen in its own case is beautiful. I bought one for a gift and one for myself. My friend loved hers just as much as I did. I will buy more for gifts in the future. Thanks again!

Love it
By
Florence A.

(Newark, NJ) - February 13, 2014 (
See all reviews by this customer
)
I ordered this for my boyfriend on Val's day n I must say, it was so nice. His expression said it all. He loved it so much. Thanks pmall.com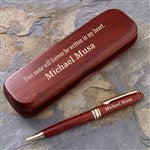 Amazing!
By
Brenda R.

(Miami , FL) - January 31, 2014 (
See all reviews by this customer
)
The case of the pen and the pen came out beautiful i was amazed at the quality of the wood :'), I've been a long time costumer of personalization mall so they never disappoint. Absolutely wonderful! We order it for my brothers teacher and he loved it, now its his favorite pen! thank you so much for such wonderful craftsmanship.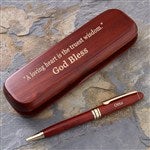 he loved it!
By
Theresa C.

(Charlotte , NC) - January 16, 2014 (
See all reviews by this customer
)
I got this for my boyfriend's birthday and he loved it! thought the case was really nice and he can use it during lectures and think of me ;)

A Great Gift.
By
Shopper

(Kentwood, MI) - December 27, 2013
This pen set was given to my boss and he love it. Once again PM made me proud, your gifts are one of a kind. The personalizing make gift giving very special.

Excellent Product!
By
Shopper

(Greer, SC) - December 21, 2013
This rosewood pen set was exactly what I was looking for for my boyfriend. It looks very professional due to the high quality of the wood and the beautiful gold font. From the time I ordered it, it took precisely one week to receive the item and I was very impressed with the fast shipping. The only thing I was not so thrilled about was the font on the box was not quite as dark/deep as I had hoped it would be. Other than that, I highly recommend this pen set!

Christmas gift
By
Shopper

(Cumming, GA) - December 17, 2013
I gave this to an executive for Christmas . . . and quoted a meaningful scripture. He was elated, saying "this is the best present he has ever received"

Good quality, price, and customer service
By
Michael W.

(Vallejo, CA) - December 11, 2013 (
See all reviews by this customer
)
I've been wanting one of these for a while and finally bought one as a birthday gift (Mom gave me the $ for whatever I needed). It came packaged well, but there was a staining discrepancy on the case. Customer service took care of the problem quickly and I have a new case that looks great. The tip of the pen came off after a short time, but a little glue fixed that. You would think that with these two issues I wouldn't have given a 5 star rating. However considering the overall quality, and especially the customer service I was really impressed. Thank you for making nice gifts affordable.

Absolutely gorgeous!
By
Patricia C.

(Ocean Gate, NJ) - November 24, 2013 (
See all reviews by this customer
)
As with everything I've ordered from Personalization Mall, this pen set is beautiful! Very high quality work, and the very special person I gave it to just loves it!

I have not yet used the PEN but it looks good!
By
Shopper

(Mount Prospect, IL) - November 20, 2013
These are for my sons. I am hoping that they would like them as I have not used the pen to write. They looks very nice!

Special gift for young man's first job.
By
Donna R.

(Leavenworth, KS) - November 18, 2013 (
See all reviews by this customer
)
This makes a very special gift. The quality is excellent and, I am sure it is a gift that will last many years.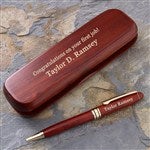 Great value, great product
By
Shopper

(Gastonia, NC) - October 28, 2013
As always my order arrived on time and in excellent condition. My husband loved his gift... I loved the look of it, the value and the sentiment it held. I will order again and again from here!

Perfect gift for a new teacher
By
Shopper

(Hoboken, NJ) - September 22, 2013
I purchased this as a gift for a first year teacher.The pen and case are an elegant gift at a reasonable price. I am impressed by the high quality and excellent turn around time offered by the Personalization Mall. I'll definitely be a return customer!

cooool
By
Shopper

(Kew Gardens, NY) - August 31, 2013
customer servce is best nd product's amazing

Love the pen but not so much the box
By
Jerome O.

(Leesburg, VA) - August 27, 2013 (
See all reviews by this customer
)
This is the fourth time I have ordered this product. I love the craftsmanship of the pen. Before it use to come in a plain black box now they have stamped their logo on the box. I feel that this is not great as the box made it easy to just give to the individual or wrap. To me this makes it look a bit tacky and now you have to search for something else to put it in.

Best birthday gift
By
Khadija B.

(Woodside, NY) - August 12, 2013 (
See all reviews by this customer
)
I ordered this pen set for my younger brother's birthday who lives in Australia. Engraved was so neat and clean. My bother said, this is the best birthday gift ever as soon as he received it, and he asked me a lot of questions like: where did I order from, do they ship internationally etc. This is a thoughtful gift for someone who is very special in your life. I felt the price is nothing compare to my brother's appreciation and happiness.

Well pleased
By
Shopper

(Herrin, IL) - August 10, 2013
I was so pleased with my recent purchase! It was a gift for my boyfriend who recently got a job promotion. It was well worth the money, and he thought it was great too.

Given as a gift
By
Connie O.

(Florissant, MO) - August 9, 2013 (
See all reviews by this customer
)
I gave this as a gift to one of my company's intern & they LOVED it. They showed it off to their family & friends.

I was impressed with the quality of the product and the personalization!

Nice gift to reinforce value of relationship
By
Michael W.

(Los Angeles, CA) - August 2, 2013 (
See all reviews by this customer
)
We order and send these customized pens to brokers who write policies for the first time with our company. It's a nice touch sending a personalized pen and a note thanking them for their business. The case and pen are of good quality and the production is swift and error-free so the gift has greater impact because it is prompt.

Personalized Rosewood Pen Set
By
Shopper

(Hinckley, OH) - July 27, 2013
I love this pen set, It came out great! Quality!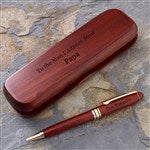 very classy!
By
Samantha W.

(Grand junction , CO) - July 2, 2013 (
See all reviews by this customer
)
real solid quality wood case. pen writes smooth with black ink. truly a gift!

Excellent for Graduation
By
Shopper

(Haines Falls, NY) - June 20, 2013
These pens are both classy and elegant while not so expensive that you cannot afford to buy multiple items during graduations. In addition to being a nice gift, they will also be practical and hopefully used for a long time. When I give someone a gift, my goal is to get something that will remind them of me and their importance in life.

Professional gifts
By
Linda G.

(Jonesboro, GA) - June 19, 2013 (
See all reviews by this customer
)
I bought 1 rosewood boxed pen for a graduation present for my oldest niece, who graduated with a Masters degree in nursing. She was delighted with the gift. She stated"Whenever I look at the box or the pen, I'll always think of you."

The second rosewood boxed pen was given to a young woman who exemplified the word "professionalism" in every sense of the word. I was tranferring to another location and during her tenure in the store, she was nothing but superior in performance and possesses great depth of character. She also was touched by the gift. Thank you Personalization Mall. Your personalized gifts are the right touch in expressing your admiration for a much beloved niece or a spectacular co worker.