Awesome mug!
By
Roberta C.

(Bullhead City, AZ) - December 20, 2013 (
See all reviews by this customer
)
Nice mug, great graphics! Perfect gift for my daughter in law, the new teacher!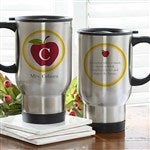 Teacher's gift
By
Shopper

(Oceanside, CA) - June 15, 2013
Very nice gift. It was smaller than what I thought it would be.

GREAT GIFT IDEA!
By
Lynn H.

(Waukesha, WI) - June 12, 2013 (
See all reviews by this customer
)
This mug is AWESOME! Great quality and stylish at the same time. Every time I order one it's a big hit! I would recommend this to my friends.

Teachers Travel Mug
By
Shopper

(Dudley, GA) - May 7, 2013
Excellent quality...Love it. It will be part of a college graduation gift to my daughter receiving her Early Childhood Degree - I know she will LOVE IT.

Excellent
By
Christine M.

(Chestnut Ridge, NY) - December 23, 2012 (
See all reviews by this customer
)
I am a kid that goes to St. Margaret's and my teacher loves drinking coffee so I thought it would be a nice idea to give her a coffee mug that was personalized with her name on it! I wanted to see the look on her face when she opened it ! She loved it, so it is a good thing to buy a coffee mug for your teacher!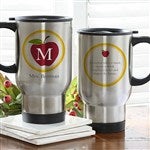 Awesome gift for a principal
By
Shopper

(Bridgewater, NJ) - October 8, 2012
Purchased this mug for an end of year thank you gift. I ordered it well in advance and was amazed at how qickly it came. It was above my expectations! The principal loved it and showed it to all his staff. I am so glad that I gave him something so great and personal.

Great Gift for Daycare Teachers
By
Shopper

(Bloomington, IN) - January 3, 2012
Teachers loved the travel mugs!!!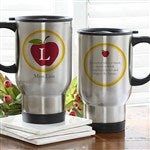 Very cute!
By
Shopper

(Sauk Centre, MN) - December 24, 2011
My daughter's teacher loved this! We also filled it with goodies before we gave it to her. It looks very nice and good quality. I will order these every year probably for my kid's teachers!

perfect
By
Shopper

(Los Angeles, CA) - July 2, 2011
this travel mug is beautiful, i'm sure my daughther teacher will love this.

Beautiful teacher's gift
By
Shopper

(Orlando, FL) - June 20, 2011
This is a very nice keepsake personalized gift for a favorite teacher. She will surely appreciate it if she is a coffee/tea drinker, and will remember you for years to come.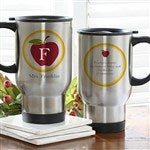 Beautiful Mug
By
Sandra S.

(Arlington, TX) - January 22, 2011 (
See all reviews by this customer
)
I bought this mug for my daughter who is a first year teacher. She absolutely loved it. Good quality.

Awesome
By
Shopper

(Ballwin, MO) - January 15, 2011
My mother is been a teacher for 35 years.... This was one of her Christmas gifts... She absolutely LOVED IT... you think it looks good in the pictures well it looks a million times better....

bargin shopper
By
Fredericka H.

(detroit, MI) - June 18, 2010 (
See all reviews by this customer
)
I purchased the mug as a end of the year thank you gift for my daughter's fourth grade teacher. The mug arrived very quickly. It is very beautiful and the engraving far exceeded my expectations. I haven't given the mug yet but I know the teacher will love it. I recommend this produduct. Great value and a very unique and personal gift.

Very Nice!
By
Dawn R.

(San Jose, CA) - May 26, 2010 (
See all reviews by this customer
)
Ordered this 1 day and received it 3 days later........fast shipping and the mug is darling. My daughter got this for her fav teacher and what a wonderful way to tell a teacher how inspiring he is for a child that he is helping to shape for the world. She will be graduating this year but she is leaving this for him as a reminder that, even though he may not always hear it....he truly is doing the hardest job ever by teaching the youth and making a difference!