paper weight
By
Tricia M.

(Haverhill, MA) - May 9, 2014 (
See all reviews by this customer
)
We ordered this paper weight as a good bye to our Principal. We were in love with the product. First it was the priced but then after seeing the product it was so nicely personalized and send out to us very quickly. We would order from this company again on anything we need personalized.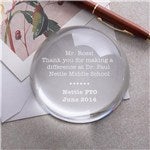 Teacher's appreciation
By
Tracy C.

(Bellflower, CA) - May 24, 2013 (
See all reviews by this customer
)
I purchase this for my Brandon third grade teacher and she just love it. She told him that she really likes it and was going to show all the teachers. The next day she handed him a card thanking him again dying it was the best gift and she's going to keep it on her desk to remind her of how sweet and quite he w in her third grade class. This is my fifth item I purchase from your company and will be back.s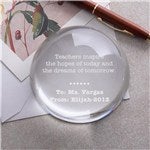 best gift ever!!
By
Shopper

(Memphis, TN) - February 26, 2013
this is the best gift ever!! it really is a five star gift!! can be personalized for any event...i have given this gift many times and receive rave reviews on my gift selection!!

love the paperweight, very pretty
By
Shopper

(Union City, NJ) - January 26, 2013
exactly like the picture, i was very happy with purchase.

Jrotc Cadet
By Shopper (Stafford, VA) - January 15, 2013
My fellow cadets and i all pitched in to get our sergent major this to show him thanks for all he has done for us as students and as cadets, and for the exellent citizens he has made us.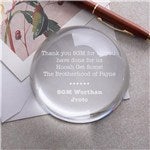 Just Beautiful
By
Kathleen S.

(Howard Beach, NY) - December 3, 2012 (
See all reviews by this customer
)
The photographs do not do this paperweight justice. The engraving is beautiful. Thank you.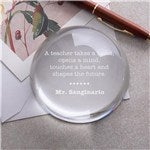 Perfect Teacher Gift!
By
Anne K.

(Broomfield, CO) - November 29, 2011 (
See all reviews by this customer
)
This was a special gift for a very special Teacher! She loves it and displays it right in front of her home for all current and potential students/parents to see! This was a great way to say thanks to her. And she can promote her Handwriting Coach business! I was included her MOTTO for all to see!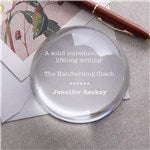 Classy display for special sentiments
By
Shopper

(Union, NJ) - July 1, 2011
I ordered three paperweights for my children's teacher for WONDERFUL support they provided to us this year during a very trying time. I was able personalize each one with a special message just for them. The packaging is GORGEOUS and classy with a white satin lining. The only negative I would agree with (which was already sited by another reviewer) is you can immediately see the inscription when you open the beautiful box because the paperweight is clear and both the writing and lining is white. In spite of this, I would still purchase again for special people!

Change color of cloth
By
Shopper

(Pine Bush, NY) - May 24, 2011
I love the paperweight. This is the second year I have ordered them for our retirees. My only suggestion is that the cloth in the box should be a color other than white. You see the inscription so much better with a color under it. I added blue felt under them so the inscription would pop out when they opened the box. It looked much better and was much easier to read.

Elegant and beautiful
By
Shopper

(BeechGrove, IN) - May 14, 2011
I got this gift for my professor after graduation. Its an apt gift for the occasion. Its such a lovely article. Even the package in which it came looked elegant. Overall, its a perfect gift to a teacher/professor.

Awesome!
By
Shopper

(Lincolnton, NC) - April 12, 2011
The paperweight was a gift for a friend, she absolutely loved it! It was perfect in every way, just as I expected it to be.

It's worth the weight!
By
Niambi P.

(Philadelphia, PA) - December 30, 2010 (
See all reviews by this customer
)
This is a beautiful paperweight that you can customize. When my Daughter gave it to her teacher she was wondering how her name got in there. I think this is a perfect, useful and not too personal gift for a teacher.

Great Value, excellent presentation
By
Maria Z.

(Corona, CA) - September 30, 2010 (
See all reviews by this customer
)
Very pleased with the purchase. Fast delivery!, great presentation!

Perfect
By
Barbara H.

(Cashiers, NC) - July 26, 2010 (
See all reviews by this customer
)
This paperweight is perfect. Had plenty of space for my message. Boxed beautifully and was delivered in less than a week after placing order. Thank you B. Hyde, Sapphire, NC

Paperweight
By
Donna B.

(Pine Bush, NY) - May 28, 2010 (
See all reviews by this customer
)
I love the paperweight. It looks great. However, I would have put a blue fabric in the box to make the ingraving pop out! I cut small blue felt circles to put under the paperweight and it looked much better.

beautiful
By
Jennifer D.

(Milford, DE) - May 15, 2010 (
See all reviews by this customer
)
I purchased this crystal paperweight for my son's teacher, who recently won "Teacher of the Year." It was beautifully engraved and arrived in a pretty gift box. His teacher loved it!

love it!!!
By
Maria S.

(Cambridge, MA) - May 7, 2010 (
See all reviews by this customer
)
Love it!!!! the person I gave it to loved it!!!

A precious functional keepsake!
By
Scott D.

(Parsippany, NJ) - May 5, 2010 (
See all reviews by this customer
)
This paperweight arrived in a great decorative box with silver bow. When opened, the paperweight was surrounded by a satin display and securely in the middle of it. The engraving was perfect and beautiful to look at. The only problem is that we now have to wait until June to give it to my son's teacher! I think she's going to love it!

perfect personalized paperwight
By
Kylie W.

(Logan, UT) - April 21, 2010 (
See all reviews by this customer
)
I was very happy with how this product turned out when I recieved it. The inscription was clear, and there are no blemishes on the paperweight or the inscription. It came to me on time.
Once again I was very pleased with this website and the purchase I made. I would highly recommend anyone looking for something adorable for someone special, with your own personal message on it, to buy from this website!!

GREAT BUY!!!!!!!!!!
By
Tiara M.

(Richmond, VA) - April 6, 2010 (
See all reviews by this customer
)
I bought this for my mother in law to be, she is a teacher and i knew she would love it, and it was a success!!!!!!!!