Love It!
By
Angela C.

(Kingston, MA) - July 31, 2014 (
See all reviews by this customer
)
This is the second one I've purchased because the last one was such a big hit at a bridal shower and wedding. If you want to get creative, put something else in the jar other than tissue paper. My sister's wedding theme is "roaring 20's" so I'm wrapping beads along the inside of the bottom and placing the feathered flapper headpiece on top of the beads. Itlooks adorable and the jar comes exactly as the preview shows. Definitely a great buy and I'm sure it won't be my last!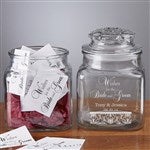 Looks Great!
By
Shopper

(Holmes Beach, FL) - February 2, 2014
Was exactly as expected. I will be using this for my daughter's bridal shower. She will love getting marriage advice from all of her family & friends! Only drawback is that I would have loved being able to personalize the entire wording, not just on the bottom.

Beautiful Gift
By
Shopper

(Houston, TX) - September 2, 2013
I ordered this as a wedding gift and the recipent was delighted.

Personalized jar
By
Shopper

(Brookshire, TX) - May 17, 2012
My daughter and her future husband wanted to incorporate a mason jar into the wedding. They loved this jar containing their names and wedding date. This was the second one that I ordered for the wedding. One of them came in broken and the customer service department was very helpful in getting a replacement one sent to me very fast. I love ordering from this company.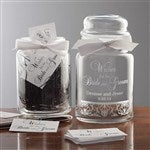 Shower wishes for the bride and groom
By
Shopper

(Westampton, NJ) - April 14, 2012
Love this personalized jar! Will have it filled with wishes from everyone that attends the shower. Great keepsake.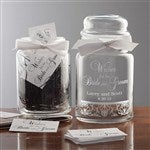 My Daughter's Wedding
By
Martha S.

(North Rose, NY) - April 10, 2012 (
See all reviews by this customer
)
When the product arrived I opened it and it was "'FABULOUS "' Just what I wanted. Thanks again, Looking forward to future business.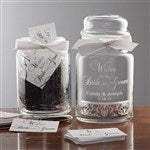 love the jar
By
ellie G.

(brockton, MA) - April 6, 2012 (
See all reviews by this customer
)
I just received the wish jar adn i love it. i will be using it for my wedding in July and it will be perfect for my guest to write their wishes.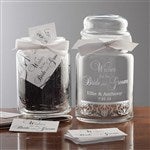 Very nice Idea
By
Mari Alicia M.

(Miami, FL) - January 26, 2012 (
See all reviews by this customer
)
This idea is really nice and because I had more people invited than the cards provided I printed my own cards for the Wishes for the Bride and Groom
:-)
Everybody like it speccially the Bride and Groom!!!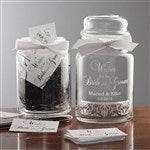 Great Idea!
By
Rhonda W.

(Tompkinsville, KY) - October 11, 2011 (
See all reviews by this customer
)
As I was browsing the site I came across this and found it to be a perfect alternative to a guest book. We are having a very small wedding of 40 on a dining car at a historic train depot. Not a lot of space for many things. After reading some of the other reviews I will certainly consider this for a gift in the future! Thanks for the great idea! :)

AWESOME
By
Shopper

(Onalaska, WI) - September 9, 2011
This is a GREAT gift for a new bride and groom. I ordered this for my cousin's wedding, then filled it with a year full of quotes and advice. That way, for each day for their first year of marriage, they can read one. They both LOVED it! Afterwards, the bride is going to fill it in with sand and put some sea shells into the jar. Overall, a great product for a great price.

Totally Awesome
By
Steven C.

(Wichita, KS) - May 16, 2011 (
See all reviews by this customer
)
We loved this idea! We wanted something different and unique for people to sign, other than just a signature book. And this is exactly what we wanted!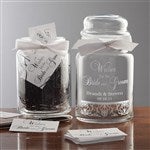 Charming!
By
Jean C.

(Plaistow, NH) - February 26, 2011 (
See all reviews by this customer
)
I purchased this jar for my daughter's wedding "Guest Book" table. It's beautiful! The size is big enough to store sugar or other foods in, yet its not overwhelming. I can see this on her kitchen counter and know that she'll use it and appreciate the sentiment.

Perfect
By
Melissa A. H.

(Dover, NH) - August 20, 2010 (
See all reviews by this customer
)
This is exactly what I was looking for- beautiful keepsake from our up coming wedding.. Thanks.