Love it
By
Shopper

(jackson, MI) - May 18, 2013
My sister and I loved it. We gave it to our mom for Mother's Day and she just loved it. It was different. I would recommend it to anyone.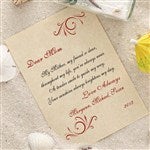 Excellent gift!
By
Nancy H.

(Salem, MA) - May 3, 2013 (
See all reviews by this customer
)
This was the perfect gift to give to my grandson so he could give it to Mummy for her 1st Mother's day! I just know she will be pleased!!

Amazing
By
Shopper

(Canada) - November 26, 2012
So I got this for my boyfriend for our 2nd anniversary he LOVED it... it brought tears to his eyes, it is absolutely amazing, and very nice quality everything is exactly as it appears online... I was very Impressed.. I am from Canada, ottawa to be exact and I thought it wouldn't arrive on time since it said 7-10 business days but I received it before the 7 business days which really impressed me I am very happy with the service I got and the item I received I only wish I knew about this site sooner!

excellent
By
barbara N.

(dunn, NC) - June 11, 2012 (
See all reviews by this customer
)
i loved what i saw. so did recipient. i will be ordering again from you guys. thanks.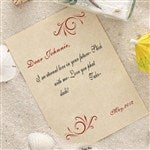 Amazing message in a bottle
By
Paul E B.

(Taunton, MA) - May 20, 2012 (
See all reviews by this customer
)
The gift works well with mothers for mothers day! They give you plenty of wording examples to choose from, if you can't think of anything to write. The meanings are upfront and to the point that any mother would love.

Unique and Special!
By
Shopper

(New Fairfield, CT) - May 14, 2012
This was a gift for Mother's Day, it brought tears to everyone's eyes. Such a sweet and unique idea, an absolute great buy!

Just the right kind of "different"!
By
Lorissa B.

(Tucson, AZ) - June 19, 2011 (
See all reviews by this customer
)
It was my grandmothers birthday, and I knew my grandfather would get her flowers and a card... My father (her son), I knew would get her a bear, flowers, and taker her to dinner... So I wanted to do something different! This was perfect! Much more fun than a plain old birthday card, and so different than the standard flowers and teddy! She called me when she received it in the mail, and she was so excited about this unique gift! She said it was so "different and clever". She loved it. Which in turn made me love it even more. Its worth it for the price and for the excitement of the recipient.

Great bottle
By
Shopper

(Celoron, NY) - May 18, 2011
This is an awesome gift. I have never seen anything like this. Right down to the letter actually looks like its supposed to be old and wet. Great, great gift!!

sand in a bottle
By
Cheryl H.

(Canada) - March 11, 2011 (
See all reviews by this customer
)
This product is very well done. The bottle is a little smaller than I thought it would be, but it is still so nice. A small reminder of the islands. My moms will love it.

She loved it
By
YVETTE B.

(FREDERICKSBURG, IA) - February 25, 2011 (
See all reviews by this customer
)
My mother and father know that I put alot of thought into the gifts I give to others...the same rings true here, this gift was so special to my mom for her birthday and reading my personal words made it even more special. She shared this gift with her friends, who thought that the gift was so nice...
If you want to give a special gift to your mom for her birthday, do so by giving this one, and put your own words on paper for her....Trust me, you will win her over and she will always talk about it for years to come...better than the typical flowers...

Sentimental meaning!
By
Mary M.

(Grafton, WI) - September 9, 2010 (
See all reviews by this customer
)
The item itself and contents are small, but cute. It is the idea of the note in the bottle sent to someone you miss that is invaluable. It is a heartfelt and warm thought when given to the right person. The script on the note is beautiful and I created my own personal message to my grand-daughter in college. It's hard to find special or good novel items to send her - and I was excited when I found this.

very impressed
By
Nicole K.

(Hingham , MA) - May 18, 2010 (
See all reviews by this customer
)
i thought this gift came very quickly, and i was very happy with my purchase. i would recommend this site to anyone.

Special Unique Sentiment for Mom
By
Ardyth J.

(Norman, OK) - April 29, 2010 (
See all reviews by this customer
)
I loved being able to provide my mother with a personalized message from my heart to the special person that gave me life! It was beautiful and arrived quickly and looked better than what I thought. It is a unique, special gift for that mom who has everything!