Good idea!
By
Antonella M.

(Jackson , NJ) - August 11, 2014 (
See all reviews by this customer
)
I found this to be just the right thing for our first sonogram picture. My partner loved it too! Much bigger then expected.

Amazing Magnet
By
Arlene L.

(Acworth , GA) - December 14, 2013 (
See all reviews by this customer
)
This beautiful magnet is just the thing for expectant parents.
They love to see their baby every day on the refrigerator!
Amazing!!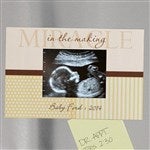 Cute
By
Shopper

(Milton, VT) - June 11, 2013
We got these to tell our family we are having a baby they are very cute and we can keep our family up to date with baby pictures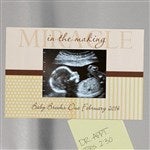 Perfect Announcement
By
Shopper

(Commerce Township, MI) - August 20, 2012
The photo magnet was a perfect way to announce to our parents our pregnancy. They loved it!

cute gift
By
Shopper

(Woburn, MA) - May 14, 2012
I bought this for a friend who is having her 1st child. She was very excited to receive it. This is a cute and inexpensive way to celebrate the new baby and display the first pictures.

Love it!
By
Shopper

(Franklin Square, NY) - February 10, 2012
I bought this when we were expecting and just loved hanging my sonograms on the fridge in a proper frame. We just bought one for our expecting friends and they were so happy to get it too!

Great idea to place ultrasound of your baby
By
Lori N.

(Flanders, NY) - September 23, 2011 (
See all reviews by this customer
)
I thought this was very unique..... I gave it to my daughter for her ultrasounds. She loved it..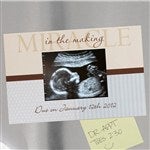 Great gift!
By
Shopper

(Staten Island, NY) - July 11, 2011
I bought this for two of my best friends and they love it! Its a beautiful gift. If you dont know the baby's name you can say, "Baby (last name) due on date" So cute!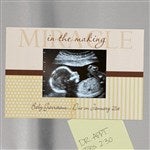 Perfect for our fridge!
By
Jocelyn S.

(Vista, CA) - June 13, 2011 (
See all reviews by this customer
)
This little keepsake was perfect to display on our fridge. Very high quality with vibrant colors.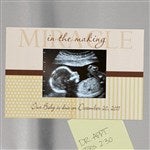 Great gift for any expecting parents or grandparents!
By
Amy C.

(New Boston, MI) - April 27, 2011 (
See all reviews by this customer
)
I ordered this for my brother and sister-in-law as soon as we were told they were expecting their first child. I wanted to take a sneak peek (so I had it shipped to me and include it with a few other things for baby) and loved it! It isn't a thick magnet, but you wouldn't want to have to heave off a thicker one from the frig to clean or update the picture; also, it will fit nicely inside the baby book.
I thought this was such a cute congratulatory gift I told my sister and she ordered one for our cousin. All of the expectant parents love that they have a frame of their little one already...you definitely won't be disappointed by the reaction from your recipients.

So adorable for 1st time parents
By
Kimberly T.

(Middletown, DE) - March 29, 2011 (
See all reviews by this customer
)
I purchased this for my friends who are expecting their first child. It is really adorable and they loved it. I'm giving the item itself a 5 star rating however I wish there was a less expensive shipping option for lightweight items. The shipping costs for an affordable cute memento such as this should not cost basically the same as the item itself. That being said, I love this site and purchase from them on a consistent basis since my discovery of its existence. :)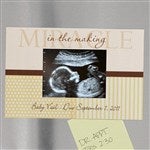 Sweet Picture Frame!
By
Shopper

(Warren, PA) - February 4, 2011
Very Cute Gift for the Mom & Dad to be!! Perfect!

Must have
By
Deborah M.

(Fairmount, IN) - May 25, 2010 (
See all reviews by this customer
)
I was extremely pleased with this product. My daughter loved it. Now she can display her ultrasound picture in a 'frame'

Perfect
By
Karen C.

(Morris, IL) - May 5, 2010 (
See all reviews by this customer
)
What a great idea. My daughter already had the photo on the fridge with a little magnet. This looks so much better.

Miracle in the Making Ultrasound Frame
By
Barbara P.

(Palatine, IL) - April 22, 2010 (
See all reviews by this customer
)
This was perfect for my grandson's 3D photo that I personally took!

miracle in the making ultrasound photo magnet
By
dale M.

(macon, GA) - April 14, 2010 (
See all reviews by this customer
)
This precious magnet far exceeded my expectations.My daughter is expecting my first grandchild and I got it for her. We were both so thrilled that I had to have one for myself.It was perfect for the perfect ultrasound picture. The whole process from order to delivery was just as you said it would be. Thank you for a great gift and a breath of fresh air.