Great product for my gender reveal baby shower
By
Shopper

(Brooklyn, NY) - May 31, 2014
Used the green stickers for my gender reveal baby shower. Perfect fit for the "Ready to Pop" boxes that I ordered.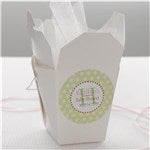 Perfect!!!
By
Idania S.

(Edinburg, TX) - May 18, 2014 (
See all reviews by this customer
)
These are the perfect labels for your baby shower crafts. I used them on some diaper cakes I made for the baby shower. I had some labels left over so I am going to use them on the giveaways. Perfect!!

ADORABLE
By
Shopper

(South Salem, NY) - April 22, 2014
I decided to make Banana and Cranberry Bread as the gift for all guests to my daughters baby shower. I purchased the clear cellophane bags and when I saw
these stickers, I thought what a great idea to put on each bag.
They were delivered in a timely fashion, perfect size and look great on the bag with the bread packaged inside.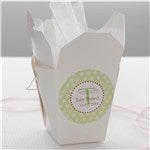 Excellent product!
By
Cheryl B.

(North Aurora, IL) - April 7, 2014 (
See all reviews by this customer
)
I really love these stickers. They are very sturdy for a sticker and can be used on anything!

Perfect!
By
Shopper

(Boca Raton, FL) - October 25, 2013
Thank you so much! Made my baby shower favors perfect! Fast shipping!

Wonderful!
By
Shopper

(Plattsburgh, NY) - May 13, 2013
Perfect size for pretzel bags or cd cases for cookie sleeves! They look beautiful!

Perfect for shower favors
By
Shopper

(San Jose , CA) - October 8, 2012
I initially bought these to go on the gift bags for the favors, but I had some left over so I used them for the clear plastic drinking cups and the paper white coffee cups and it made my paper/plasticware look SUPER cute!!! I will buy these again and order more for their versatility.

Grandma to be
By
DEBORAH M.

(BURR RIDGE, IL) - May 5, 2012 (
See all reviews by this customer
)
These gift stickers were perfect in color and imprint quality. Originally, they were to be used exclusively for the shower favor bags. I actually used them to embelish blue beverage napkins and white guest towels. This was done because the beverage and luncheon napkins I ordered, were an unexpected color, that could not be used for my daughter's baby shower. Everyone thought these stickers were too cute on the napkins and the fact that they matched the tags was perfect!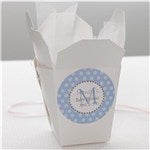 Perfect!
By
Theresa K.

(Linden, NJ) - January 7, 2012 (
See all reviews by this customer
)
Stickers were exactly what I was looking for and are adorable!

They match the invites!
By
Shopper

(Ontario, CA) - November 4, 2011
Love them!!!... Pockadots is the theme!
I will put them on some jar candles and tie a bow.. !
Cute decorations.. !

Baby Shower Favor Bags
By
April W.

(Beavercreek, OH) - October 15, 2011 (
See all reviews by this customer
)
We are hosting baby shower next month and my task is the favors. This is a cleaver way to personalize our "do it yourself" favors and gift bags for the guests. I searched multiple online websites as well as our local craft stores and this was the best price for personalization! I plan on attaching these to favor bags, hand soaps and candles for our guests. Add a bow to everyting with a personalized label and it should look like we spent hours on this baby shower! Very happy with this purchase, I plan on using this site for holiday and birthday purchases!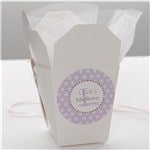 FANTASTIC AND BEAUTIFUL!
By
rebecca V.

(washougal, WA) - July 30, 2011 (
See all reviews by this customer
)
Could not have asked for better price, service, fast delivery and BEAUTIFUL quality product. I will be back!

Baby Shower Stickers
By
Shopper

(Forked River, NJ) - February 15, 2011
I ordered the Pretty Polka Dot Stickers to be placed on baby shower favors.... They were true to size 2 1/2" - and simply beautiful~! perfect to go on the back of the Choclate lollypop favors and adheard to the cellophane wrapping without a problem. I love the design with the faint monogram, and the color lavender was exactly as pictured.....The order came about 8 days after I ordered it. This is my third order with this company ,Happy Every time~!

Large size!
By
Cheryl L.

(Lebanon, NJ) - February 7, 2011 (
See all reviews by this customer
)
I purchased these stickers for my Daughter-in law's baby shower. I stuck them on a clear bag, filled with custom chocolates and finished with a bow. Adorable!! The stickers were nice and large and filled up the space nicely. Also, they came very quickly, which was great to have that detail marked of my to-do list.

Excellent choice
By
Catherine D.

(LaPlace, LA) - October 1, 2010 (
See all reviews by this customer
)
These personalized gift stickers allow you to create your own personalized keepsakes. We placed them on cups, and lollipops, giving these items a quick and economical personalized touch your guest will admire.