Awesome
By
Yvonne B.

(Richton Park, IL) - September 18, 2014 (
See all reviews by this customer
)
I purchased the luggage tags aa a gift for my husband. He was well pleased with them. The quality was great and the picture was very clear. I have been shopping with Personalization Mall for a several nows and I'm very pleased with all the products I have purchased. This item is a most have. A perfect gift for a person that has everything!

Quality tags
By
Shopper

(Carmel, IN) - July 8, 2014
I was very pleased with the size and sturdy plastic of the tags. Photo reproduction was great too.

Perfect present for the travelers of the world
By
Shopper

(Jersey City, NJ) - May 15, 2014
Excellent mother's, father's day or a birthday present. Great quality! My mom loved it for mother's day.

Personalized Luggage Tags
By
Susan M.

(Sewickley, PA) - May 14, 2014 (
See all reviews by this customer
)
LOVE the luggage tags. The photos turned out beautifully! Having photos of our dogs on our luggage will certainly make it easier to spot!!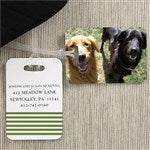 Photo Luggage Tag Set
By
Shopper

(Warwick, RI) - April 13, 2014
What a great gift!! I have ordered 5 luggage tags as gifts & what a hit they were!! Thank you PMall.com!! The tags are made strong & the pictures look wonderful. Priced nicely , always with some kind of discount & such fast production & shipping.. Great Company...

Quality at a value price
By
Shopper

(Newark, DE) - February 24, 2014
This product is a quality item at a great price. I received one week from the ordering date. The picture quality is very good. The tags are good size to be identified on luggage, and the plastic is thick and substantial.

Great Product, Great Service!
By
Shopper

(Seabrook, TX) - January 8, 2014
My first order got lost in the mail and PersonalizationMall.com sent me a replacement, RUSH SHIPPED free of charge! They even sent it to a different address so that my dad could open it on Christmas! He travels a lot, so the luggage tags with a picture of me and my sister really touched him. I'm so grateful for all their help!

Great Team Gifts
By
Kristin B.

(Englewood, CO) - January 6, 2014 (
See all reviews by this customer
)
I have made these for several of our soccer and lacrosse teams-- huge hit with the players of all ages, and the parents are impressed with the unique "end of the season" gift... one that is actually functional! I believe I've ordered approximately 50 sets of these so far; obviously I'm a hardcore fan-- great value and quality.

happy customer
By
Shopper

(Kennesaw, GA) - September 30, 2013
This photo luggage tag set turned out VERY NICE! Top quality print and material! I ordered another luggage tag through a different online company and it wasn't near as nice as these!!! Worth every penny!

They were a huge hit!
By
adele K.

(schaumburg, IL) - September 24, 2013 (
See all reviews by this customer
)
The tags were very well made and perfect. They are of very good quality and the recipient loved them!!

Nice luggage tags!
By
Shopper

(lawrence, MA) - September 21, 2013
Heavy duty luggage tags made with picture I uploaded. Nice one of a kind item that you can easily spot. Great deal for a well made product.

Great Quality - Great Gift
By
Laurie G.

(Methuen, MA) - September 14, 2013 (
See all reviews by this customer
)
I ordered this gift for my friends parents who were leaving for Greece for 5 weeks. They were heartbroken at the thought of leaving their 2 twin granddaughters they waited more than 16 years for~! These luggage tags were a HUGE hit -they got to look at them during the whole trip! I was amazed by the quality...very hard and durable! The price was Great, I paid for rushed shipping and was amazed at how quickly I received my item and how great the quality was. I would DEFINITELY buy these again!!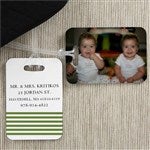 Awesome!!
By
Shopper

(Little Mountain, SC) - July 27, 2013
These are the cutest luggage tags ever!!! I actually ordered more for gifts!!

Personalized Luggage Tags
By
Shopper

(Richmond, KY) - May 14, 2013
Definitely not what I expected! I was really pleased and impressed with the product as was my husband. I have ordered luggage tags from another source and must say that Personalization Mall.com has by far been the best to date (durabilty and quality). I especially like the fact that you can personalize your luggage tags with your name/address/and phone number- a big plus especially when your are travelling. This way you have the picture and your name to clearly identify it as your own.
I was also pleased with how quick I received my order from the time it was place to the time I received! I will definitely be ordering from here again!!

Durable and beautiful
By
Shopper

(Lexington, SC) - May 7, 2013
These tags are beautiful and durable and I love them. They used to have a glossy finish but more recently, it's textured, which is probably more durable, but dulls the picture a bit. Note also that they crop the picture a little tighter than what is shown in the preview - so leave some room around everyone when you crop the picture you use.

Absolutely Beautiful Tags
By
Shopper

(WESTMONT, NJ) - April 3, 2013
It's easy to upload your favorite photo to use on your travel case. I'm giving them as Travel Trip Gifts to my family.

Wonderful idea, great gift!
By
Meghan Q.

(New Brighton, MN) - March 11, 2013 (
See all reviews by this customer
)
I wanted to give something to one of my exchange students from Germany a personalied gift that she could use and treasure for years to come. When I remembered how AMAZING this site is, I found the personalized photo luggage tag set. It was PERFECT! I put a photo of the show choir that I direct on one side, and was able to get her Germany address from her host sister without the girl knowing to put on the other side. I can't WAIT to give it to her!

Great Job
By
Maria B.

(Yonkers, NY) - March 9, 2013 (
See all reviews by this customer
)
I ordered these for my girls and loved how they came out.

Quality Better than Expected
By
Suzi W.

(Delafield, WI) - January 2, 2013 (
See all reviews by this customer
)
I am very happy that I ordered these photo luggage tags....they are just awesome, much better quality than I expected.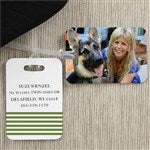 A fun gift!
By
Laura B.

(Dayton, OH) - January 1, 2013 (
See all reviews by this customer
)
I purchased a set for my parents for Christmas - with a picture of the 3 of us. They could not get over how clever the gift was - and how great the picture looked.

Excellent quality
By
Shopper

(PORT ALLEN, LA) - December 30, 2012
I ordered a set of these luggage tags as a Christmas gift. They are great.

Give a gift of JOY
By
Jo Ann A G.

(Sahaurita, AZ) - December 21, 2012 (
See all reviews by this customer
)
Nothing like picking out the picture and then seeing the person's face when they open it and live their gift.

Wonderful gift.

Gift tag set
By
Carrie W.

(Kerrville , TX) - December 20, 2012 (
See all reviews by this customer
)
Loved the velvet bag. The tags are very sturdy the picture was perfect. The cropping of the picture was more difficult than it needed to be. I had another friend that said the same thing about how difficult it was crop and resize the picture. Quick shipping.

Great idea for travelers!
By
Shopper

(Venice,, FL) - October 13, 2012
This was a birthday surprise. My picture is clear on side A; and I really liked the idea that there was enough space on side B to include two phone numbers on the last line. Applause! Applause!

Photo Luggage Tags
By
Shopper

(Staten Island, NY) - September 18, 2012
I received my luggage tags in a very short amount of time. The results are better than what I expected. This is my second purchase from Personalization Mall and it won't be my last!

Wedding gift
By
Shopper

(Moorhead, MN) - September 17, 2012
Loved the tags!

This is 4th set I've ordered
By
Shopper

(Odenton, MD) - August 18, 2012
The first set of tags I received were given to me as a gift. I really liked them and have ordered sets to give to friends as gifts. The photo is sharp; plastic durable and address nicely presented. I think the price for a set of 2 is very reasonable.

Great!
By
Jessica P.

(Brandywine, MD) - August 11, 2012 (
See all reviews by this customer
)
Ordered a set for my son to put on his lunch bag and bookbag for daycare and my mom wants me to order her and my dad a set for when they travel and tour in Europe! I may order myself another set to travel!! Great tags!

luggage tags
By
Wendy T.

(Landenberg, PA) - July 28, 2012 (
See all reviews by this customer
)
it was easy to order and shiment arrived quickly

High Quality
By
Shopper

(Pomona, CA) - June 23, 2012
These tags are sturdy and very nice.

Sturdy luggage tags!
By
Shopper

(Westland, MI) - June 7, 2012
Purchased these for my friend, who will be traveling soon. The product turned out great! I was impressed that the photo was printed on hard, sturdy plastic. She loved them!

Great!
By
Shopper

(STEVENSVILLE, MI) - April 23, 2012
These luggage tags are very well made. It was a gift from my wife since I travel for work a lot and it's a nice way to keep a favorite picture close.

GREAT!
By
Kelley M.

(Spring, TX) - April 22, 2012 (
See all reviews by this customer
)
The quality of these tags was great! They are hard and sturdy! The picture and monogram were great too!!!

Great product
By
Scott R.

(Mashpee, MA) - April 13, 2012 (
See all reviews by this customer
)
Came out exactly as I wanted ... and fast delivery!

Great Gift!
By
Sheila H.

(Munster, IN) - April 6, 2012 (
See all reviews by this customer
)
I purchased these photo luggage tags as a gift for my daughter, I've not given them to her yet, but I know she's going to love them as I do. The photos are postcard perfect and the quality of the tags are first rate!

great gift and then some. . . . .
By
bev E.

(ofallon , MO) - January 29, 2012 (
See all reviews by this customer
)
i ordered personalized luggage tags for a friend for her b-day. . they came out so great, i ordered a set for myself.. and as other friends b-days come up i will do the same. . the prouduct is made of a great material. . . the personalization was easy to do on computer . . . . and i got it withing 4 days after i ordered i am very pleased with everything i have gotten from this company and will continue to order gifts for friends and family as well as for myself . .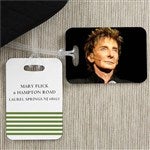 Great surprise gift
By
Shopper

(Midland, MI) - January 27, 2012
This is a super gift for family. It was pretty easy to do (finding the right photos is probably the hard part). High quality rigid plastic. One of the nicest things is that you actually print your address too - way better than most that have you write that info - which looks kind of tacky.

Luggage Tags
By
Shopper

(Lakeland, FL) - January 20, 2012
My daughter had ordered me a set of luggage tags for Christmas, of my grandchildren and jI ust loved them. In fact, I ordered three sets for my other daughter-in-laws. They will love them! They turned out so cute of their adorable children; that I know this was a perfect Mother's Day gifts for them.

Better Than Expected
By
Meggan M.

(Brick, NJ) - December 30, 2011 (
See all reviews by this customer
)
I was very pleasantly surprised with the quality of this item. I expected it to be a little flimsy, maybe more the texture of laminated cardboard, but in fact it was a very hard, good quality, non-bendable, thick plastic. The green color is beautiful, and the picture I chose looks great.

Love!
By
Courtney D.

(Athens, AL) - December 21, 2011 (
See all reviews by this customer
)
How better to claim your luggage than having your pic on there?! Great idea!