Absolutely awesome!
By
Shopper

(Collinsville, IL) - May 12, 2014
I ordered these for my daughter's birthday party, she turned 10!!! Everyone there absolutely loved them , including my daughter!! She was very surprised and happy to see that I added a little personalization to her birthday party. I will definitely buy these again for different occasions! !! These are a must have if you like to be unique like myself! !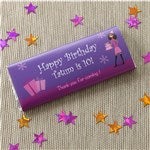 A hit!
By
Marcy R.

(Sacramento, CA) - April 12, 2014 (
See all reviews by this customer
)
Quality product. You must buy your own chocolate bars - they don't come with the wrappers! You insert the candy bar with its factory wrapper still on it, into the silver foil envelope. Then the personalized wrappers easily wrap around the foil envelope, and seal nicely with a glue stick. Now my 12 year old son wants these for his birthday!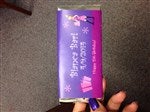 100% satisfied
By
Arturo R.

(Anaheim, CA) - September 21, 2013 (
See all reviews by this customer
)
I am very pleased with my purchase.

Such different wonderful table charmers.
By
Natalie D.

(Dallas, TX) - June 8, 2013 (
See all reviews by this customer
)
I had read other reviews, and ordered from personalization mall.com other times. These candy bar covers are the best. It was my sisters 30th birthday, and all she wanted to take home was the candy bar from her birthday to show people. It's for almost any birthday occasion and I ALWAYS order from PM.COM. They are the best!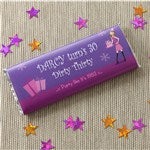 Awesome Party Favor!
By
Barbara R.

(Snellville, GA) - June 3, 2013 (
See all reviews by this customer
)
I was so pleased with this item. I am using them as Party Favors for my 40th Birthday! The material and printing quality are excellent. Thank you!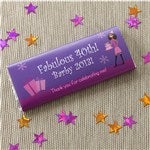 So Adorable!
By
Christina M.

(Hilliard, OH) - May 14, 2013 (
See all reviews by this customer
)
My daughter loved the candy bar wrappers! So glad I came across them for giving to the girls after the birthday party rather than giving a typical goody bag.

Wrapper Fun!
By
Shopper

(Holland, PA) - April 1, 2013
I wasn't sure exactly how these candy wrappers would come out, but when I received them I was super excited! They turned out so great and the birthday girl absolutely loved them! Definitely will purchasing these again soon!

The Perfect Party Favor!
By
Karyn D.

(Homewood, IL) - August 3, 2012 (
See all reviews by this customer
)
I ordered the candy wrappers as party favors for my daughter's surprise 13th birthday party. As her guests left, I handed each of them a candy bar. They all loved it! The candy bar wrappers were a sweet treat!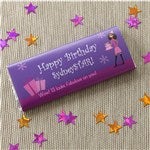 80th Birthday Party
By
Shopper

(Hanover, PA) - February 4, 2012
Wanted some party favors to help make an 80th Party more special- I went to your website and found these. they are just what I wanted. Your website has the greatest ideas!

great thank you gift
By
Shopper

(Colbert, OK) - January 22, 2012
These fit a regular candy bar perfectly. Print is very clear and easy to read. Makes a wonderful thank you gift.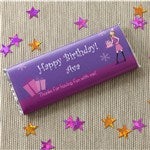 Great Gift Idea
By
Shopper

(Columbus, GA) - October 21, 2011
I ordered these for a co-worker and she loved them!!! She was excited to see her name on the wrapper and she loved the design and quality of the candy. I will order these again for future birthdays!!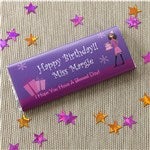 I forgot to read thoroughly
By
Shopper

(Conyers, GA) - October 17, 2011
I bought custom candy wrappers for a friend. I didnt read through to see whether chocolate came with it. I assumed it came with chocolate. However, we decided to be creative and add the chocolate. Overall 5/5

Pretty Sweet
By
tyra H.

(braithwaite, LA) - March 11, 2011 (
See all reviews by this customer
)
I loved the candy wrappers!! The personalization was designed really well. My niece was so excited to see her name on the wrappers. The purple and pink colors blended so well. Thanks for making my niece's birthday a spectacular one.

Great Party Favor
By
Gina E. P.

(Brooklyn, NY) - March 2, 2011 (
See all reviews by this customer
)
I am not a person to take the time out to write reviews, but I am so pleased with this item that I had to. I used this item for twizzlers and I was worried that they would not fit. Let me tell you, not only did I receive the item quickly, but the foil wrapper to put the candy in was perfect and then the wrapper was designed to perfection. Every detail about this item is a hit and I would recommend this item as a top choice. Love It !

Loved these!
By
Shopper

(Hayward, CA) - January 16, 2011
These were a big hit aty daughter's 16th birthday celebration! Perfect party favors!

Very Pleased!
By
Catina C.

(Evansville, IN) - September 29, 2010 (
See all reviews by this customer
)
I ordered these for my daughter's 9th birthday. We wanted a new twist on the the treats for her class at school...got tired of the same old cupcakes! She LOVED it!! It made her feel special to give out the candy bars with her name and birthday on it. The children in her class thought it was COOL!! Thank you! This will become a new "tradition" for us on our children's birthdays!!
The quality was wonderful!! And once they were wrapped around the candy bars they looked very professional!!
Thank you for helping me make my little girl feel very special on her special day!!

Very Satisfied
By
Niseanda R.

(Greenacres, FL) - August 16, 2010 (
See all reviews by this customer
)
I ordered these for my daughter and the pictures you see online are an accurate representation of their product. I was not expecting to get the silver foil that you can wrap around the candy bars themselves included but it was a nice surprise. I have just purchased more items from their site.