airplane embroidered backpack
By
Shopper

(Mesa, AZ) - August 27, 2013
I recently purchased this for my 2 yr old grandson. He had outgrown his diaper bag, and this was a nice transition for him. I was looking for something unique, and came upon this website. The personalization is a nice touch, and I would buy from this site again. Product was as described, shipping was efficient and accurate.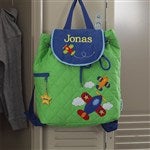 Great Backpack!
By
Stephanie E.

(Memphis, TN) - August 20, 2013 (
See all reviews by this customer
)
This backpack is beautiful! Just right for Daycare!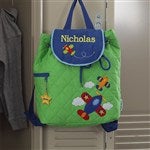 LOVE THIS BAG!
By
Shopper

(Forest Park, IL) - December 14, 2012
THIS BACKPACK IS SO ADORABLE. NOT TOO BIG.
PERFECT FOR LITTLE KIDS.

Beautiful!
By
Dana M.

(Eastchester, NY) - October 23, 2012 (
See all reviews by this customer
)
I ordered this backpack, along with the matching duffel, for my one year old son so we can tote all his little things around on short trips. I couldn't be happier ! Adorable graphics, quality material and a very nice monogram.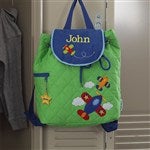 Great Backpack
By
Barbara T.

(Louisville, KY) - August 31, 2012 (
See all reviews by this customer
)
This is the 2nd backpack I have purchased for my grandsons. #1 is still being used by the 4 year old & has held up well. Colors are vibrant, material is soft for little ones to carry, and overall a good purchase. My grand son recognized his name early because he saw it every day. Very satisfied.

Boys backpack
By
Shopper

(Pinellas Park, FL) - August 22, 2012
Came out very cute. I absolutely love it! Going to order the rest of the matching pieces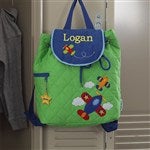 Cute backpack
By
Shopper

(San Mateo, CA) - August 14, 2012
I bought this backpack for my son's school and it's really cute. I like it a lot. My son takes it everywhere we go. Really happy with the purchase. Now I bought another one for my daughter.

Great little bag!
By
sunny S.

(lapine, AL) - May 8, 2012 (
See all reviews by this customer
)
I would absolutely recommend it for a small child. My son is 2 and he loves to carry it! We use it for short trips like going shopping or visit grandma. It easily holds a cup, wipes case, a few diapers, a change of clothes, snacks and of course whatever random toys he has to have and the pocket of the outside it just big enough for my cell and keys if i don't need my purse.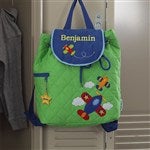 Awesome backpack
By
Jewel Y.

(Elkhart, IN) - March 25, 2012 (
See all reviews by this customer
)
I had gotten one of these for my oldest boy with his name on. So I just got another one for our youngest boy. He loves having a matching backpack like his brother & it's so handy to have their own names on it!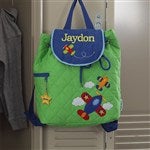 Love it!!
By
Terri W.

(Celina, TX) - March 20, 2012 (
See all reviews by this customer
)
Love this backpack, so adorable!! Love having his name on it so they know it's his in the nursery!!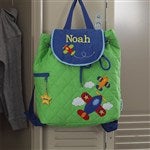 Adorable Airplane Bag
By
Shopper

(Fairfax Station, VA) - December 7, 2011
We ordered this bag for my infant to take to and from daycare (to hold bottles, blanket, etc). It is adorable! The size is perfect for small items. I wanted to order the girls version of this bag for my pre-schooler, but feared it would be too small (and it is).

Great backpack for little ones!
By
Jacquetta M.

(Reeves, LA) - September 23, 2011 (
See all reviews by this customer
)
This backpack was bought for my 2 year old nephew.We use it as a bag for him to carry extra clothes in.He will not leave the house without it.He loves it!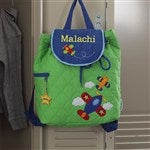 Great backpack
By
Shopper

(del rio, TX) - September 4, 2011
This backpack is cute and functional. Seems sturdy and is just the right size to get us through nursery school and preschool.

great gift
By
Shopper

(Buchanan, GA) - July 19, 2011
This was the second backpack I have purchased for grandchildren and it is a great item for carrying their personal belongings when visiting away from home.
Quality is excellent with plenty of room and also the personalization makes it unique.

It's My Second Backpack!
By
Deborah M.

(Appleton, WI) - June 27, 2011 (
See all reviews by this customer
)
Back in 2008, I purchased one for my oldest son. I just wanted a personalized backpack for him, so when I dropped him off occasionally for childcare his stuff would be safe in a personalized bag. I was so impressed by the craftsmanship and the quality that I just purchased a second one for my second son.

I love the quality of the bag. It's a great bag to use for every day use, but especially if you have to take your child to a babysitter, to church, nursery, for the occasional drop-in child care or even day care.

It's been perfect! I strongly recommend it! It holds a lot of stuff as well. I am able to place a full-sized bottle, formula, 4 diapers, wipes, a full set of extra clothes and snacks with extra room to spare. I LOVE this bag! My oldest also LOVES to wear it around, as well.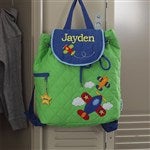 Beautifully Made
By
Rachel G.

(Australia) - February 4, 2011 (
See all reviews by this customer
)
I have bought 3 of these bags now, they are so well made and really fun for young children. The only down side when I buy off this site is the cost of postage. Even though this a USA based company and I live in Australia I still find the cost of postage hard to swallow.

But that said I have not found this quality on any other site which is why I continue to purchase from this site.

very nice i like it
By
fahad A.

(Springfield Gardens, NY) - January 23, 2011 (
See all reviews by this customer
)
very nice bag my son he like it

Fun backpack
By
Dawne C.

(N. Little Rock, AR) - August 9, 2010 (
See all reviews by this customer
)
This order arrived very quickly- thanks! It is even cuter than I expected. The size is great for little ones.

Great Gift!!
By
Kay S.

(Daly City, CA) - July 23, 2010 (
See all reviews by this customer
)
My grandson loved the backpack. It was great. I use Personalization Mall frequently and have never been disappointed.

Kay, San Jose del Cabo, Mexico

Too Cute!!!!!!!
By
Brenda T.

(laurel, MD) - July 22, 2010 (
See all reviews by this customer
)
I brought this bookbag for my youngest grandson,he is 11 months old, this bag is awesome, it's roomy, I can store a lot of things in here, it's an easy on the go bag.