First Christmas Frame
By
Shopper

(Newark, DE) - January 5, 2013
Absolutely love it and came on time for Christmas just as promised!

High quality at an affordable price
By
Shopper

(Berwyn, PA) - December 23, 2012
I was very skeptical when I placed the order regarding the quality of the product. It was suprisingly larger than it looks and extremely happy with the quality of the product. I Highly recommend them and will certainly use them in the future.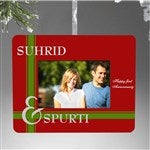 To Love You Personalized Mini-Frame Ornament
By
Elizabeth P.

(Elkton, MD) - December 22, 2012 (
See all reviews by this customer
)
I would highly recommend this site. I have been very pleased with all of my gifts and it's a more personal touch for the person/persons will be receiving it. Good quality, attention to detail, speedy delivery and gives good discounts.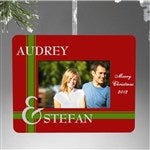 Ornament Frame a Hit
By
Shopper

(Holland, MI) - December 13, 2012
This little frame was perfect for my daughter and her boyfriend and was a big hit!

Wonderful stocking stuffer for the holidays!
By
Shopper

(Bronx, NY) - November 26, 2012
Very practical and cute gift. Good quality workmanship. It was a friend's first Christmas with his wife and I know they will love it.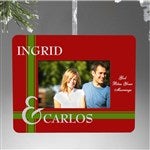 So cute !
By
Shopper

(Fresno, CA) - September 29, 2012
This shows just like the picture. Good quality of materials. A great little Christmas or hostess gift.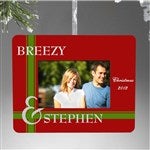 Just what I wanted!
By
Shopper

(Oliver Springs, TN) - January 20, 2012
The names show up very well and look nice! The side note is very small. I am happy with this purchase!

Christmas Gift
By
Barbara M.

(Stafford, NY) - December 28, 2011 (
See all reviews by this customer
)
I gave this mini-frame ornament to my son's girlfriend as one of her gifts and she just loved it.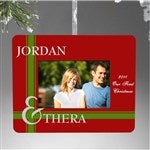 Perfect Milestone Ornament
By
Shopper

(potomac, MD) - December 28, 2011
This ornament is beautiful! We have received compliments from everyone who has seen it. The one comment I would say, is the picture space is slightly larger than 2x3, but a 2x3 still fits nicely in there.

Nice gift
By
Shopper

(harrisburg, PA) - December 26, 2011
Bought this for my son's fiance.
Very nice. She seemed to like it.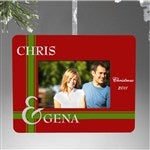 Great Holiday Gift
By
Shopper

(North Brunswick, NJ) - December 9, 2011
Great Christmas ornament for newly weds or couples.

Top Notch!
By
Shopper

(Shreveport, LA) - November 27, 2011
Excellent quality.

Very nice Ornament
By
Barbara C.

(Gibsonville, NC) - November 26, 2011 (
See all reviews by this customer
)
Love the ornament and the fact that it is a frame that can sit on the table as well.

Great gift
By
Tim R.

(Philadelphia, PA) - January 12, 2011 (
See all reviews by this customer
)
Beautiful stocking stuffer...

Excellent product, even better service
By
Kara P.

(Newington, CT) - December 30, 2010 (
See all reviews by this customer
)
I am very impressed with the service at PM. I ordered this product and the personalization was a little off center but not a big deal and I planned on keeping the original because it still looked fine. I mentioned that in the review and they sent me a new ornament free of charge and told me not to worry about sending the other back! PM aims for perfection and I will continue to do business with them for a long time; I love all their stuff!

Everyone Loves It!
By
Toni M.

(Woodville, TX) - December 17, 2010 (
See all reviews by this customer
)
This frame was personalized for my granddaughter and her new horse. I showed it to several people before I gave it to her and they all loved it. So did she and her parents. They all asked where I got it. PersonalizationMall.com rocks!

Perfect for them!
By
Laura D.

(Leander, TX) - December 13, 2010 (
See all reviews by this customer
)
Buying an ornament for my nieces each year has become a tradition. This year, one of them married--so I searched many websites and stores to find an ornament special enough to commemorate her first Christmas with her new husband. Finally this! The personalization along with their wedding picture makes it unique. My niece's response: "We love it!". I love the website too, because I was able to easily add their names, the year & 'Our First Christmas' to the ornament. There is also a very helpful preview feature that let's you see what your ornament will look like before ordering!!

One Size Fits All!!
By
Jill G.

(Lemont, IL) - November 16, 2010 (
See all reviews by this customer
)
Everyone who shares our holiday with us receives a gift. This solves the question of what to get someone's girlfriend or partner when you don't know their taste or size. A truly personal, thoughtful gift that fits all!!