pleased
By
Shopper

(Thaxton, VA) - December 29, 2013
good quality and arrived in time for gift giving

Shopper Middletown IN
By
Shopper

(Middletown, IN) - December 11, 2013
Very happy with the USB Flash Drive and especially the magnetic top as it will be less chance of it getting lost. Just the right gift for a college student or business professional. Sturdy and very professional looking. Would recommend this for a unique gift.

great personalized item
By
Shopper

(Richmond, VA) - December 19, 2012
What a unique idea-- a personalized Flash Drive. I am looking forward to giving this as a Christmas present.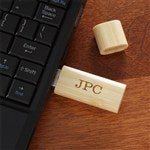 usb
By
Shopper

(Carrollton, TX) - October 26, 2012
great

Practical and personal
By
Shopper

(Clarksville, IN) - December 28, 2011
I needed something to add to that Holiday Money gift. I am always amazed at how quickly I receive my orders. What takes sometimes weeks from other vendors, I receive in just days.

Truly Unique Gift
By
Shopper

(Hicksville, NY) - November 14, 2011
This monogrammed flash drive is the perfect gift for someone special. The bamboo has a quietly elegant look.

Great
By
Shopper

(tallahassee, FL) - June 24, 2011
It was as perfect as i expected and i think my friend liked it


Personalized USB
By
Cheryl H.

(Canada) - January 24, 2011 (
See all reviews by this customer
)
This is a really great product. It comes as shown and explained. I really liked the lazer engraving. It was really well done.

Personalized USB Thumb Drive
By
Jimilyn W O.

(Winchester, VA) - December 26, 2010 (
See all reviews by this customer
)
Very Nice. My husband loved this little stocking stuffer this year. At first, he had no clue what it was; he quickly conquered this curiosity and immediately smiled saying " this is great! I can't tell you how many of these I get "borrowed" by others all year long -- and they never get returned. This one has no room for confusion -- or LOSS." Then, he immediately stopped pening presents and ran up to his study to load it up. I think he has loaded/reloaded it three or four times since then; I deefinitely think he likes it. And I like it so much, I ordered me one after the fact. Thanka for yet another unique gift for my best friend!

FOR MY BRO THE COMP DUDE
By
Balenka E S.

(new york, NY) - December 26, 2010 (
See all reviews by this customer
)
I KNEW HE WOULD LOVE IT, BUT NOT AS MUCH AS HE DID. IT HAS A MAGNET ATTRACTION TO HELP THE COVER CLOSE THE USB. THE PERSONALIZATION WAS VERT WELL DONE.

Flash for School
By
Laurel M.

(Sparks, OK) - December 23, 2010 (
See all reviews by this customer
)
I bought this for a grandson so that he could do work on the school computers and take it home and always know WHICH flash drive was his. He loves it, but I wish they carried a few larger sizes. He would have liked more memory.

Sharp!
By
Traci B.

(Broken Arrow, OK) - December 1, 2010 (
See all reviews by this customer
)
I am giving this as a gift for Christmas. I know that he will love it. So nice and professional... and such a unique gift for people who are difficult to buy for! I recommend!!!

Very nice
By
Charlene R.

(Tilton, NH) - November 29, 2010 (
See all reviews by this customer
)
I just received 2 bamboo USB flash drive. It looks just like the picture. I love it and I think the men I got this for will have the same reaction I did.

christmas gift
By
Jennifer A.

(Anderson, IN) - November 10, 2010 (
See all reviews by this customer
)
very pleased with flash drive. He will love it.

Awesome gift for young executive
By
Steve B.

(Niceville, FL) - November 3, 2010 (
See all reviews by this customer
)
Our son just got his first "real" job after graduating. This is perfect and we know he will enjoy the gift.