LOVE!
By
Tressa R.

(Mill Spring, MO) - December 17, 2013 (
See all reviews by this customer
)
Love it. Just as described. Looks beautiful.

so beautiful
By
Shopper

(Cherry Hill, NJ) - December 15, 2013
The ornament is so nice. It is a gift for someone special and I know they will love it. The picture above is not correct, somehow they made a mistake. The wording is supposed to say "have" but in the pic it says "of". When your ornament arrives it will be correct and will look so beautiful.

Lovely Item
By
Gwen B.

(Cocoa, FL) - December 4, 2013 (
See all reviews by this customer
)
I bought two of these ornaments in memory of my Dad who passed away this year. One for me and one for my mom. It was the perfect gift to give her to include my dad in the Christmas season. It is beautifully made and very close to the heart. My mom put it first on her tree close to where her recliner is so when she looks over, there his memory is. Thanks for this heartfelt ornament.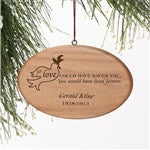 Memorial ornament
By
Shopper

(Louisville, KY) - December 3, 2013
Very, very nice. Love it

memories
By
Shopper

(Ponce Inlet, FL) - November 3, 2013
our tree only holds light weight ornaments and this was perfect
we got it to honor our fantastic labrador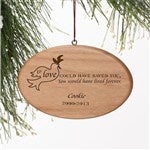 Husband so thankful
By
Shopper

(brooksville, FL) - July 19, 2013
This ornament is beautiful.I had this engraved with my father-in-laws name and dates..It hangs on our refridgerator and my husband like how masculine it looks and how our "Big Daddy" is remembered in our every day life.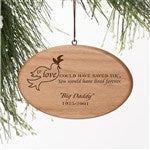 Thoughtful momento for relatives
By
Shopper

(Las Vegas, NV) - July 14, 2013
The simple design and words are comforting to the giver as well as to the receiver.

Funeral keepsake
By
Nancy B.

(South Plainfield, NJ) - June 19, 2013 (
See all reviews by this customer
)
I bought one of these for each of my husband's siblings and his sons (and one for me, of course). It's such a beautiful sentiment, and so true.

Precious to me
By
Linda M.

(North Fort Myers, FL) - January 5, 2013 (
See all reviews by this customer
)
I hung this ornament on top of our tree this year. Every time I saw the tree I had happy memories of my parents. This will be a very precious ornament to me.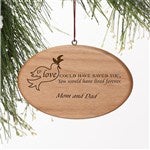 Lovely sentiment.
By
Melanie J.

(Sewickley, PA) - December 22, 2012 (
See all reviews by this customer
)
It is so hard to find a tasteful and loving ornament to memorialize a loved one. This is just so nice and a special way to remember a special person.

Perfect to Remember the one you lost during the holiday season....
By
Shopper

(Syosset, NY) - December 21, 2012
My mom passed in Oct 2012...I ordered this in her memory to feel like she's with us during the holiday season. Very nicely done; great ornament.

Made this for myself...
By
Joyce B.

(Queensbury, NY) - December 16, 2012 (
See all reviews by this customer
)
While I am usually buying gifts for others through Personalizationmall, I ordered this for myself to honor the memory of my brother who had just passed away. It is beautiful, nicely made and it holds a very special place on our Christmas tree.

forever loved
By
Shopper

(Petersburg, IL) - December 14, 2012
This is a perfect ornament for my family and I to remember my husband. It is lightweight and easy to hang

Inspirational
By
Shopper

(Dallas, GA) - December 5, 2012
I ordered these beautiful ornaments as a gift for our entire family. This is the first Christmas without our husband, father, grandfather and
great grandfather.
What a nice way to honor our love for him.
They are beautifully done, and arrived when promised. I am very pleased.


Great tribute ornament
By
Christi W.

(Grove City, OH) - November 24, 2012 (
See all reviews by this customer
)
Great ornament for honoring lost loved ones. Everything I expected.

Turned out beautiful
By
Amanda L.

(Pinellas Park, FL) - November 17, 2012 (
See all reviews by this customer
)
I got this for a friend who recently lost her mom. I wanted it to be perfect so that she could display it in her house for all to see. Upon opening it, she started crying because she thought it was so beautiful. She has a beautiful memorial to her mom she can display on a stand year round. I was proud to give it to her. Everyone who saw it was amazed at how nice it was. Thank you for a great gift! I couldn't be happier. I have and will continue to use your site.

Perfect for our special need...
By
Shopper

(Oviedo, FL) - June 21, 2012
We are an international adoption agency. Sadly, sometimes we have to give the awful news to a family that the child they are in the process of adopting has passed away. When this happens, we always send a memorial gift and in the past, it has been difficult to find just the right one because often memorial gifts talk about the times or memories shared together...and adopting families usually have not yet met their child at the point of death. When we found this ornament, our hearts were so touched because truly, these families love their children even without ever having held them in their arms. Thank you for having this product which has touched us and the lives of the families we have sent them to. While we pray we never have the need to send one again, we know where to find just the right gift if we do.

excellent quality
By
Wanda E.

(Los Alamitos, CA) - April 22, 2012 (
See all reviews by this customer
)
I was very surprised to see the quality of the item..it was an very nice piece of wood and the engraving exceeded my expectations....only one thing I would've liked to add to the item...personalization on the back...had to be content to take to an engraver that couldn't engrave wood and used a metal disc instead.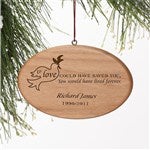 Memorial Ornament
By
Shopper

(Manhattan, IL) - March 31, 2012
My sister, Jessica just gave birth to two wonderful boys who did not survive. She was so happy to receive this ornament. She used the poem on it in her memorial statement. The poem is beautiful and very appropriate for a grieving mother and family. Thank you for helping our situation. One thing tho....is there more of the poem on the back? I can't see the back on this website. Her poem was longer than the short one on the front of the ornament. Just wondering....Thanks!!!!!!!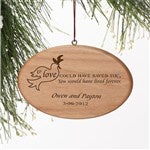 great
By
Shopper

(BRONX, NY) - January 15, 2012
Love it!

Wonderful item
By
Shopper

(Kissimmee, FL) - January 3, 2012
Purchased for my mother to surprise her. She lost her best friend this year to cancer. It was wonderful to give her something to remember

ABSOLUTELY BEAUTIFUL
By
FLORENCE J.

(LAKE CITY, FL) - December 29, 2011 (
See all reviews by this customer
)
I was very impressed with this ornament, I bought one for myself and my mom for Christmas (my dad passed away last year). It brought tears to my eyes when I opened it. It's a solid piece of wood and the carving was perfection. Thank you so much personalizationmall.com for creating something so simple but yet so beautiful so I can honor my dad on my Christmas tree every year! God bless.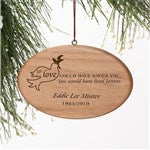 LOVE!
By
Nicole G.

(Pomona, NY) - December 28, 2011 (
See all reviews by this customer
)
I loved the way this ornament came out. It was a little reminder of how much we love and miss our loved ones around the holidays. I love having it on my tree, right in the front for everyone to see :-)

Beautiful artwork
By
BERTHA M.

(NEW BEDFORD, MA) - December 27, 2011 (
See all reviews by this customer
)
We were very pleased with this product. it arrived in excellent condition, the artwork is beautiful.

Featherwoman's review
By
Diane I.

(Stanley, WI) - December 27, 2011 (
See all reviews by this customer
)
Finally after 44 years I am displaying this memorial ornament for my dad, who I miss every day; he died much too young at the age of 39 in 1967. His death impacted me greatly and am still recovering from that impact. I would highly recommend this ornament to anyone wanting to remember a loved one.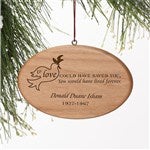 Beautiful quality
By
Regina G.

(Dover, NJ) - December 27, 2011 (
See all reviews by this customer
)
I received a similar ornament from someone as a gift after my husband passed away on 10/15/11 at the age of 57 from cancer. I loved it so much I had to get one for a friend who also lost her husband at the same age on 9/24/11 to the same horrible illness.
I highly recommend this miniature hanging plaque for anyone wanting to give a token of their sympathy to a grieving family. It is beautifully done and can be left out year long as a tribute to a lost loved one. I had no problems with my online order to necessitate a phone call, but I did receive emails as to its status as informed when placing my order.
I will most certainly order from this company again surely will purchase this ornament for family/friends in the future.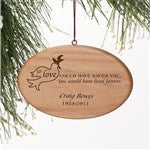 Really Nice!
By
Linda S.

(Altoona, PA) - December 16, 2011 (
See all reviews by this customer
)
These memorial ornaments are a nice keepsake. I ordered one for each of my deceased relatives for our tree they turned out very nice!

Beautiful
By
Shopper

(HOUSTON, PA) - December 15, 2011
Beautiful, Simple, and elegant. I bought this the beginning of December and had it at my house within 5 business days. It's just beautiful. If you're looking for an ornament for a remembered loved one, get this. You won't regret it. (I also ordered a different personalized ornament from another big named company here on the internet and they had horrible service and took forever to personalize and ship their item, so don't be fooled! Personalization Mall is the BEST!)

Great Ornament
By
Shopper

(Canton, MI) - December 15, 2011
My father-in law passed away this year. I ordered these for the family and planned on giving these to them on Christmas. Order came within 3 days and they look really nice.

BEAUTIFUL PERSONALIZED MEMORIAL ORNAMENT
By
Shopper

(Scotland Neck, NC) - December 14, 2011
I was very pleased with the "Forever Loved" personalized memorial ornament. It was BEAUTIFUL.

a little remberance goes a long way
By
Shopper

(South Wilmington, IL) - December 11, 2011
Someone I knew lost there mother 2 months before Christmas and I was searching around and trying to come up with ideas. I saw this and it was perfect. I had it in 2 days. My thought was that this will be a way of remembering mom every year and all those happy holiday memories. Thanks it was perfect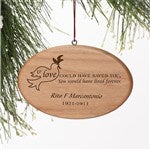 Perfect
By
Shopper

(Corning, NY) - December 11, 2011
This is a beautiful memorial ornament. The wood is so nice, and the carved writing is just perfect.

Forever Loved
By
Herman R.

(Stroudsburg, PA) - December 7, 2011 (
See all reviews by this customer
)
Excellent Quality & Delivered Quickly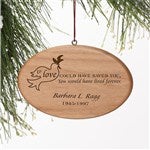 AWESOME
By
Lindy K.

(Union, MO) - December 3, 2011 (
See all reviews by this customer
)
This is really a nice quality memorial ornament. I really like it.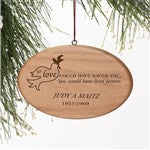 Perfect memorial
By
Shopper

(Santee , CA) - November 30, 2011
Great item! Simple and very well made. Perfect way to remember a lost loved one.

great reminder
By
Christine N.

(Australia) - November 24, 2011 (
See all reviews by this customer
)
got these as a gift for the family this year as we lost someone special and its our firdt xmas with out them the family loved them and that way they will still be apart for xmas this year and for every xmas in the future great quality product

Unique gift perfect for our use
By
Shopper

(Oviedo, FL) - November 21, 2011
Our agency has an occasional need for very specific sympathy gifts, and many are not suitable to our need. These are perfect! It used to be that every time we needed a gift, I would spend a lot of time searching the internet for something appropriate, but now I know exactly what to order. The families we have had to send them to have thanked us so much for the thoughtful gift. It is rare, thankfully, that we need this, but I am very thankful for such a versatile message when we do!

nice
By
Shopper

(Lemmon, SD) - November 16, 2011
I ordered these after my grandmother passed away to remember her at her and my favorite holiday. not that i do not think of her every day, but seeing this will be very special seeing her name on my tree. the ornament is very nicely made. i am very happy with my order. thank you for wonderful items to remember someone special.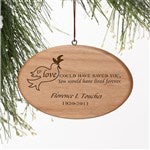 Great keepsake
By
Shopper

(Dilworth, MN) - October 31, 2011
I have ordered this ornament twice now to give to family members to remember their special loved one. Holidays can be hard without that loved one there but it helps to know people care and this ornament is done up very nicely for that! I know it will have a special place on their Christmas tree!

Perfect Sympathy Gift
By
Ashley K.

(Carthage, TN) - October 11, 2011 (
See all reviews by this customer
)
Beautiful Ornament! Perfect Quality. Definitely will purchase again.