Great gift
By
Kelsey M.

(Youngstown , OH) - September 28, 2014 (
See all reviews by this customer
)
This is a one of a kind photo album. I've never seen anything like it for that price. It looks even better in person!

Beautiful Gift
By
Shopper

(Sandy Hook, CT) - August 23, 2014
I purchased this for my brother and sister-in-law and they love it.

Great!
By
Shopper

(Parsons, KS) - August 18, 2014
Arrived in a timely fashion. Get what you pay for. I've used Personalization Mall for several occasions and they do not disappoint! Very nice engravings and photo slips.

album
By
Shopper

(Brooklyn, NY) - May 13, 2014
I am amazed))) quality, size, fast shipping)) tnx so much guys) great gift for bridal shower)??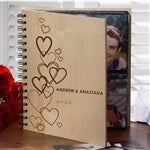 Even better than I thought would be!!
By
Shopper

(Framingham, MA) - March 18, 2014
I strongly recommend this item for any one that wants a simple, but pretty gift... my girl friend loved it...

Love it!
By
Shopper

(marietta, OK) - February 15, 2014
The photo album is exactly what I was looking for! I am very happy with the quality of this item.

great quality, beautiful
By
Shopper

(Visalia, CA) - February 3, 2014
Met all expectations and more...very happy.

nice album
By
Shopper

(College Park, MD) - October 27, 2013
nicely made album and fast shipping.

nice photo album
By
Shopper

(Mariposa, CA) - September 20, 2013
nice photo album; I like the way you can personalize.
I'll probably be ordering more in the future.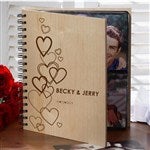 Awesome
By
Shopper

(Lakin, KS) - September 9, 2013
It turned out perfect.

very cute and worth it
By
Shopper

(San Jose, CA) - July 12, 2013
Just received this album and it was a fast delivery. The album is beautiful. What you see is what you get. The text were correct, they look.expensive but in reality they are so affordable!!


Beautiful product... as always!
By
Caitlin F.

(Watertown, WI) - February 18, 2013 (
See all reviews by this customer
)
I've ordered a different wooden personalized album before and it was nice... this one with the hearts is BEAUTIFUL!! I bought it for my boyfriend for Valentine's Day and filled it with photos of all our adventures together!! He loved it! He kept touching the engraved part, so did I; it was beautiful!
You won't go wrong ordering this album. The only thing I did notice is that the pages carry a lot of moisture (we live in WI and it's winter) so the photos are hard to see; this will go away I'm sure now that it's out of the box and can "breath".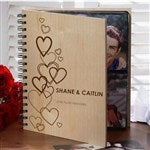 Perfect Shower or Wedding gift
By
Shopper

(Monroe, WI) - August 2, 2012
In the last two plus years I have ordered many of these albums for wedding, shower, anniversary gifts. I am so pleased and happy with the quality of these albums. I get compliments upon compliments about these gifts. Personalizationmal.com is the website I go to when I know there is a special occassion for a gift. I have never been disappointed.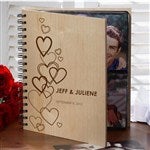 Love it!
By
Rachel C.

(Saint Louis, MO) - August 1, 2012 (
See all reviews by this customer
)
This album is absolutely beautiful! I'm impressed with the quality of the album. I will definitely be ordering more.

Very Nice
By Shopper (sunnyvale, CA) - April 16, 2012
Too Good

Good
By Shopper (sunnyvale, CA) - April 16, 2012
Too Good

Good
By Shopper (sunnyvale, CA) - April 16, 2012
Too Good

awesome
By
Shopper

(Calexico, CA) - February 14, 2012
My girlfriend loved it... its really nice, the font is very simple, i wish there were different ones, but its a great detail that can last through years... :)

LOVE IT!
By
Shopper

(Keizer, OR) - November 30, 2011
Love love love this! For the person who can buy themselves anything!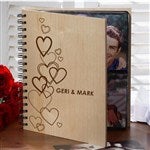 Perfect
By
Shopper

(Harveys Lake, PA) - July 5, 2011
I recently got married and this is the perfect album for my wedding memories.

I LOVED IT...
By
Shopper

(Canada) - March 1, 2011
I loved it..simply speechless...it was beautifully carved...every little detail that we see on that site was there..at first i was wondering if the actual product would have every little detailed fine work...but i was extremely impressed by the precised carving done on the album...people...let me tell u this..it will turn out to be beautiful..even better than the picture on the website..dont wrry guys..i am not getting paied to say this...but i am just extremely happy with their service, so just passing on the word...I have always been looking for gift like this..but hard to find places who would actually do such a thing..and also thing of authanticity worried me alot while ordering online, but for this site, i NEVER had problems, and they are completely safe...I LOVE YOU PERSONALIZATION MALL.COM

Beautiful
By
Heidi D.

(Freeman, MO) - February 18, 2011 (
See all reviews by this customer
)
I bought this album for a cousin's wedding gift and it was a major hit! Everyone loved it!! I just wish it had a few more pages to it. . . Not all the pictures are going to fit inside this album. Would definately buy it again!

Perfect
By
Shopper

(Gooding, ID) - February 8, 2011
Excellent product, great value and efficient service. Thanks so much!


Love my Album
By
Lesley F.

(Baton Rouge, LA) - February 4, 2011 (
See all reviews by this customer
)
I got this album as a valentine's gift and all i can say is i love it. It's perfect