Great Gift Card Idea
By
Kathleen G.

(Nesconset, NY) - February 24, 2014 (
See all reviews by this customer
)
I teamed this with the boxer shorts I bought for someone and it just finishes off the gift so nicely. Of course, as usual the 6 line maximum was tough to stick to.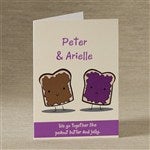 Cool Card
By
Shopper

(Palm Bay, FL) - February 12, 2014
Well constructed with heavy paper and top quality print. Worth every penny. Very nice that it matches the mugs I bought for my girlfriend. Good buy.

Melissa's helpful tips
By
Shopper

(Yuma, AZ) - January 16, 2014
Love, love, love..... I bought the matching coffee cups to match for Valentine's Day.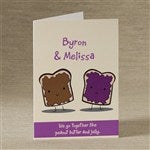 Super cute!!
By
Shopper

(RICHMOND, TX) - December 14, 2013
I ordered the Mac n' Cheese card for my husband as an anniversary card (he LOVES Mac n' Cheese). Card was really cute, sturdy, and packaged well. The envelope included was very nice, and made out of a cream colored shimmer paper. I only wish the font inside the card was larger, but still a great product.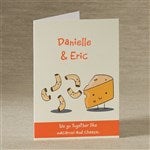 Cool Card
By
Shopper

(Oak Park, IL) - October 27, 2013
My girldfriend liked her card for sweetest day, she thought it was very funny and cute.

Loved it!
By
Kelsey W.

(Bunker Hill, WV) - October 23, 2013 (
See all reviews by this customer
)
I bought this as a birthday card for my boyfriend and he loved it! This is the second greeting card that I bought him from personalization mall (first being valentines day) and I decided to continue to use PM for all my greeting card needs (: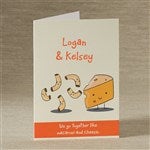 Greeting card is perfect..
By
Patricia F.

(Kentwood, MI) - July 31, 2013 (
See all reviews by this customer
)
This greeting card goes so well with the matching cups that I purchased. It was done on quality paper with a satin envelope. I love being able to write my own personal message. What a classy card.

Neat gift card
By
Keri A.

(Metairie, LA) - July 29, 2013 (
See all reviews by this customer
)
My only negative comment is that more width for each line would be great. I don't know why the characters are so limited because there is much more space on the actual card for more characters per line.

Nevertheless, the quality of the card and envelope makes this a very nice gift card. Be creative and write your own verse. It's fun!!!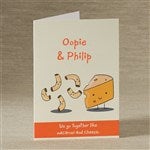 High quality cardstock!
By
Shopper

(Tulsa, OK) - May 31, 2013
I was happily surprised at the quality of the card and envelope. Cute idea and would order again.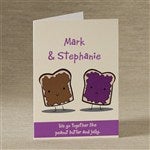 So cute
By
Shopper

(Triangle, VA) - May 6, 2013
I ordered this for my husband & he loved it ! Its so cute, & GREAT quality. The only thing is that it takes too long to be delivered.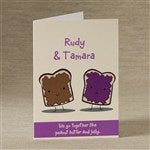 great
By
Laura L.

(Plant City, FL) - March 2, 2013 (
See all reviews by this customer
)
this product was very cute and funny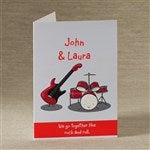 "The Perfect Fit"
By
Shopper

(Colorado Springs, CO) - February 18, 2013
This card was truly ideal because I LOVE peanut butter toast (I eat it at LEAST once a day) but I am not a huge fan of jelly (especially that of grape jelly) and my wife is just the opposite; so we literally do go TOGETHER like peanut butter and jelly! :o) I purchased this item along with many others from Personalizationmail.com for the first time during my Valentine's Day order. The entire experience was without words- exceptional! Their customer service is a rare find- both friendly and informative (which proved to be very helpful), the prices were reasonable for the quality of product I received and the shipping was extraordinarily faster than I anticipated! I was very pleased to find a beautiful high quality, metallic, ivory, envelope alongside my card- I felt that it gave the card a more professional decadent appearance and complimented it well.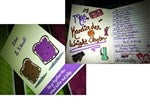 Cute
By
Shopper

(noblesville, IN) - January 30, 2013
i ordered one card for my bestfriend and one for my hubby! These are great quality value and super cute to personalize!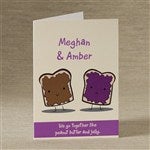 great card, great quality
By
Shopper

(El Paso, TX) - December 27, 2012
great card I loveeeed it and my husband as well

Wonderful!
By
Ashley H.

(Fort Myers, FL) - October 22, 2012 (
See all reviews by this customer
)
I eat peanut butter and jelly quite often so I thought it was a great idea to buy it for my anniversary. It comes very high quality and I was very pleased with it!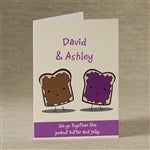 Super cute!
By
Harriet K.

(Snellville, GA) - August 16, 2012 (
See all reviews by this customer
)
I bought this card to go along with the matching mug set! Great addition and excellent quality!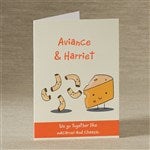 Card for my Boyfriend
By
Shopper

(Casco, MI) - June 19, 2012
My boyfriend loved this card. It was a nice thing for me to add with my personalized canvas that I got him so that I didn't have to write in the card since my handwritting is not very pretty.

Feedback
By
Shopper

(Australia) - May 24, 2012
This is a really cute item!
The card comes in a beautiful metallic envelope and is cheap but high quality @ the same time.
Thank you PersonalizationMall.com

collection addition
By
Jennifer M.

(Topeka, KS) - May 14, 2012 (
See all reviews by this customer
)
This goes great as the theme my partner and I have is the PBJ... super cute and still on the mantel from vday!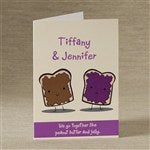 The Perfect Card
By
Shopper

(Raleigh, NC) - February 21, 2012
These little cards are fun to create and add a little extra something special to your package from Personalization.Com. Great idea!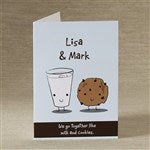 Perfect
By
Shopper

(San bernardino, CA) - February 12, 2012
I received exactly what I expected..it came it incredible the person absolutely loved it. I couldn't be happier

Fun card
By
Shopper

(Scottsdale, AZ) - February 4, 2012
This card looked so cute on the website so I ordered it! When it came in the mail I was pleased to see that it was everything I wanted.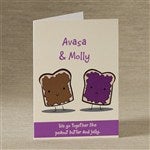 ABSOLUTELY IN LOVE WITH THE PRODUCT & SERVICE!
By
Shayla N.

(Dallas , TX) - December 29, 2011 (
See all reviews by this customer
)
Personalization Mall Team, you guys are FANTASTIC! Thank you for the perfect experience from your team! :)

personalized card
By
patricia T.

(charleston, MO) - February 20, 2011 (
See all reviews by this customer
)
The card was so cute. This is the first time I have ever gave my husband a personalized card and it made him feel good. It is special to him that I took the time to give him something that was made just for him.

Loved it!
By
Nakeva T.

(APO, AE) - February 19, 2011 (
See all reviews by this customer
)
I was very impressed with the card. He also loved the card as well.

So easy
By
Susan S.

(El Cajon, CA) - February 15, 2011 (
See all reviews by this customer
)
I loved how easy and great this card came out. My husband was definitely impressed with it. He thought that the card was generic until he opened the inside and was amazed at how great it was that everything was printed right on the card and personalized to him :) Definitely recommend doing this for special occasions!